SHARE:
3-26-20 Message from the Interim President: Commencement Postponed


3/26/2020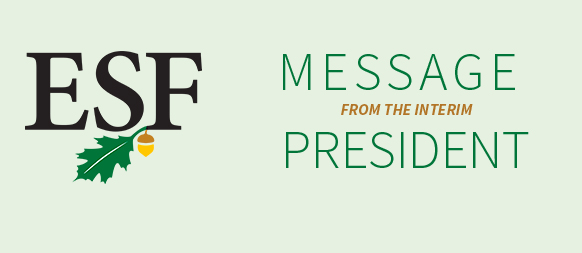 Dear ESF Students,
After much discussion and reflection, the leadership team at ESF has decided to postpone and reschedule the Spring 2020 Commencement Exercises for the Syracuse campus in response to the Coronavirus pandemic. An exact date for the rescheduled celebration has not been determined, although there are possibilities under discussion, including holding a special ceremony in the Fall 2020 or expanding the December 2020 graduation ceremony to include Spring 2020 and Summer 2020 graduates.
We are extremely disappointed to have had to make this decision. Graduation ceremonies are the culmination of years of hard work, accomplishments, and mark what is arguably the most important milestone in most of our students' lives. Commencement is, by definition, a beginning to new and exciting adventures, and the opportunity to recognize this step is a highlight for every one of us here and one of the most rewarding events during the academic year.
Rest assured, all of us know that each of you who will graduate this spring and summer are on your way to improving our world. We know that. I wish I could include a specific date and details for how we will celebrate your achievements, your promise, and your potential, but with the current situation, doing so would be premature. We will continue to evaluate the situation and communicate as soon as we have more definitive information.
Seniors and graduate students who have fulfilled all requirements for graduation will receive their diplomas by mail, as is usually done. No disease can diminish your accomplishment, and all of us at ESF are proud of everything you have accomplished.
Commencement is a cherished tradition that I and our faculty look forward to every year. Please understand that we will do everything we can to give you and your family an opportunity to celebrate your hard-earned success as soon as it can be done safely.
Sincerely,
Dave Amberg
Interim President
Recent ESF News
News Archives
Communications & Marketing
SUNY-ESF
122 Bray Hall
1 Forestry Drive
Syracuse, NY 13210
315-470-6644