SHARE:
USA Working to Keep Students Socially Connected


4/1/2020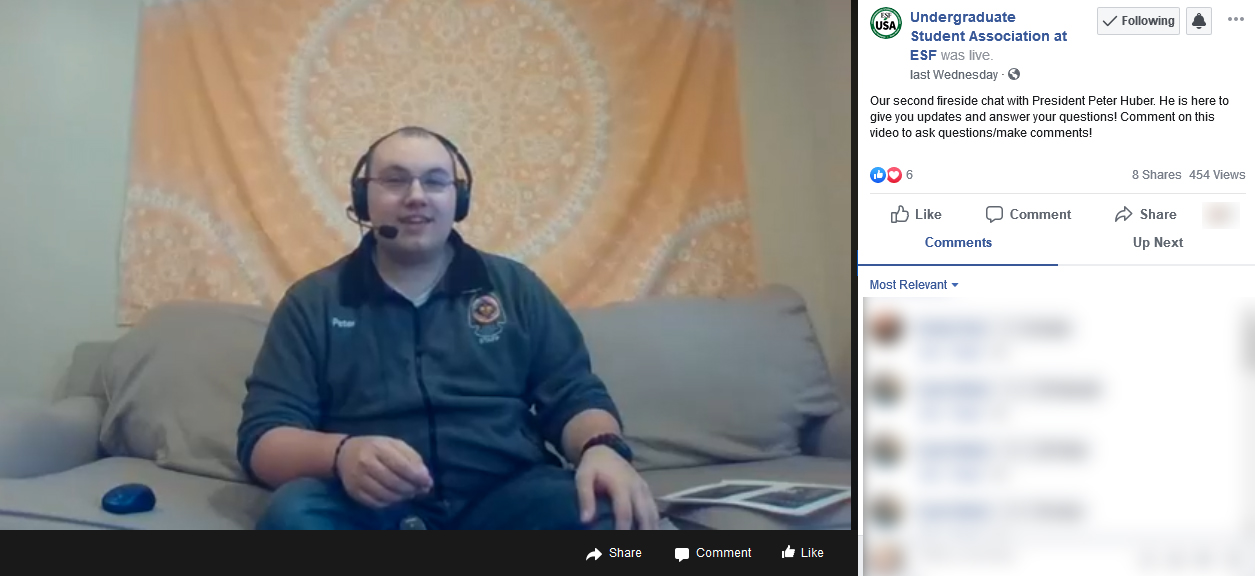 Despite a spring semester turned upside down by COVID-19, student leaders at the SUNY College of Environmental Science and Forestry (ESF) have moved online in every respect. In addition to all classes moving to distance education, the Undergraduate Student Association (USA) is ensuring students stay connected socially too.
"I believe staying connected during the period of online instruction helps increase student engagement as much as possible," said USA President Peter Huber in an email. "Just because we are confined to our computers for our classes does not mean that we need to be isolated socially from each other."
Using Google Meets and social media, the student leaders of USA are working to keep the ESF community together while apart.
"I think that through all of this, social media has become insanely important, wrote Jessica Divens in an email. "I have been helping Peter with his 'fireside chats' (posted to social media) to help answer some questions from students." The chats have been well-received by students.
USA's Chief Communications Officer Hannah Kowalsky, a conservation biology major, has been keeping USA's social media accounts positive to increase student morale.
"She has been using interactive Instagram stories to let students voice concerns or show off projects they have been working on and to give advice," said Divens, who served as chief financial officer for 2019-20 and will be USA vice president for the 2020-21 term. Lexi Chipules, a construction management major, will begin her term as USA president on April 4.
"I believe USA's role in this is to help get accurate information to as many students as fast as we can, whether that be by giving information to club officers to relay through email or the club meeting like we saw today or through our little livestreams or sending emails," said Divens, an environmental resources engineering major.
More than 30 students representing various clubs logged in to USA's March 31 virtual meeting.
ESF clubs provide opportunities to develop skills students take into their careers, enhance their hobbies, make new friends and socialize, according to Huber. "I want to ensure that just because residential instruction no longer is at ESF this semester, that I am not taking away the important impact the clubs have on people."
While all club activities were canceled for the spring, club officers are moving ahead with plans for the fall.
Said Katherine Miller, representing Ducks Unlimited, "We were sad we couldn't hold our annual banquet" but plans are being made for next semester. New club officers are being transitioned into place, budget meetings are being held. Miller is an environmental health major.
Some clubs have moved activities online. The Birding Club is sending its members emails about mental health and links to lectures about birding. The Herpetology Club is working on hosting presentations over Zoom "to let members feel involved even though we can't be together," said Halee Moellering, a conservation biology major. And the Trout Bums are staying active with virtual fly tying over Zoom.
The Student Environmental Education Coalition (SEEC) is exploring how to take advantage of its members being home. "One of our main hopes, since we can't do (in-person) volunteer work, is to set up homework hotlines to help kids struggling with homeschooling," said Katherine Gannon, an environmental resources engineering major, during the meeting. "We could reach out to different parts of the country since our officers are spread out."
The Roots and Pursuits Club, a club where meetings normally include instructional workshops on different crafts and skills, is also moving activities online and facing the challenges with a unique sense of humor.
"We recognize people may have more time on their hands, so we wanted to provide an opportunity for them to continue engaging in our lessons," wrote environmental science major Jordan Jessamy in an email. "We have how-to documents for several of our workshops that can be done from home with limited (or easily harvestable) supplies that we will send out weekly. We will encourage members to show off any work they do by posting on our Facebook page so everyone can see and get inspired."
"If people do have questions, since we will no longer be there in person, we could video chat or email with them. However, that's a little too modern for our tastes. Instead, we will keep to the low-tech roots of the club and handle all communications via smoke signals," said Jessamy.