SHARE:
Mighty Oaks Coaches on the Frontlines of the COVID-19 Fight


4/27/2020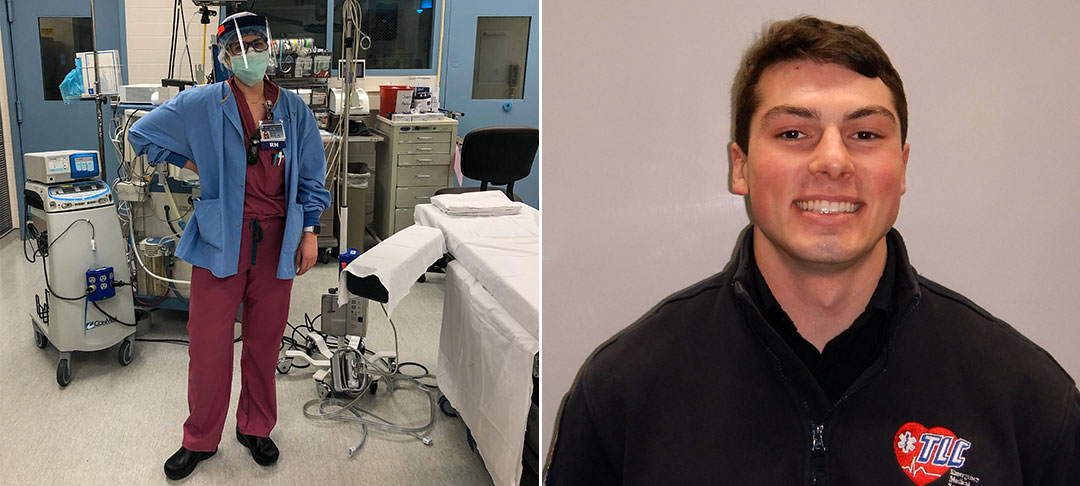 Two coaches from the SUNY College of Environmental Science and Forestry (ESF) have traded in their sports equipment for PPE to serve on the frontlines of the coronavirus.
Mighty Oaks woodsman coach Sarah Murphy hung up her ax and chainsaw in exchange for an N95 mask and head-to-toe protective gear for her job as a registered nurse at Upstate University Hospital.
Murphy graduated from ESF in 2016 with a degree in sustainability energy. While at ESF, she was a member of the woodsman team. She began coaching the team soon after graduating.
According to Murphy, the biggest adjustment since the pandemic began has been ensuring adequate supplies and wise use of essential items such as N95 masks, surgical masks and gowns, face shields and powered air-purifying respirators.
But it's the human aspects of the job that are the most difficult.
"One of the hardest parts of the job has been not being able to be close to patients in times of stress to comfort them," said Murphy.
When Andrew Koch graduated in 2018 with a degree in environmental and forest biology he didn't expect to be part of the fight against a global pandemic. The assistant basketball coach is an emergency medical technician for TLC Emergency Medical Services.
The number of safety precautions the TLC technicians now take in response to the pandemic has increased. When TLC transports patients, Koch must don an N95 mask, face shield, and gloves as well as try to maintain a safe distance from the patient.
Koch is concerned about the shortage of essential items needed by healthcare professionals.
"It's especially difficult in emergency medical services having to constantly put PPE on and take it off so as not to contaminate the cab of the ambulance or non-COVID patients," said Koch."It's been a challenge for me to protect myself as best as I can in the field knowing that there's a shortage of PPE nationwide … I'm trying my best to stay safe and healthy. "
Recent ESF News
News Archives
Communications & Marketing
SUNY-ESF
122 Bray Hall
1 Forestry Drive
Syracuse, NY 13210
315-470-6644