SHARE:
President's Update: Face coverings and masks


5/1/2020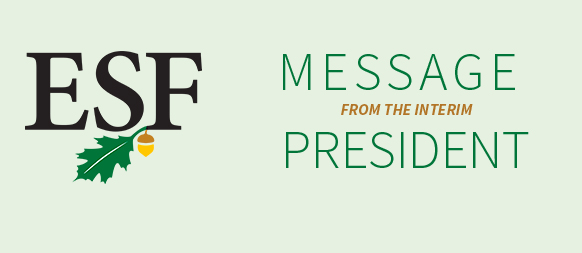 Dear ESF Community,
Governor Cuomo recently issued executive orders requiring the wearing of face coverings in public areas. In summary the order requires the wearing of face coverings when an employee comes in direct contact - within six feet - with people as part of their work. It is important to note, if you are the only person in an office or vehicle or performing maintenance or contracting work alone, you do not need a face covering.
For those work-related initiatives covered by the Governor's executive order, ESF is supplying commercially available masks. Departments can obtain them from the A&TS Stockroom in Baker 116 by making arrangements with Marlene Braun (mabraun@esf.edu or X6869). Departments will not be charged for the masks, but since demand is high, supplies are limited, and deliveries are delayed, we currently must limit departments to 2-week supplies. Commercially available products include surgical masks, N-95 respirators, etc., but the executive order also permits the use of homemade face coverings, bandanas, etc. Personally, I purchased some very stylish Grateful Dead Steal Your Face cloth masks that do meet the Governor's executive order on Etsy.
Please allow me to share a few additional thoughts. It is believed that face coverings/masks do not reliably protect the wearer from infection, but they might help stop those who are already infected from spreading the virus further. Wearing face coverings/masks does not replace the need for social distancing and environmental hygiene practices. Please continue to maintain six feet from others, wash your hands with soap and water, do not touch your face and stay home when you're sick.
In addition, please understand that wearing face coverings/masks is a difficult mandate for some members of our community. The fact remains that when a person of color wears a mask, some people behave despicably, acting on racial stereotypes of historical and contemporary perceived criminality. This behavior creates fear. So much so that some members of our community are defying the Governor's order, jeopardizing health because of other's inappropriate actions. We will not tolerate racial bias. The College of Environmental Science and Forestry has a nondiscrimination policy and statement that ensures equal educational opportunity, employment, and access to services, programs, and activities, without regard to an individual's race, color, national origin, religion, creed, age, disability, sex, gender identity, sexual orientation, familial status, pregnancy, predisposing genetic characteristics, military status, domestic violence victim status, or criminal conviction. Anonymous, anti-bias reporting can be done by clicking www.esf.edu/ide/bias.htm.
In closing, please wear a mask if you are working in close proximity with others. Wear the mask correctly. (See this video for instruction.) Practice good hygiene. And, remember, neither I nor ESF has tolerance for bias, racial, and discriminatory behavior.
Sincerely,
Dave Amberg
Interim President
Recent ESF News
News Archives
Communications & Marketing
SUNY-ESF
122 Bray Hall
1 Forestry Drive
Syracuse, NY 13210
315-470-6644