SHARE:
Varsity Tops Alumni in Soccer Game
11 former players return for contest

4/22/2011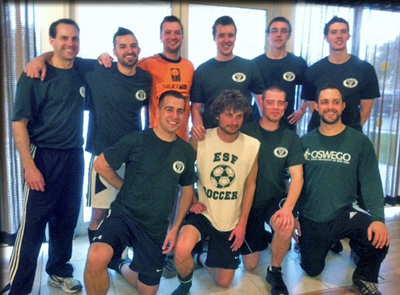 The SUNY College of Environmental Science and Forestry (ESF) men's soccer team hosted its first alumni game April 16, with the current varsity team defeating their predecessors by one goal.
Eleven former players and founders of the ESF Men's Soccer Club team returned to battle the current varsity squad. The Alumni Team was coached by former coach Rick Beal.
It was an exciting back-and-forth match with both squads having many opportunities to score. The alumni set the pace early in the game but in the end the current varsity team earned a 4-3 victory.
The alumni MVP award went to Andy Mastin
The game was followed by a reception with friends, supporters, family and visit from ESF President Neil Murphy.
The event was indoors at the CNY Family Sportscenter on Jones Road in Van Buren.
The ESF Men's Soccer Alumni Association and the current varsity team and staff thank Director of Alumni Relations Justin Culkowski and the ESF Alumni Association for supporting this event.
Recent ESF News
News Archives
Communications & Marketing
SUNY-ESF
122 Bray Hall
1 Forestry Drive
Syracuse, NY 13210
315-470-6644