SHARE:
Sierra Club Puts ESF Among Nationís Top Cool Schools


10/1/2020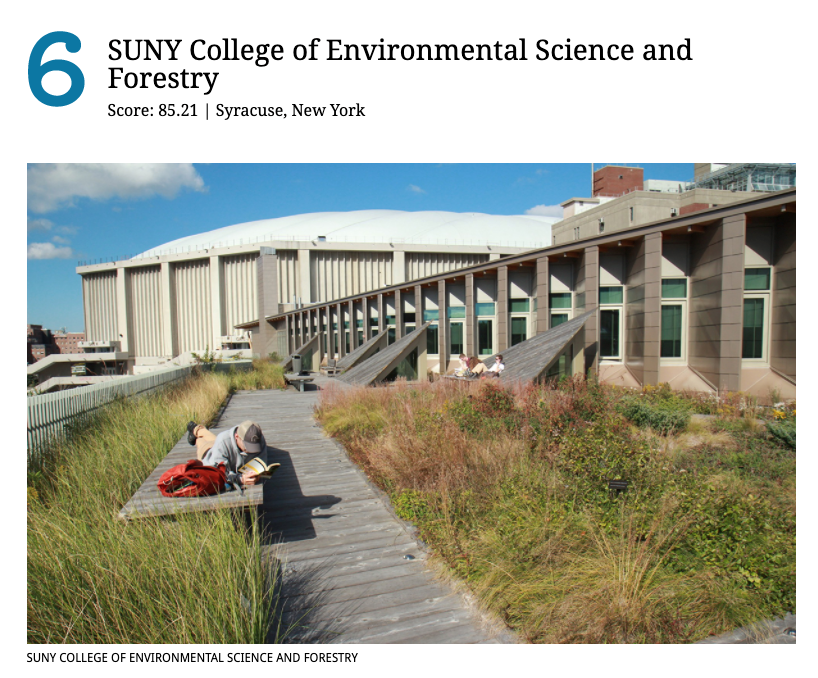 For the fourth year in a row, the College of Environmental Science and Forestry (ESF) is ranked among the nation's top "Cool Schools" by Sierra magazine, the national magazine of the Sierra Club. Sierra puts the college at Number 6 among more than 312 schools surveyed.
ESF is the highest-ranked school among all colleges and universities in New York state and the only New York state school in the top 10.
"This ranking is an acknowledgement of the passion, dedication, and drive that our students, faculty, and staff bring to the College's mission every day," said Mark Lichtenstein, chief sustainability officer and chief of staff. "ESF prepares leaders to steward our environment, to care for our planet, and to improve this world that we all share. We do that in the classroom, in the lab, within our College operations, and with policies and protocols guided by the overall objective to 'walk the talk' in every way possible."
Each of the schools ranked in the top 20 have shown their commitment to addressing climate change, protecting the environment, and encouraging environmental responsibility both through their campus operations and course curriculums.
Calling ESF, "the coolest school within New York's extensive public university system," Sierra noted the College halved energy costs by retrofitting aging buildings and upgrading heating, ventilation, and compressors.
Also highlighted is ESF's use of composting and other efforts to divert about 50 percent of the campus' annual waste stream away from landfills.
This magazine called attention to the College offering free reusable menstrual products to the campus community, putting the school on target to meet its 2025 zero-waste goal early.
Of special note is the nearly $6 million ESF was granted from New York state to form the NYS Center for Sustainable Materials Management. Leveraging strategic public/private partnerships across the SUNY system and with Syracuse University, the Center will focus on six specific areas: community engagement, outreach, policy development, public education, research and technical assistance with the intention of:
promoting waste prevention and reduction-particularly packaging reduction and product stewardship;
encouraging closed-loop, responsible purchasing;
developing economic markets for recyclables, fostering entrepreneurship and helping convert manufacturing to use recycling feedstock;
launching a comprehensive community outreach and public education campaign, and facilitating additional stakeholder engagement;
identifying new methods to manage non-recyclable fibrous materials through the development of composting options; and
identifying new methods to manage non-recyclable fibrous materials through the development of unique conversion options.
Sierra called this year's participation in the rankings "a remarkable feat, given the fact it's been a school year like no other. Beyond having to suddenly pivot to virtual learning and community-building because of the coronavirus pandemic, many schools had to backtrack. Those that had phased out plastic bags and takeout containers, for example, found themselves having to bring them back to comply with COVID-19 safety protocols. Despite such setbacks, the schools on this list have shown incredible resourcefulness as they have innovated new ways to maintain-and in many cases, further-their sustainability objectives."
Using a customized scoring system, Sierra's researchers ranked colleges and universities based on academic criteria like an environmentally-focused curriculum, student engagement with environmental activism, operations such as renewable energy generation and waste management, and schools' planning and administrative standards. The raw data for the scoring came from the Association for the Advancement of Sustainability in Higher Education (AASHE) STARS self-reporting tool.
Recent ESF News
News Archives
Communications & Marketing
SUNY-ESF
122 Bray Hall
1 Forestry Drive
Syracuse, NY 13210
315-470-6644