SHARE:
ESF Students Dig into Community Service


10/7/2020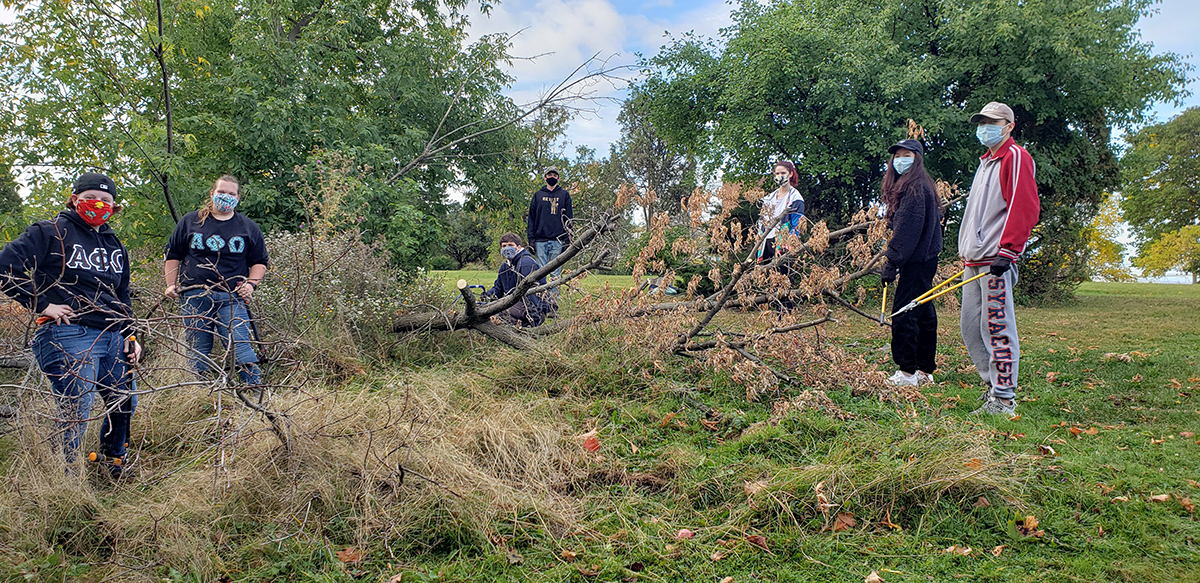 A global pandemic didn't stop a group of ESF students from helping out in their community recently.
Eighteen students along with faculty and staff helped the Thornden Park Association with maintenance and landscaping on the park's grounds.
"This is helpful for the park both because it helps keep it beautiful and interesting for the people who walk through here every day and use it for recreation. It also helps preserve the trees and helps preserve the historical nature of the park," said Athena Mandros, a member of the Thornden Park Association.
Masked up and ready to work, the students made quick work cutting and removing fallen tree limbs, clearing brush and pruning trees near the park's lily pond and herb garden.
For junior Rosemary Adrat participating in ESF's Saturday of Service aligns with her priority of giving back to the community. This year, participating also provides an opportunity to get out and connect with people while observing coronavirus guidelines.
"Being able to get out and get connected with ESF students and faculty face to face is key to surviving the COVID climate on campus," said Adrat, an environmental science major. "My housemate and I were in awe of how wonderful of a time we had volunteering. It was surely worth waking up on a Saturday morning!"
Dr. Neal Abrams, associate professor in the Department of Chemistry, who joined the students said, "It's great to be out here in Thornden Park and have students in an active community service project. With everything that's happened with coronavirus and not being able to do our normal community events, it's great that we can come somewhere close to help part of the ESF and Syracuse community.
"Despite the daily unknowns in the current world our students are living in, one thing that has not changed is their commitment to service and the Syracuse community," said Sarah Houck, coordinator of student involvement and leadership in ESF's Division of Student Affairs.
"ESF students continue to show interest in volunteering at our local parks while practicing social distancing and wearing face coverings," said Houck.
Saturday's event was the College's second Saturday of Service this semester.
Along with the Saturdays of Service, student groups such as ESF-FORCES, AXS and Friends of Oakwood have also contributed more than 343 hours of community service, said Houck.
Recent ESF News
News Archives
Communications & Marketing
SUNY ESF
122 Bray Hall
1 Forestry Drive
Syracuse, NY 13210
Communications@esf.edu