SHARE:
ESF Hosts Environmental Summit for High School Students
Eleven CNY schools participate

6/4/2008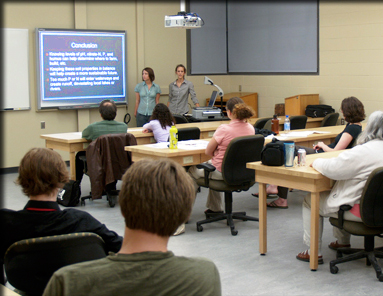 SYRACUSE — Teams from 11 different schools across Central New York were on the ESF campus June 4 for the 2008 ESF Environmental Summit.
The students are all enrolled in the College's ESF in the High School global environment course, which allows students to experience college-level coursework while still in high school. During the Environmental Summit, students presented their semester-long research projects on such topics as "Do teenagers use more water than other age groups?" "Feasibility of wind-powered electricity at Fowler High School?" and "An assessment of the Fabius-Pompey lunchroom waste stream and the potential for vermicomposting."
The projects enabled the students to engage not only in the knowledge but the process of science.
"For a lot of these students, this is the first time they've ever done a research project," said Dr. Richard E. Beal, associate director for educational outreach at ESF. "It also marks the first time many have talked in front of a group."
Some research took a look at everyday matters such as junk mail. Paige Amidon, from Rome Free Academy (RFA), studied how much junk mail two families receive. In the course of one year, she estimated that the average person receives approximately 104 pieces of junk mail. Her presentation also included ways for individuals to decrease the amount of junk mail they receive.
Amidon, who will enter ESF in the fall as a wildlife science major, said her favorite part of the global environment course was traveling to Costa Rica with her class.
"It was really fun," Amidon said. "We learned a lot and planted trees in the rainforest."
Javier Garcia, a senior at Henniger High School in Syracuse, drew on his interests in fisheries with a project that compared zooplankton communities in Oneida and Onondaga lakes.
"Oneida Lake had a higher frequency and richness than Onondaga Lake probably mostly due to pollution," Garcia said.
Garcia will enter ESF's aquatics and fisheries program in the fall.
For Ashley Armstrong, a senior also from RFA, the Environmental Summit provided a way to research her future career path. Armstrong hopes to be an astronaut and wanted to raise awareness of what budget cuts would do to the space program. Her project looked at whether the costs of the space program outweigh the benefits.
Based on her research, Armstrong said, "The benefits most definitely outweigh the costs. I want to be an astronaut and I was interested in raising awareness of how a cut in funding could affect me."
The research carried out by the students was supported by the ESF Science Corps, which consists of nine ESF graduate students who visit schools to bring in cutting-edge ESF research and to help students conduct their own research projects.
Schools participating in the Environmental Summit were Cayuga-Onondaga BOCES; Chittenango High School, LaFayette High School, Henniger High School, East Syracuse-Minoa High School, Fabius-Pompey High School, Nottingham High School, Fowler High School, Central Square High School, RFA, and Clyde High School.
Recent ESF News
News Archives
Communications & Marketing
SUNY ESF
122 Bray Hall
1 Forestry Drive
Syracuse, NY 13210
Communications@esf.edu