SHARE:
ESF Named Top Performer in 2020 Sustainable Campus Index


11/10/2020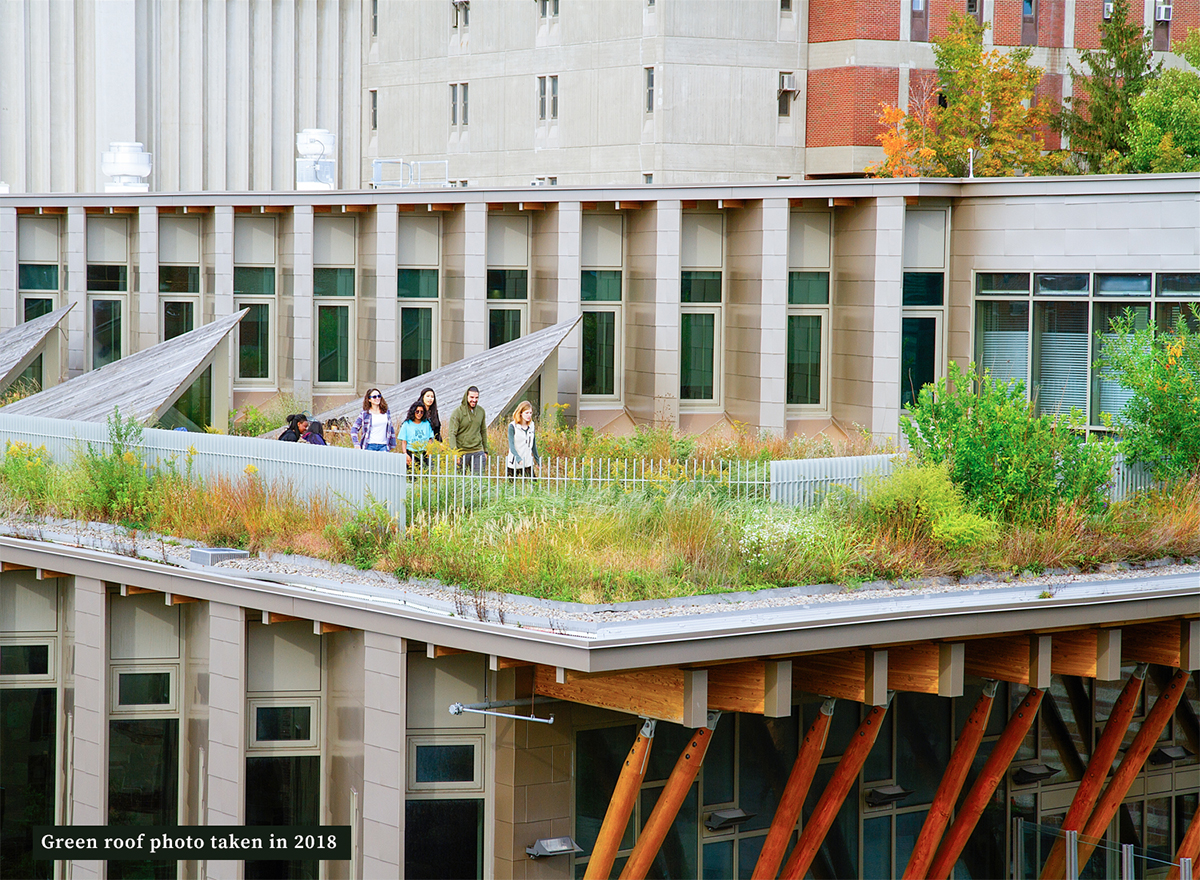 The SUNY College of Environmental Science and Forestry (ESF) has again been recognized as a top performer in the 2020 Sustainable Campus Index. In addition to being named an Overall Top Performer, ESF achieved "top performer" status in the following categories: curriculum, public engagement, purchasing and research.
The Sustainable Campus Index, a publication from the Association for the Advancement of Sustainability in Higher Education (AASHE), recognizes top-performing sustainable colleges and universities overall and in 17 impact areas, as measured by the Sustainability Tracking, Assessment & Rating System (STARS).
In the Overall Top Performer category for a doctoral granting institution, which looks at the highest overall scores among the institutions, ESF ranked No. 10 with a Gold rating.
"ESF's Top 10 rankings in the Sustainability Index is a testimony to the College's commitment to lead by example and practice what we teach," said Joanie Mahoney, ESF president. "This work is mission-driven and empowers ESF's students, faculty, and staff to take leadership roles and make meaningful contributions to a sustainable environment."
The Overall Top Performer ranking is based on the College's overall STARS score of 81.7 in the doctoral institution subcategory in STARS.
ESF is ranked No. 8 in the curriculum category, tied with College of the Atlantic and Unity College. AASHE examined courses, programs and learning outcomes in sustainability, as well as living laboratory initiatives, immersive experiences, sustainability literacy and faculty development.
The College came in at No. 4 for public engagement, which looks at community and inter-campus partnerships, continuing education, community service, public policy participation and trademark licensing.
The College's purchasing practices resulted in a No. 5 ranking. Purchasing examined general and commodity-specific sustainable purchasing policies, life cycle cost analysis and purchase of electronics, paper and cleaning products.
ESF is tied with a number of other institutions for its No. 6 ranking in research, which covers faculty and department sustainability research and initiatives for open access research.
STARS is a transparent, self-reporting framework for colleges and universities to measure their sustainability performance. STARS was developed by AASHE with broad participation from the higher education community.
AASHE empowers higher education administrators, faculty, staff and students to be effective change agents and drivers of sustainability innovation. It is the most widely recognized framework in the world for publicly reporting comprehensive information related to a college or university's sustainability performance.
Recent ESF News
News Archives
Communications & Marketing
SUNY ESF
122 Bray Hall
1 Forestry Drive
Syracuse, NY 13210
Communications@esf.edu