SHARE:
OIDE Welcomes ESF Community to Safe Space


3/2/2021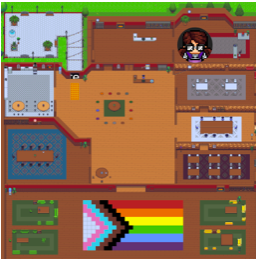 In cooperation with ESF's Against the Stigma of Mental Illness campaign, the Office of Inclusion, Diversity and Equity (OIDE) welcomes the ESF community to Virtual Brave Space.
OIDE Virtual Brave Space is launching spring 2021 to improve campus climate and foster a greater sense of community among underrepresented, marginalized people and allies. The Virtual Brave Space will be staffed Monday through Friday, 8 a.m. to 4:30 p.m. by OIDE staff, in this virtual brave space you can interact with people from diverse backgrounds, knowledge bases and share similar lived experiences. People of all identities, including allies, are invited to attend.
Twenty-five users can enter the space simultaneously. If more, the connection stability will decrease. "We have deliberately kept the access numbers low in order to encourage a truly brave space with high engagement," said Dr. Malika Carter, ESF chief diversity officer. OIDE may open additional spaces depending upon demand.
OIDE Virtual Brave Space (via the GatherTown platform) Instructions:
To receive the access password and URL to your email, employees register here - using an esf.edu email address and students register here using an syr.edu email address.*
Next click the URL and enter the password (please, do not share the password)•
Enter your name and gender pronouns if you care to share (as it would appear on a name tag) to join, so others can identify you, and select your devices such as your camera and microphone.
Click on "Join the Gathering."
Upon entry, you will be in the lobby. A window will open with the message "Welcome to Gather." It has a link to the tutorial, which you can skip or watch, if you'd like.
On the right side of the screen, a list of participants will appear. You can search the participants you'd like to interact with. A direction line will show up, just follow that to reach the desired participant.
Local chat is another way to interact in GatherTown. Click on the name of the participant to chat directly. The local chat provides two options, individual and group chat. Local Chat - You can chat with people near your surrounding Global Chat - You can chat with the whole group.
NOTE: Our community itself is a security measure to keep us all safe in the OIDE Virtual Brave Space. ESF has zero tolerance for incidents of bias, racism, and hate to ensure our entire campus community can live, study and work in an inclusive and safe environment. As in physical environments, community members can choose to identify and intervene. Guests perpetuating discrimination or harassment that is counter to the ESF Nondiscrimination Policy will be auto-removed by OIDE staff.
As a reminder, ESF's bias reporting system provides ESF students, staff, and faculty with an avenue to report incidents of bias, bigotry, or hate that occur on our campus or in off-campus settings that impact ESF. Access and report at https://www.esf.edu/ide/bias.htm.To anonymously report information to University Police visit https://www.esf.edu/univpolice/acr.htm.
To learn about the valuable benefits of OIDE initiatives currently reflected in the Virtual BRAVE Space, or to learn more about the developing Employee Resource Groups that we will also host in this space, or if you have any questions, contact OIDE at +1-315-565-3016, InclusiveExcellence@esf.edu, or social media at Facebook: esfdiversity & Instagram: esfdiversity
To learn more, see why we are creating Brave Space.
Recent ESF News
News Archives
Communications & Marketing
SUNY-ESF
122 Bray Hall
1 Forestry Drive
Syracuse, NY 13210
315-470-6644