SHARE:
City and County Mark April 22 as SUNY ESF Day


4/22/2021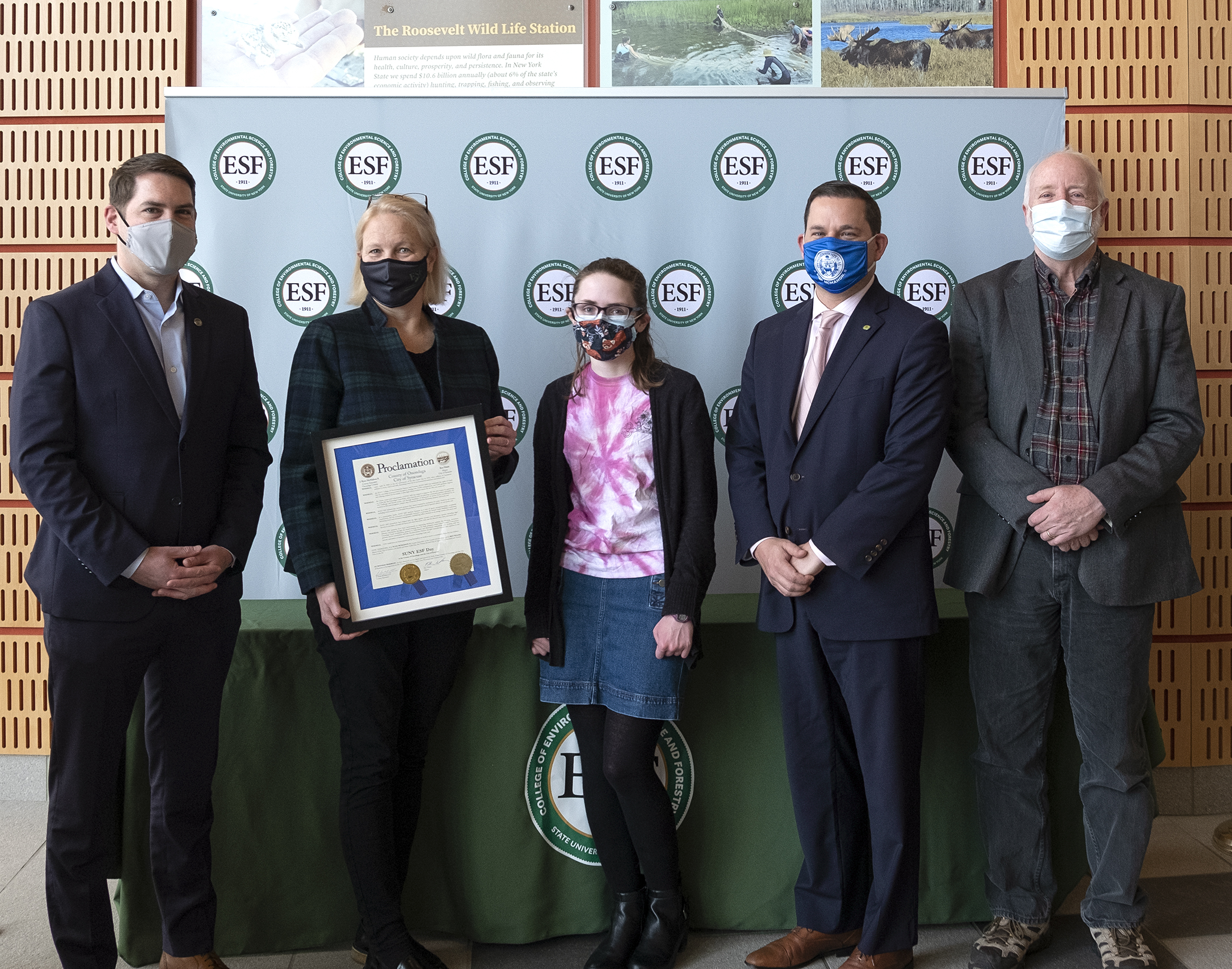 The SUNY College of Environmental Science and Forestry (ESF) celebrated its recognition of April 22 as SUNY ESF Day in the City of Syracuse and Onondaga County on Earth Day.
In 2020 the City of Syracuse and Onondaga County issued a joint proclamation marking the 50th anniversary of Earth Day and the contributions ESF has made to local, state, and national environmental and sustainability efforts. In recognition, it was proclaimed that Earth Day in the City of Syracuse and Onondaga County would also be known as SUNY ESF Day.
"SUNY ESF began in 1911 with the sole focus of solving for forestry problems, and in its 110 years has built its reputation as a think tank on environmental issues with a deep bench of talented faculty and researchers in the areas of environmental science, conservation, sustainability, and wildlife among a vast catalog of subject areas," said SUNY Chancellor Jim Malatras. "It is a go-to on everything from algae blooms and invasive and disruptive species to managing our natural resources, and it is their stewardship and commitment to the planet that is recognized by the City of Syracuse and Onondaga County. My congratulations to President Joanie Mahoney, as well as the students, faculty, and staff that chose to be a part of SUNY ESF."
"ESF's work with sustainable and green technologies and dedication to environmental stewardship is unsurpassed," said Mayor Ben Walsh. "Communities around the world are engaged in a global fight against climate change. Syracuse is fortunate to be home to ESF and to have its amazing students, faculty and staff working on projects throughout the city that move us closer to a sustainable future for everyone."
"SUNY ESF has long been a leader in the conservation and improvement of our environment with many of their efforts starting here in Onondaga County. Recognizing Earth Day and ESF together is only fitting as we all strive to protect the environment and build a sustainable future," said County Executive Ryan McMahon.
"ESF has a long history of partnering with the city and county to create a greener and more sustainable future in Central New York. It's not only ESF's research that helps build a better world, but the students we train who will find the solutions to our environmental challenges. For the ESF community, Earth Day provides the opportunity to celebrate our core mission with the world. We're honored to receive this recognition," said ESF President Joanie Mahoney.
The joint proclamation was originally issued by the City and County on April 22, 2020. The College is celebrating Earth Week this year with a combination of in-person and virtual events that include a Saturday of Service, a bioblitz, online presentations, a clothing swap, and an art symposium.