SHARE:
ESF Celebrates the Class of 2021


5/15/2021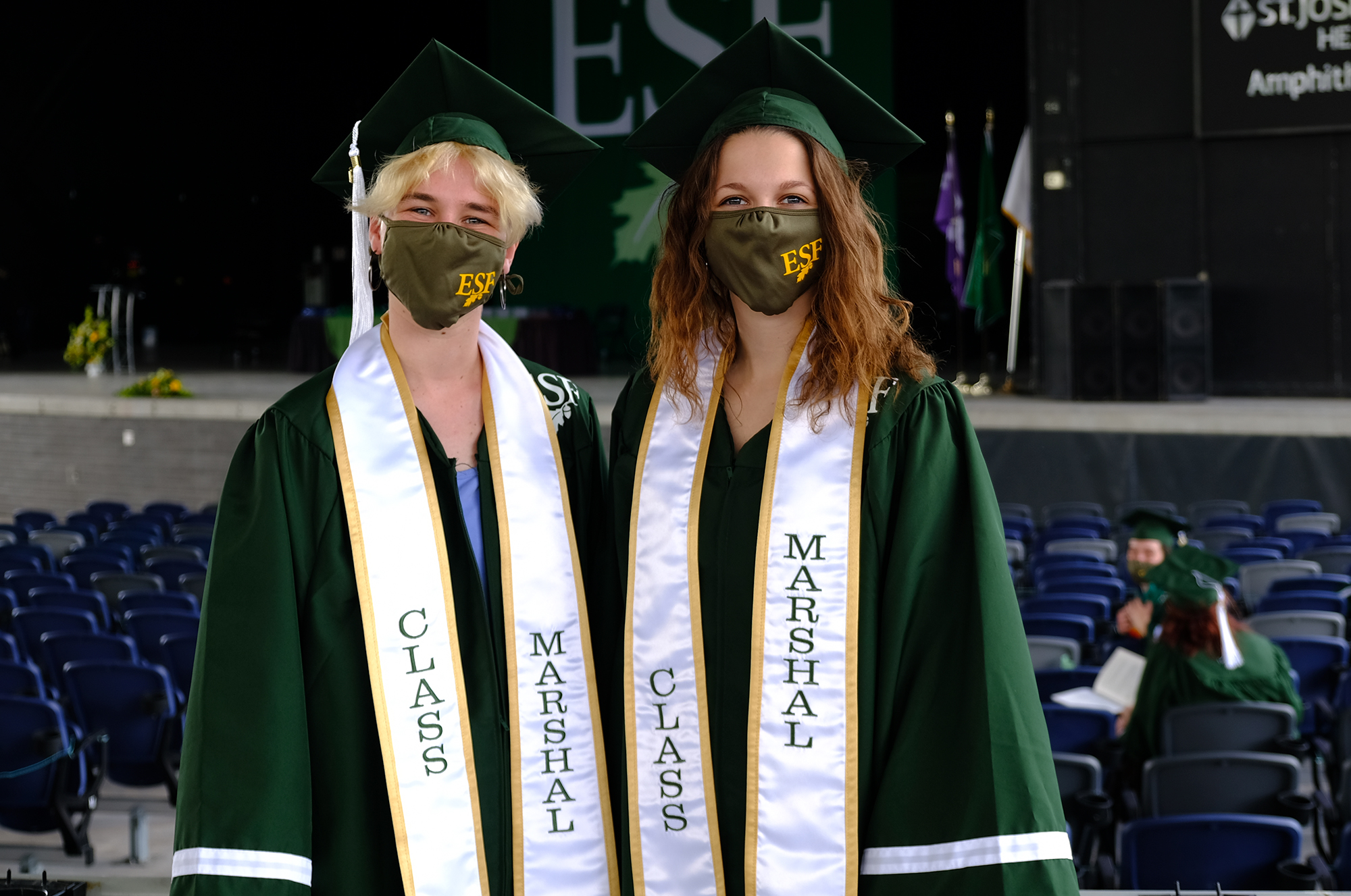 Onondaga Lake provided a sparkling backdrop for the SUNY College of Environmental Science and Forestry's (ESF) 110th Commencement at St. Joseph's Health Amphitheater at Lakeview Saturday. The morning and afternoon ceremonies marked the return of events to the amphitheater since 2020 and the return of in-person commencement for the College.
The 10 a.m. ceremony was for students graduating from the departments of Environmental Resources Engineering, Environmental Studies, Landscape Architecture, Sustainable Resources Management, and the Open Academy.
The afternoon ceremony at 3 p.m. was for students graduating from the departments of Chemical Engineering, Chemistry, Environmental Biology, and Environmental Science.
Video messages from Senator Chuck Schumer and SUNY Chancellor Jim Malatras were played before the ceremonies, and Chancellor Malatras attended the afternoon ceremony.
ESF President Joanie Mahoney noted that holding commencement on the shores of Onondaga Lake not only provided a scenic backdrop but was fitting as ESF faculty and students have long been involved in the efforts to restore the lake for decades.
"It is fitting then that it would be ESF students that would be here celebrating on this lake after ESF did so much work to bring the lake back," Mahoney said. "I wanted to remind you of the lake's history because it illustrates the power you now have to change the world for the better. Experts in their fields have trained you, you have worked hard and you are ready to replicate this success story all over the world."
Morning ceremony student speaker Angelica Rosa Gonzalez of Miami, Florida majored in environmental studies with a focus on policy, planning, and law. She shared some of the lessons she learned at ESF: challenge yourself to leave your comfort zone and discover and advocate for yourself and your pursuits. She then called her classmates to action.
"As environmentalists, I believe our calling is to impact people and make the change that is needed to save the world. I know, saving the world is intimidating and a little vague. But finding your passion is the first step towards that goal," she said.
Gonzalez recalled how ESF students reacted to events in 2020 including collecting hard-to-find items for those in need, calling attention to racism and discrimination, and making masks and donating the proceeds to organizations geared towards helping marginalized identities. "So, when I ask you to advocate for your pursuits, I also ask that you think of the bigger picture. How can you use your passion to examine systemic and institutional barriers? How can you investigate individual biases that continue to perpetuate in different areas?"
"Graduates, remember that it's normal for changes to occur, or plans to fall apart," she said. "But you should look to your big picture - your point of advocacy – to give you direction. And when in doubt, lean on your Stumpy family."
Timothy Webb-Horvath environmental resources engineering spoke during the afternoon ceremony. "While this last year may not have been what any of us envisioned our final year to be like it has been a demonstration of the incredible dedication of this class. It has been definitive proof that we are all capable of doing whatever it takes to achieve our missions. Missions of restored ecosystems, of living in a small hut in the forest and slowly transitioning to the lifestyle of a tree, and of saving the world.
Thomas L. Woltz, a landscape architect who engages in a research-based design process that draws inspiration from restoration ecology and cultural landscape history to inspire the design of vibrant contemporary landscapes, was presented with an Honorary Degree.
Woltz extolled the graduates to choose a path, not a destination. His path led to partnering with ESF researchers on a landscape in south-central Mississippi which is "envisioned as a community resource for building regional economic resilience through agriculture and education, including a camp for children from the region and inner-city New Orleans." Woltz and his team worked with ESF faculty across 14 departments to bring the project to fruition.
"The destination was unexpected, the path has been exhilarating," he said. "The path you begin today will lead you to magical, diverse, and unexpected destinations. And remember: love audaciously in the time you have."
Said Gary Lipp president of the Alumni Association president welcomed the graduates to the Alumni Association, said, "Wherever you go or whatever positions you occupy, be sure to share what you learned at ESF about the importance of the preservation of our environment."
Reflecting on the past year, Dr. David Newman, interim provost and vice president for academic affairs, noted that after a year of challenges, ESF has the opportunity to incorporate some of the positive experiences that have been shared this past year into ESF proceeds in the future.
"It is important that we do not forget all that we have gone through, as if it did not happen. As one of our faculty put it, we will hopefully not be just moving to a "new normal" but to a "better normal."
Recent ESF News
News Archives
Communications & Marketing
SUNY ESF
122 Bray Hall
1 Forestry Drive
Syracuse, NY 13210
Communications@esf.edu