SHARE:
Experts from ESF, SUNY Upstate Join Rep. Katko to Highlight Efforts to Combat Tick-borne Illness


7/20/2021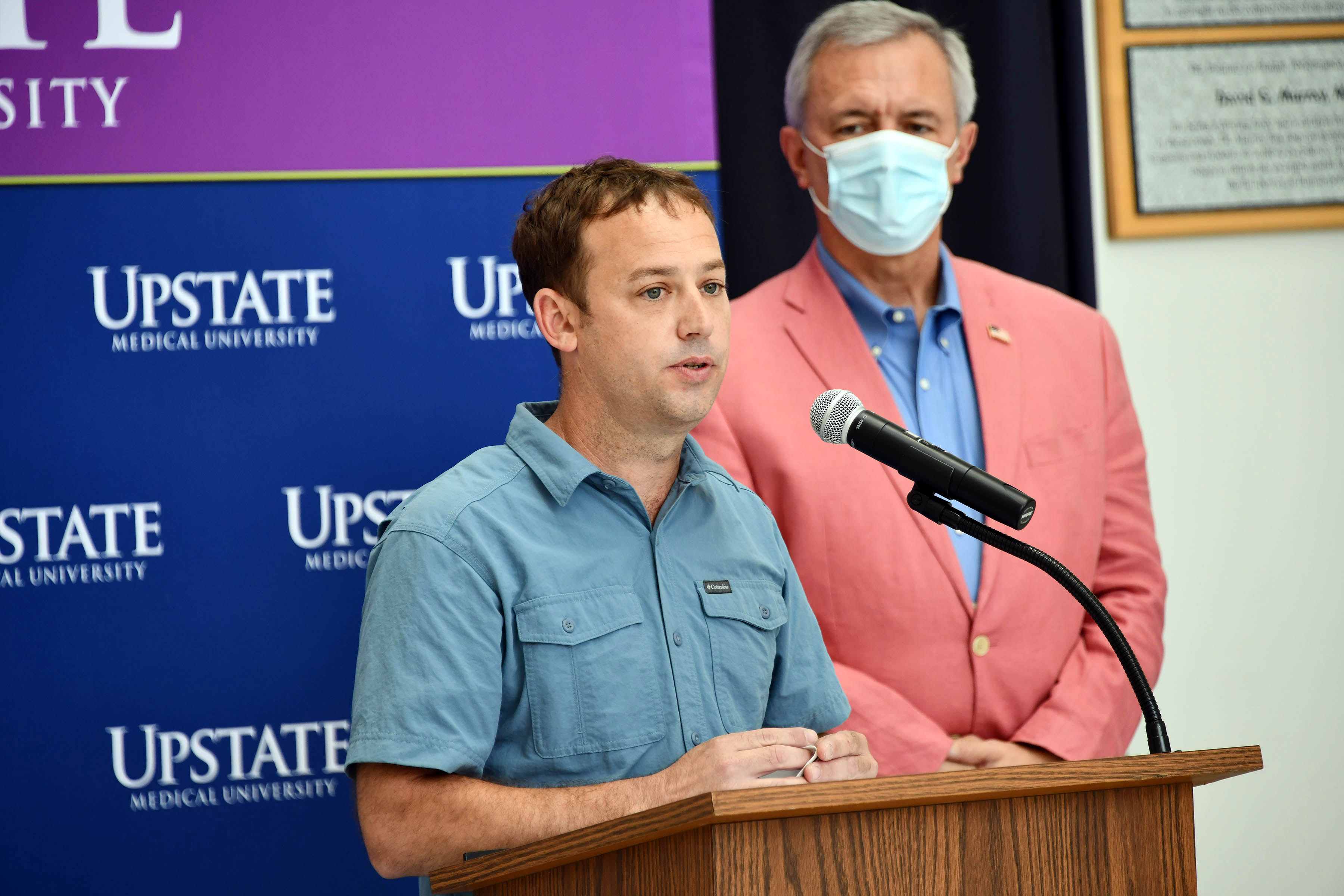 Standing with experts from SUNY Upstate Medical University and the SUNY College of Environmental Science and Forestry (ESF), U.S. Rep. John Katko (NY-24) July 19 announced renewed efforts on the federal level to combat Lyme disease and other tick-borne illnesses. Tick-borne illnesses have plagued Central New York for years, and this announcement comes amid a recent surge in the tick population in local communities, with a greater share of those ticks containing microbes that cause Lyme disease and other illnesses.
Katko announced he will reintroduce the Tick Identification Pilot Program Act this week. This bipartisan bill would establish a pilot program under the Centers for Disease Control and Prevention (CDC) allowing states to apply for grants to establish tick identification programs. Through these programs, individuals would be able to send pictures of a tick they encounter to a vector-borne biologist who would identify the tick and respond with an estimate of the risk that the tick is carrying a disease, as well as a recommendation for appropriate follow-up action, such as seeking medical treatment.
Additionally, Katko announced a push for increased funding for the CDC to support research and data collection on tick-borne illnesses. Together, these efforts aim to educate the general public on tick-bite prevention methods, collect data on ticks as the population grows, and improve public health outcomes.
"Although Lyme disease and tick-borne illnesses have had a dire impact on our region for years, we've seen dramatic growth in the local tick population in recent months," said Katko. "And, we've seen a greater potential for tick-borne illness. In Congress, I'm proud to continue my efforts to deploy innovative technologies against tick-borne illnesses and increase federal resources for the treatment and prevention of these diseases."
Katko continued, "We have strong community partners addressing these issues locally, and I'm continuing to advocate on the federal level to ensure they have the resources necessary as we continue this fight. I'm proud to join with experts from SUNY Upstate Medical University and SUNY ESF to announce my renewed efforts to combat the growing threat of Lyme disease and other tick-borne illnesses.
Mantosh Dewan, MD, president of SUNY Upstate Medical University said, "Like many other parts of the country at this time of year, Central New York and much of New York state have been invaded by ticks, putting us all at risk for disease. With the recent opening of our Vector Biology Laboratory, and our complement of expert faculty, researchers and clinicians, Upstate is working to unlock the mystery of tick-borne diseases and address new treatments. We're pleased that U.S. Rep Katko continues to seek additional funds to support this important work."
Brian Leydet, Ph.D., assistant professor of environmental and forest biology at ESF said, "Ticks and their agents of disease are a global public health crisis. ESF and SUNY Upstate Medical University are ideal partner institutions primed to tackle the ever-growing environmental threat from ticks and their impact on human health. Initiatives like those proposed by Congressmember Katko and his colleagues, pushing increased federal support for education, awareness, treatment and prevention are critical to combat these emerging threats to human health."