SHARE:
Sun of Sol-R-Duck Wins Prize for Being "Most Creative Duck"
2008 entry in Duck Race to End Racism follows in footsteps of previous ESF entries

6/10/2008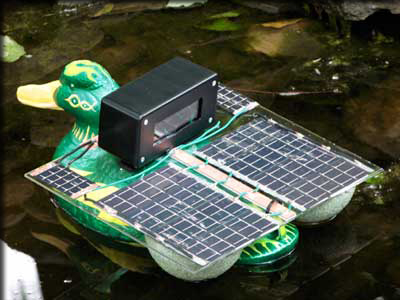 SYRACUSE - SUNY-ESF's entry in the Community Wide Dialogue's Duck Race to End Racism may not have been the swiftest bird in the pond, but he brought glory to ESF nonetheless.
Sun of Sol-R-Duck received honors for being "the Most Creative Duck" for its solar-powered LED screen scrolling the message, "SUNY-ESF … Improve Your World … End Racism.
As for the race, Sun of Sol-R-Duck exhibited flocking behavior, getting caught in a traffic jam mid-stream, which kept him from a first-place finish.
Sun of Sol-R-Duck was engineered by Mark Storrings of the Department of Environmental Resources and Forest Engineering. Storrings also designed the original Sol-R-Duck, with its solar-powered quacking, in 2006. Sol-R-Duck won the award for "duck that best represents the company's work."
ESF's duck got its splendid metallic lightning bolt and flame plumage from Wendy Osborne, graphic designer and artist-in-residence in the Office of Communications. She took home "most artistically decorated duck" honors for Envira Duck, the college's entry in the 2007 duck race.
The Duck Race to End Racism is an annual event held at Syracuse's Inner Harbor in June that brings together all parts of the community for an afternoon of fun.
Recent ESF News
News Archives
Communications & Marketing
SUNY-ESF
122 Bray Hall
1 Forestry Drive
Syracuse, NY 13210
315-470-6644