SHARE:
Carbon Neutral "Bio-fuel" Project Expands to 10 Acres
Green energy partnership includes ESF, Honeywell, Anheuser-Busch, Onondaga County and Towns of Camillus and Geddes

7/1/2008
The video originally included in this story is no longer available via this page. Contact web@esf.edu if more information is required.
Copyright © All Rights Reserved by copyright holder
CAMILLUS, NY - SUNY-ESF and Honeywell were joined today by Onondaga County Executive Joanie Mahoney, Onondaga County Legislature Chairman Bill Meyer, and Camillus Town Supervisor Mary Ann Coogan as SUNY-ESF finished planting 60,000 shrub willows on the Solvay basins. The program more than doubles the number of willows previously planted, bringing the total number of shrub willows to 100,000.
In 2007, SUNY-ESF and Honeywell harvested willows from Phase I, demonstrating that shrub willows can become a productive source of "green" energy and bio-fuels for the region while also functioning as an effective "bio-cap." The production and conversion of the shrub willows is carbon neutral; meaning that for every unit of carbon emitted throughout the planting, harvesting and transportation of the willows, they will take up an equal amount during their growth — there is no net addition of C02 to the atmosphere.
To add nutrients and enhance the growth of the shrub willows SUNY-ESF and Honeywell are mixing biosolids leftover from the Anheuser-Busch Baldwinsville brewery's bio-energy recovery systems (BERS) with a soil product manufactured at the Metropolitan Syracuse Wastewater Treatment Plant and then adding yard compost from the towns of Camillus and Geddes. These materials are then mixed into the basins before the willows are planted.
In about three years the shrub willows will be harvested and used to create renewable energy at facilities like the Lyonsdale Biomass Plant in Lyons Falls, NY.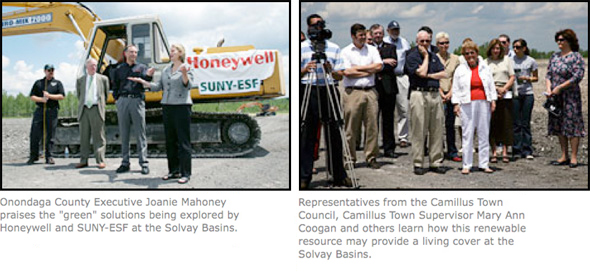 "The vegetative cover being evaluated has tremendous environmental benefits including an increase in biodiversity, the development of bioenergy feedstocks and carbon sequestration," said SUNY-ESF President Cornelius B. Murphy, Jr. "For every acre that we re-vegetate, we sequester approximately 10 tons a year of carbon dioxide. This represents an important contribution to climate control here in Central New York. If we re-vegetate all of the Solvay basins, we would reduce our carbon dioxide footprint by approximately 7,000 tons/year."
"Last year, we demonstrated how this renewable resource can create a living cover for the Solvay site and become a productive source of 'green' energy," said Honeywell Syracuse Program Director John McAuliffe. "The 60,000 shrub willows in Phase II of the project mark the next step in our exploration of environmentally and economically viable solutions that benefit the environment and communities around Onondaga Lake. This innovative partnership is creating a clean, sustainable way to address remediation priorities, reduce our use of fossil fuel, and enhance wildlife habitat to this area."
"The Anheuser-Busch BERS operation converts nutrients from brewery process wastewater into renewable biogas providing about 19 percent of the brewery's fuel needs," said Steve McCormick, plant manager, Anheuser-Busch Baldwinsville brewery. "Over the past three years, Agri-Brew, which is the solids left over from the BERS process, has been an important contributor to the SUNY-ESF/ Honeywell project. We look forward to the shrub willows' continued growth as a possible renewable fuel source."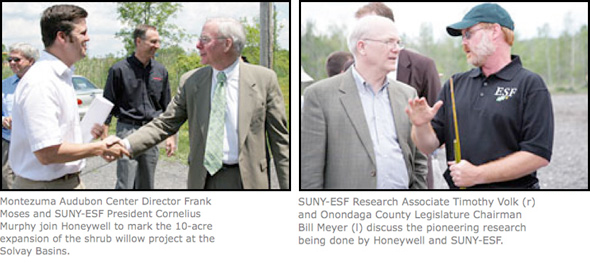 Based on the success of the pilot project, experts say mass plantings and cultivation of shrub willows would create a sustainable and effective cover for the basins, eliminating the need for synthetic liners and clay caps, which do not provide the same energy, biodiversity or recreational benefits. SUNY-ESF says they can substantially reduce the amount of water that percolates through the settling basins and into the groundwater. The shrub willows also offer opportunities for recreation and improved habitat for wildlife. SUNY-ESF is also planting salt marsh vegetation in the hope of recreating salt marshes that once were prevalent in the Onondaga Lake vicinity. Salt marsh vegetation also will prevent erosion and attract wildlife.
"On behalf of the town of Camillus, we are again very proud to partner with SUNY-ESF and Honeywell in this innovative and sustainable project that will provide great future recreational and educational benefits to the community," said Camillus Supervisor Mary Ann Coogan.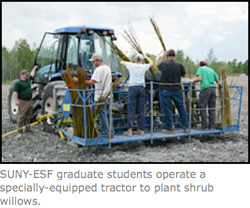 Dr. Murphy and SUNY-ESF Research Associate Timothy Volk provided tours of the site to the elected officials and representatives from Anheuser-Busch this morning. The officials toured the site, observed the soil mixing process and planted shrub willows.
Over the next year, the recently planted shrub willows will be carefully monitored by SUNY-ESF. They will be cut every three years, allowing them to re-sprout with new growth in the spring. Each shrub can be harvested at least seven times before replanting.
For more information on the Onondaga Lake cleanup, visit www.onondaga-lake-initiatives.com.
Recent ESF News
News Archives
Communications & Marketing
SUNY ESF
122 Bray Hall
1 Forestry Drive
Syracuse, NY 13210
Communications@esf.edu