SHARE:
2011 ESF Graduates Plan a Green Future
ESF's newest alumni head to their next adventures

5/16/2011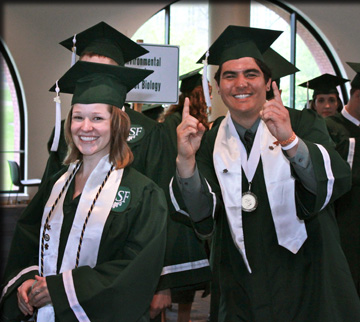 Daniel P. DiMarco of Clay, who graduated with honors Sunday, May 15, during the College's joint Commencement with Syracuse University, has had several paper process engineering internships and will soon relocate to Wilmington, N.C., to begin his career with International Paper.
BettyJo Jivoff, a native of Oneida, earned a bachelor of science in environmental and forest biology and will start on a master's degree at ESF this fall. She's looking forward to a "hands-on'' career in ecology and field biology research.
Thaler Barnes, who graduated with a master's degree in landscape architecture, feels confident his "add on'' education at ESF - he also has a degree in interior design from the SUNY Fashion Institute of Technology - will serve him well as he looks for a job in Central New York and beyond. He met the "love of his life'' during his time at ESF, and she works at a hospital in the area.
Timothy McCoy of Manlius was a successful young business professional working in an office in Overland Park, Kansas, who "felt unsatisfied and missed the outdoors'' when his wife, Heather, encouraged him to shift gears and follow his heart. He earned a bachelor of science degree in conservation biology Sunday and will return to ESF in the fall to begin graduate studies.
McCoy's fellow Centennial year classmates chose him to serve as their speaker at ESF's annual convocation Saturday, May 14.
"2011 graduates - I've seen the world outside of ESF and it doesn't look like this,'' McCoy said. "We have a large group of people here who want to make a difference to the environment: foresters, conservationists, architects, engineers, paper scientists… we are all part of the solution.
"Whatever your destination,'' McCoy added, "I urge you to be mindful of the things you've learned at ESF. I believe the people in this room can change the world.''
ESF's annual convocation, held in the auditorium at Syracuse University's Schine Student Center, was a prelude to joint commencement with Syracuse University Sunday in the Carrier Dome - where ESF students in their signature forest green caps and gowns stood out.
The College awarded more than 475 degrees this year, including 375 bachelor's degrees, about 80 master's degrees and some 20 doctoral degrees.
Despite the hectic pace of his last semester, Barnes said it has been great to have the opportunity to connect with ESF alumni from 50 years ago or more returning to the campus for 100-year anniversary events.
"It has been fun and special,'' he said.
By Margaret McCormick
Recent ESF News
News Archives
Communications & Marketing
SUNY-ESF
122 Bray Hall
1 Forestry Drive
Syracuse, NY 13210
315-470-6644