SHARE:
Senator Schumer Supports Alternative Energy at ESF
Visits SUNY-ESF campus to tour the college's energy-research facilities

7/1/2008
The video originally included in this story is no longer available via this page. Contact web@esf.edu if more information is required.
Copyright © All Rights Reserved by copyright holder
U.S. Senator Charles E. Schumer visited the SUNY-ESF campus July 1 to tour the college's energy-research facilities and to support tax incentives that would encourage development in the area of alternative energy.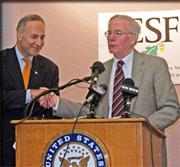 Schumer said tax credits now pending before the Senate would boost innovative businesses that could create jobs for people in Central New York while developing alternatives to increasingly expensive fossil fuels.
"SUNY-ESF is one of the very bright spots in what seems like a pretty bleak energy future these days," Schumer said. "The tune is too familiar at this point — gas prices are through the roof and consumers are getting slammed. And this means one, very important thing: It's time to get serious about a long-term solution to our energy dependency."
Schumer spoke after a walking tour that included stops at the college's fuel cell, green roof and laboratories in Walters Hall. He also spoke with college faculty members and visiting business leaders about advancements in areas such as bioplastics and cellulosic ethanol.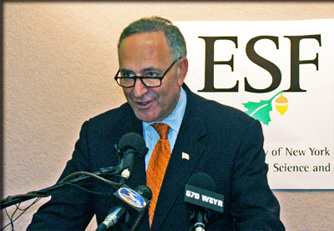 Recent ESF News
News Archives
Communications & Marketing
SUNY ESF
122 Bray Hall
1 Forestry Drive
Syracuse, NY 13210
Communications@esf.edu