SHARE:
Trio of ESF Employees Honored by SUNY Chancellor
Superlative job performance, dedication to students recognized

5/20/2011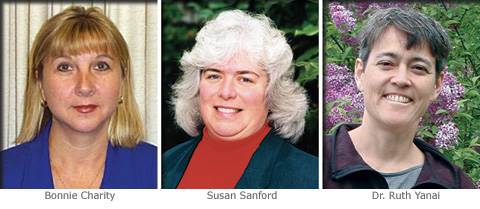 Three employees of the SUNY College of Environmental Science and Forestry (ESF) were honored by Chancellor Dr. Nancy L. Zimpher for their service to the State University of New York.
Bonnie Charity, library clerk 3 at F. Franklin Moon Library, received the SUNY Chancellor's Award for Excellence in Classified Service. The award is given to University Classified Service staff who have consistently demonstrated superlative performance within and beyond their position.
Charity joined ESF in 1995. During the course of her service she has been promoted twice. She was recognized for her dedication, work ethic, positive attitude, service in college committees and her professionalism.
Susan Sanford, director of undergraduate admissions, was honored with the Chancellor's Award for Excellence in Professional Service. The award recognizes consistently superior professional achievement within and beyond the position and those who serve as professional role models for a university system in the pursuit of excellence.
Sanford has been with ESF since 1985 and has led that office as director of admissions and inter-institutional relations for the past 13 years. Under Sanford's leadership ESF, one of the smallest SUNY colleges, continues to successfully enroll more than 250 new undergraduate transfer students and 300 freshmen each year. She has held board positions within SUNY organizations and has served on numerous committees at ESF. Sanford and has helped countless students on the pathway to success in higher education.
Dr. Ruth Yanai, professor in the Department of Forest and Natural Resources Management, received the SUNY Chancellor's Award for Excellence in Scholarship and Creative Activities. The award is given to faculty "who have demonstrated sound and sustained scholarship in the sciences, humanities, and professional studies or consistent creative productivity in the fine and performing arts."
Yanai has been with ESF since 1994. Her research and teaching focus on forest ecology, ecosystem nutrient cycling, roots, and forest soils. Since 1991 she has published an average of three research papers a year. The papers appear in a variety of high-impact journals. She has presented at countless national and international conferences and has secured a total of $5.6 million in research funding.
She has mentored students from the undergraduate to post-doctorate levels and has influenced many more students through her research collaborations, including dozens of undergraduates on summer field crews, and through her service on student committees.
Recent ESF News
News Archives
Communications & Marketing
SUNY-ESF
122 Bray Hall
1 Forestry Drive
Syracuse, NY 13210
315-470-6644