SHARE:
ESF Named to Community Service Honor Roll
Service learning and community service programs recognized

5/26/2011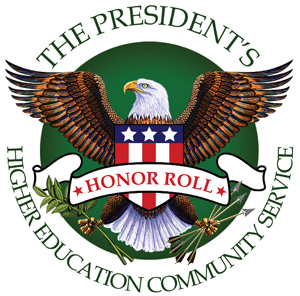 ESF was recognized for its exemplary student community service and service-learning programs by being named to the President's Higher Education Community Service Honor Roll for 2010.
The Honor Roll recognizes higher education institutions that reflect the values of exemplary community service and achieve meaningful outcomes in their communities. This is the third time the college was placed on the honor roll. ESF was listed in 2007 and 2008.
ESF students contributed more than 71,000 hours through the service learning initiative and community service in 2009-2010.
"Our students have taken the college's commitment to community service to heart," said President Cornelius B. Murphy, Jr. "Their reach expands beyond the Syracuse community."
Students' community service included:
Three groups of ESF students who traveled to New Orleans to help the victims of Hurricane Katrina put their lives and neighborhoods back together.
Approximately 300 new ESF students who spent the first Saturday of their college years doing volunteer work in the Syracuse area as part of the college's annual Saturday of Service. The students spread out to do improvement projects in Syracuse city parks, along Onondaga Creek, at Carpenter's Brook Fish Hatchery and in local New York state parks.
The ESF Science Corps which consists of undergraduate and graduate students who serve as role models for students whose academic and career plans are emerging. The
 Science Corps provides environmental outreach and educational programs to promote science, technology, engineering and math within the Syracuse City School District and surrounding school districts.
ESF's Service Learning Initiative is used by faculty to give students hands-on experience. community service helps students focus their career goals by affirming their chosen path or introducing them to new possibilities.
The President's Higher Education Community Service Honor Roll is a program of the Corporation for National and Community Service and is sponsored by the President's Council on Service and Civic Participation, the USA Freedom Corps and the U.S. departments of Education and Housing and Urban Development.