SHARE:
ESF Grad Seeks World Flying Record
One stock helicopter, two guys, 15 countries, 24 time zones, 23,000 miles, in less than two weeks.

7/14/2008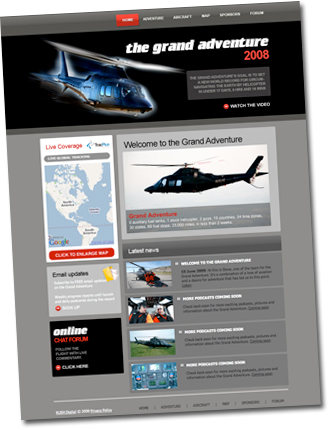 UPDATE - Success! ESF grad Scott Kasprowicz succeeded in smashing the record for circumnavigating the Earth by helicopter. He and co-pilot Steve Sheik completed their journey in 11 days 7 hours and 2 minutes, beating the old mark by nearly six days.
Congratulations Scott and Steve!
----------------------------------------
(Syracuse, N.Y.) – E. Scott Kasprowicz, SUNY College of Environmental Science and Forestry (SUNY-ESF) Class of '78, will attempt to break the record by three days for an around-the-world flight by helicopter. The current record is 17 days, six hours, and 14 minutes.
Classmate and friend Chris Sandstrom, Elbridge, N.Y., said, "Scott's love of flying was well established by the time he got to college. The problem was a heavy class load kept us from getting a lot of airtime so we talked about it a lot."
"But," said Sandstrom, "It sure looks like he's making up for it now."
Actually Sandstrom said Scott found a way to get more flying time and a way to beat Washington, D.C., area traffic by buying a helicopter.
Kasprowicz and his co-pilot, Steve Sheik, left New York City Aug. 7, 2008. They are flying east, crossing the Atlantic Ocean, flying over Europe and Russia to Alaska and Canada, and then back to NYC. Kasprowicz will do most of the flying with co-pilot Sheik handling the flight plan and navigating.
"I will be wearing my ESF t-shirt under my flight suit and when we're not flying," said Kasprowicz. They will fly 12 to 13 hours a day during the 14-day trip, resting only at night. They will make over 70 refueling stops.
Anyone interested in following the progress of the flight can check www.esf.edu and the Kasprowicz/Sheik website.
Kasprowicz is a 1978 graduate of SUNY-ESF where he established the E. Scott Kasprowicz scholarship for landscape architecture students focusing on community design and planning. He is the former Deputy Secretary of Transportation for the Commonwealth of Virginia, co-founder of Nuride, Inc., to promote ride sharing, founder and former CEO of Texel Corporation, a worldwide technology services company, and prior to that and his first job out of ESF, he was procurement forester with the Weyerhaeuser Company.
Recent ESF News
News Archives
Communications & Marketing
SUNY ESF
122 Bray Hall
1 Forestry Drive
Syracuse, NY 13210
Communications@esf.edu