SHARE:
Mighty Oak Monday: Alicia Fahrner


5/2/2022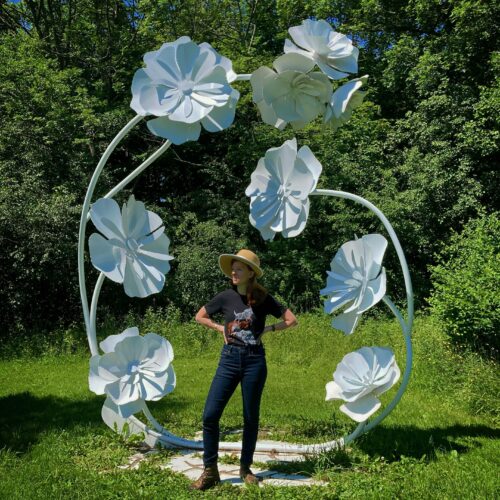 A "lightbulb" moment was what led Alicia Fahrner to pursue her master's degree in landscape architecture. After graduating college with a degree in environmental biology, she pursued various jobs in the field, but never quite found her niche. But when she heard a talk from Barbara Deutsch, a prominent member of the landscape architecture community nationally, she knew she had found her calling. That passion started her on a journey that would eventually land her back in school at ESF. Now, she is in the second year of the three-year master's degree.
Recently, Fahrner was awarded the Douglas Dockery Thomas Fellowship Scholarship from the Garden Club of America for her outstanding work reinterpreting the gardens at the Hilltop House and Studio. "It was an amazing honor to be the recipient of a scholarship that very few in the country receive," said Fahrner. The Hilltop House and Studio maintains the Dorothy Riester House and Studio. Riester was a prominent 20th century architect and artist who built the home in the 1950s. Fahrner is currently working towards designing plans that would reinvigorate the gardens after spending the summer of 2021 assessing the landscape to see what would grow.
Fahrner has loved every moment of being a landscape architecture student at ESF and is excited for the opportunities the program will open up for her. "Landscape Architecture has some of the most amazing support from alumni and current faculty," Fahrner said, "I'm very fortunate to have landed here."
Thank you to Alicia Fahrner for helping improve the world you live in through your passion!
Recent ESF News
News Archives
Communications & Marketing
SUNY ESF
122 Bray Hall
1 Forestry Drive
Syracuse, NY 13210
Communications@esf.edu