Trees, Pavement Are Testimony to Lasting Effects of Housing Discrimination ESF-based research team publishes study in professional journal

5/23/2022
SHARE: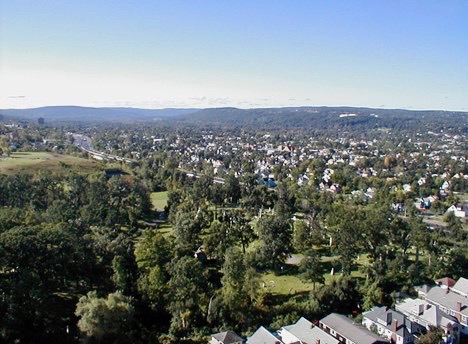 In a big-picture examination of how a discriminatory housing practice known as redlining shaped the distribution of urban tree canopy and the associated benefits of trees, USDA Forest Service researchers based at ESF found that 80 years later, "redlined" areas nationwide have more pavement and less tree canopy than other areas, and they face significant barriers to reversing that condition.
Redlining occurred between 1935 and 1940 when a federal government program called the Home Owners Loan Corporation (HOLC) mapped parts of many U.S. cities and assigned a level of risk for home loans; areas inhabited by immigrants, poor people, and non-White racial groups were shown in red, hence the name "redlining." The HOLC maps enabled discriminatory lending practices that made it difficult or impossible for people of color or others in the so-called "high risk" classes to purchase homes.
In a study published recently in the journal Landscape and Urban Planning, retired Forest Service scientist David Nowak and Forest Service researchers Eric Greenfield and Alexis Ellis illustrated the effects of redlining on today's urban forests and the benefits derived from trees. The research team combined national redlining data for 1,259 census places in which at least one of four HOLC classes were mapped with 2010 tree canopy data. Researchers also quantified the value of urban tree services not being realized in former redlined areas, such as cleaner and cooler air, storm water management, and reduced residential energy costs.
"An immediate effect of redlining was that it deprived people of opportunities to purchase homes," Nowak said. "Our research shows that nationwide, less tree canopy continues to cost people in formerly redlined neighborhoods millions of dollars every year in terms of lost tree services."
All three members of the research team work out of the Forest Service's office at ESF. In addition, all three are ESF graduates. Nowak earned his bachelor's degree from ESF in 1984 and his master's in 1986; Greenfield earned his Ph.D. in 2005; and Ellis earned a master's degree in 2009.
When the research team compared HOLC mapping with land cover maps they found that as HOLC risk categories increased, tree cover decreased and impervious cover increased. Redlined areas were often already areas with higher population density and pavement, and these areas tend to have lower tree cover today. Because these areas have more paved areas, there is not enough space available for the level of tree planting needed to match tree cover found outside of redlined areas. For formerly redlined areas to attain an equitable level of tree cover, urban areas would likely have to be redesigned with less impervious infrastructure, Nowak said.
The study, "The disparity in tree cover and ecosystem service values among redlining classes in the United States," is online via the Forest Service's Northern Research Station.
-News release provided by the U.S. Forest Service