ESF Honors Newest Members of ESF Athletic Hall of Fame

9/16/2022
SHARE: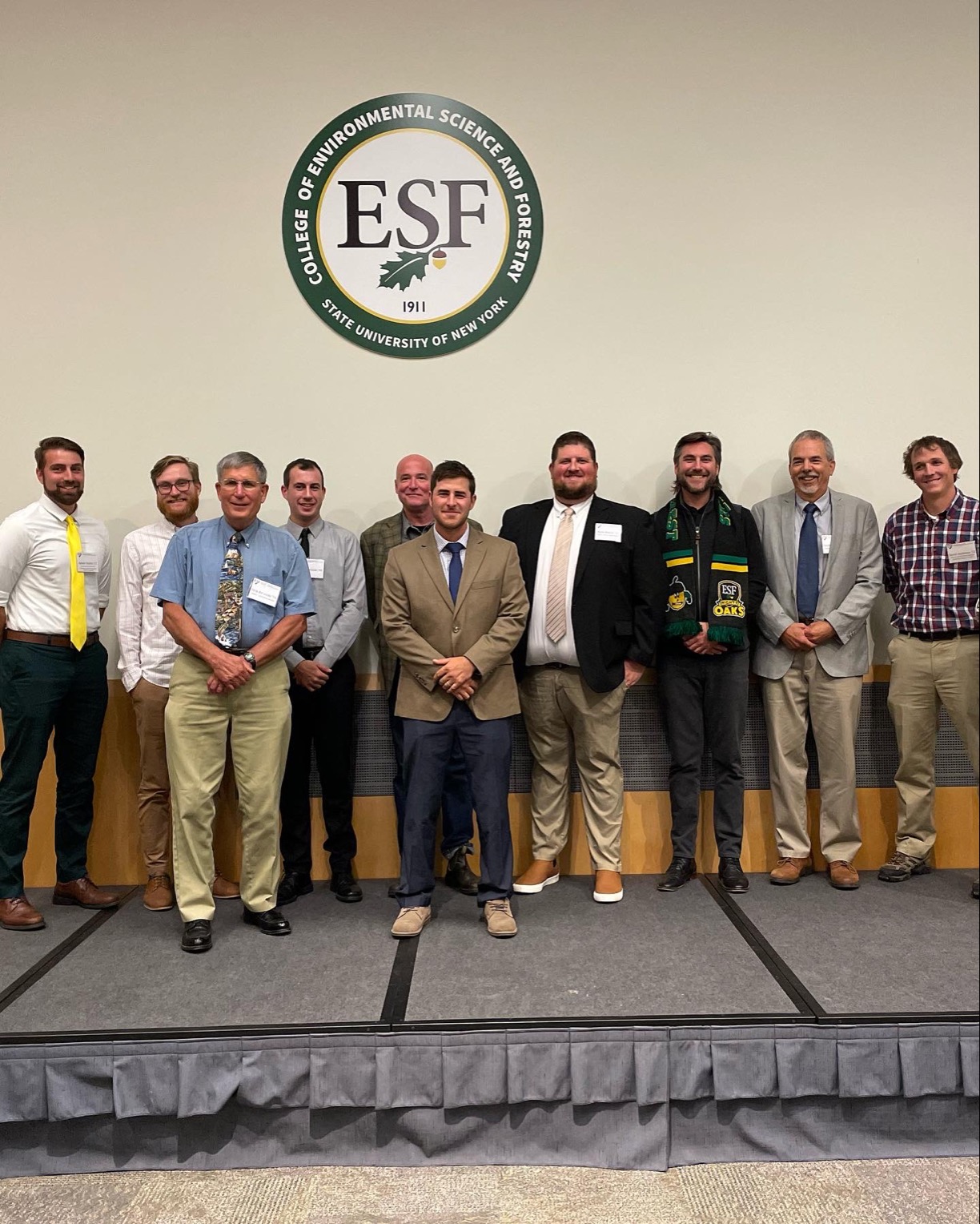 The SUNY College of Environmental Science and Forestry (ESF) will induct the newest class of honorees into its Athletic Hall of Fame at 6:45 p.m. Friday, Sept. 16 in the College's Gateway Center. This year, the 2012 men's soccer team, a timbersports athlete, a member of the ski/cross country team at Syracuse University (SU), and the driving force behind the creation of ESF's mascot-Oakie the Acorn-are among the 2022 honorees of the ESF Athletic Hall of Fame.
"This year's honorees represent the pinnacle of ESF athletics and we are honored to recognize their achievements," said ESF President Joanie Mahoney. "The discipline, dedication, and teamwork seen on the playing field are mirrored both in the classroom and in their professional lives."
The ESF Athletic Hall of Fame was created to honor former students, coaches, administrators, faculty, staff, and members of the ESF community whose contributions have brought distinction, honor, and excellence to ESF athletics and familiarized the campus community and alumni with ESF's rich athletic history.
The 2022 ESF Athletic Hall of Fame honorees are:
2012 ESF Men's Soccer Team and Coaches
The 2021 team was the first ESF team to make the USCAA National Championship Event finishing third in the national tournament. This was the highest-placed ESF team at that point in the program's history. A tournament highlight was a spectacular goal from 25 yards out by Kyle Bardwell. The soccer team had four All-Academic Americans and three All-Athletic Americans.
Members of the 2021 team were Pat "Hank" Alcott, '14 environmental policy, planning, and law-EST; Kyle Bardwell, '15 environmental resource engineering; Ben Bednarski, '15 bioprocessing engineering; Adam Belkadi, transferred to SU; Dillon Buchburg, '15 Sustainable energy management; Eamon Case, '13 construction management; Ryan Graig, '14 environmental policy, planning, and Law-EST; Nick Hlat, '14 environmental science; Rob Hamm, '16 environmental science; Dan McGraw, '16 environmental resource engineering; Marcus Moore, 2014 construction management; Adam Scalisi, '15 landscape architecture; Kyle Siegel, '14 environmental policy, planning, and Law-EST; Steve Tyrell, '14 paper engineering; Ross Volpe, '14 bioprocessing engineering; Mike Walczyk, '15 construction management; Adrian Wiegman, '13 biological science application-EST; Coach Dan Ramin, and Assistant Coach Jon Ramin.
David Andrews
David Andrews, '12 environmental forest biology - aquatic and fisheries science, was a member of the Timbersports team. He was the 2012 team captain and led the team to the Northeast College Timbersports Challenge Championship. He was the 2012 recipient of the SUNY Chancellor Student Excellence Award. He also won the men's Individual Northeast Stihl Timbersports Collegiate Challenge and finished second in the National 2012 Stihl Timbersports Collegiate Championship.
Peter Arthur
Peter Arthur, '78 resources management, was a member and letter winner for the SU soccer team from 1974-1977. In 1978, he served as team captain and was named Most Valuable Player. He is active in the youth soccer program in his community and became an Adirondack 46'er in 2016.
Ryan Henry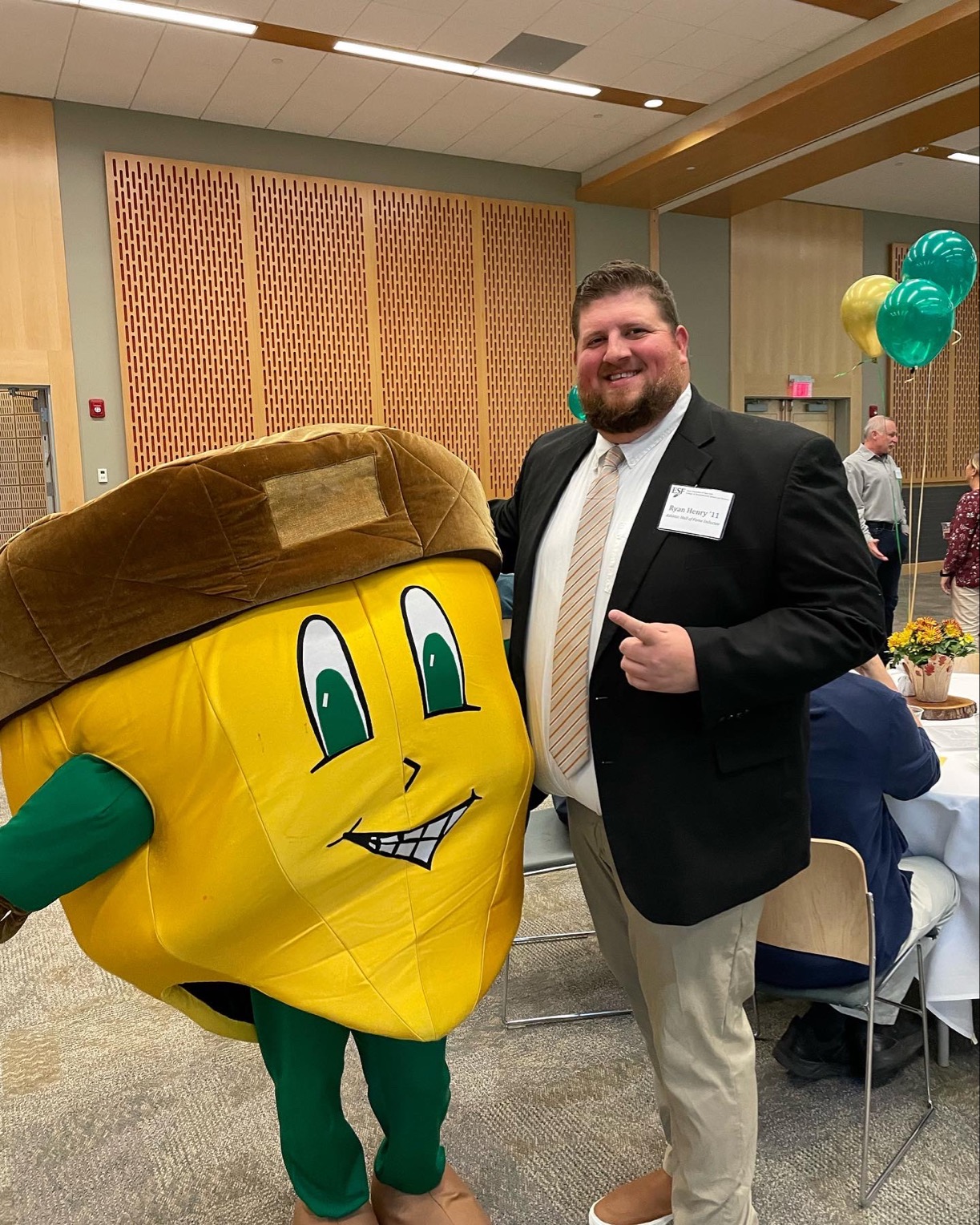 Ryan Henry with ESF mascot Oakie the Acorn.
Ryan Henry, landscape architecture '11, was a consummate Mighty Oaks supporter and driving force for the creation of ESF mascot Oakie the Acorn. He was instrumental in naming the ESF athletic teams The Mighty Oaks, was the 2011 recipient of the Robin Hood Oak Award, assisted in having the student body approve USCAA athletic participation, and was a member of the SU Athletics Cheer Team.
Richard Rybinski
Richard Rybinski, '74 resource management, was a four-year member and competitor on the SU cross country and Alpine ski teams. He was recognized as an Outstanding Skier in 1972 and 1974 for the U.S. ski teams. He was the 1974 Robin Hood Oak Award recipient and was the 1978 third-place finisher in the USSA Cross Country Ski Championships - Veteran Class 1. He also received a Special Achievement Award from the Bureau of Land Management.
Stephen Young
Stephen Young, '74 resource management, was a member and letter winner for the SU soccer team from 1970-73. From 1970-73 he had the most goals by an SU soccer fullback, was 1973's Most Valuable Player, and was co-captain for the team. Following graduating from ESF, he became a Peace Corps volunteer and was the founder of the Adirondack Botanical Society.
"The Hall of Fame inductees played an important role in ESF's sports history," said Dan Ramin, director of intercollegiate athletics. "They not only contributed to successful teams both at ESF and SU but also a shared sense of community spirit and pride."