ESF to Celebrate December Graduates Three alumni to be honored during the ceremony

12/8/2022
SHARE: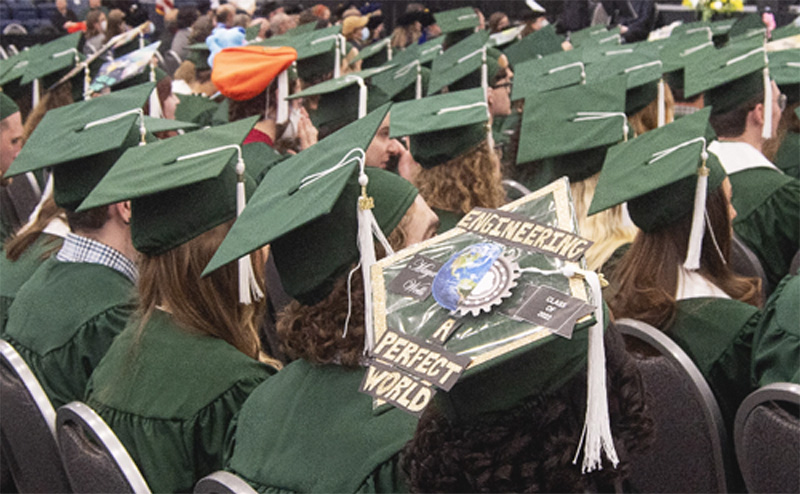 The SUNY College of Environmental Science and Forestry (ESF), one of the nation's premier colleges focused exclusively on the study of the environment, developing renewable technologies, and building a sustainable future, will award 86 degrees, including 29 master's degrees and 12 Doctor of Philosophy degrees, during the 2022 December Commencement at 3 p.m. Dec. 9 at Hendricks Chapel. A reception will follow at ESF's Gateway Conference Center.
"Graduation is the pinnacle of the college experience and the culmination of the academic journey for our students and I'm proud to share this milestone with them and their families and friends," said ESF President Joanie Mahoney. "We're also honored to recognize the contributions of our Graduates of Distinction. These alumni exemplify the impact ESF graduates have on their world."
ESF is celebrating graduates with several events throughout the week.
Student Speaker: Muskan Shrivastava
Muskan Shrivastava (Edison, New Jersey) is an environmental studies major with a focus area in natural systems applications and a minor in environmental biology. She is secretary of the DESI Club, the test files coordinator, and the Mighty Oaks Student Association representative for the AXS Honor Society. She has worked as a peer tutor in the Academic Success Center, a student ambassador, and an undergraduate teaching assistant for Introduction to Personal Environmental Interpretation Methods. Shrivastava is completing research on estrogenic water contamination and policy recommendations for her honors project. After graduation, she plans to work in environmental policy and eventually earn a master's degree.
Student Marshals: Megan Cammett and Mary E. Haley
Megan Cammett (Rochester, New York) is a conservation biology major. She served as a Head Orientation Leader for ESF's Fall 2022 Orientation and is involved on campus as a Student Ambassador, member of the AXS Honor Society, secretary for the Society for Conservation Biology CNY Chapter, and social media chair for ESF's Ducks Unlimited Chapter. Megan has been an undergraduate teaching assistant for Introduction to Geospatial Information Technologies and worked at Syracuse University as a medical transport driver. After graduation, she plans to work in conservation and monitoring positions.
Mary E. Haley (Rockaway Beach, New York) is an environmental studies major with a minor in writing and rhetoric. Her coursework focuses on policy, environmental education, land planning, and environmental literature studies. During her time at ESF, she was named to the Dean's List for all semesters, a public speaking tutor, an orientation leader, a NYPIRG internship fellow, and involved with the Bob Marshall Hiking Club. Haley volunteered with the Food Recovery Network, Beth's Food Pantry, her local Sea Scouts of America troop, and The National Parks Service, where she was later hired as a park ranger. She studied abroad with the Sea Education Association, where she developed a research thesis on thermocline variability. She then moved full-time onto a 134-ft brigantine sailing research vessel to conduct her thesis off of the Hawaiian archipelago in the southern Pacific Ocean. Haley developed a sustainability program that was implemented on Syracuse University's sailing team. She is the Commodore for SU's sailing team, vice president for AXS Honor Society, and a part-time medical transport driver for Syracuse University Ambulance. After graduation, she will begin working near New York City, as she hopes to build her career in environmental consulting.
Graduates of Distinction
Three ESF alumni will be honored during Friday's commencement. Graduate of Distinction Awards will be bestowed upon Karyn B. Richards '81, '84; Eric E. Murdock '93; and Meera A. Jagroop '12.
Karyn B. Richards '81, '84
Richards will be honored with the Graduate of Distinction Lifetime Achievement Award.
Richards' love of the Adirondacks began during childhood summers spent in Raquette Lake, New York where she developed her appreciation of the forest from her family and built on that knowledge as an undergraduate and graduate forest resources management and planning student. Through her positions with the New York State Department of Environmental Conservation (NYS DEC) and the Adirondack Park Agency (APA), Richards made a lasting and positive impact on forest policy and the lives of the people who live, serve, and govern in the Adirondack and Catskill parks where the Forest Preserve lands are protected by the state of New York.
In 1981, Richards began a four-decade career in public service as the Policy and Planning
Chief with the Division of Lands and Forests at the NYS DEC, then as Deputy Director of the APA. For the last 20 years of her career, she served as the DEC Forest Preserve Coordinator, managing and protecting the New York State Forest Preserve, which includes 3 million acres of public lands within the Adirondack and Catskill parks.
Richards facilitated policies and programs that protect these Forever Wild lands. She provided objective and sound advice on Forest Preserve policy and litigation, worked with state and local officials on the acquisition of over 1 million acres of land in the Adirondacks
and Catskills, and helped shape Forest Preserve policy.
Eric E. Murdock '93
Murdock is the recipient of the Graduate of Distinction - Notable Achievement Award.
Growing up on a lake contaminated by inadequate septic systems influenced Murdock's career path. As an ESF student, Murdock knew he wanted to make a lasting contribution to the community and the environment.
After graduating with a degree in environmental resources engineering (ERE), Murdock's career trajectory took him from a material testing company to a local environmental firm to
an international engineering firm focused on environmental clean-up. He managed a U.S. Environmental Protection Agency (EPA) grant from the Office of Wastewater Management. As project manager for the EPA's National Community Decentralized Wastewater Demonstration Project at Skaneateles Lake, Murdock developed a viable long-term solution for wastewater infrastructure that used smaller footprints while ensuring suitable treatment. The project drew state and national attention due to the innovative systems using technology not previously seen in the United States. His alternative approach to septic systems on the Skaneateles Lake project led to changes in New York state septic system regulations.
Murdock formed ONSITE Engineering, a company that specializes in onsite and decentralized wastewater systems for difficult sites with a focus on lake and river waterfronts throughout New York.
Murdock gives back to his industry and ESF. He is a volunteer with the New York Onsite Wastewater Training Network, where he serves as vice chair and a lead environmental trainer. At ESF, he is an alumni speaker, guest instructor, and career advisor for the ERE department.
Meera A. Jagroop '12.
The Graduate of Distinction - Incipiens Quercu (Young Oak) Award will be presented to Jagroop. The award is given to a recent ESF graduate who exemplifies ESF's commitment to environmental stewardship.
Since graduating from ESF in 2012, Jagroop has connected children and teens — often in urban settings — with nature through hands-on, inquiry-based activities to ensure the planet is in well-informed and caring hands.
With a degree in Natural History and Interpretation, Jagroop began her career as a science educator at the Brooklyn Children's Museum where she developed educational programming for the public and local schools using the Museum's collections. During this time, she earned a master's degree in museum education at Bank Street College of Education in New York City.
Jagroop next went to the Brooklyn Botanic Garden where she oversaw an interpretive education program with an emphasis on hands-on, inquiry-based experiences. She was responsible for creating innovative programming to deepen visitors' connections to the natural world through storytelling and science learning. Jagroop now serves as director of youth programs, where she is instrumental in establishing a connection between urban youth and nature through the 100-year-old Children's Garden. With a focus on greening the urban environment through education, sustainable practices, and stewardship, she encourages young people to develop basic horticulture and botany skills as they bring garden plots to life. From toddlers who work with adult partners to harvest the garden to teens who participate in a nine-month Garden Apprentice Program learning about botany, horticulture, and urban farming, Jagroop is creating an environmental education program that encourages a life-long connection with nature.
About SUNY ESF
The SUNY College of Environmental Science and Forestry (ESF) is dedicated to the study of the environment, developing renewable technologies, and building a sustainable and resilient future through design, policy, and management of the environment and natural resources. Members of the College community share a passion for protecting the health of the planet and a deep commitment to the rigorous application of science to improve the way humans interact with the world. The College offers academic programs ranging from the associate of applied science to the Doctor of Philosophy. ESF students live, study and do research on the main campus in Syracuse, N.Y., and on 25,000 acres of field stations in a variety of ecosystems across the state.
Recent ESF News
News Archives
Communications & Marketing
SUNY ESF
122 Bray Hall
1 Forestry Drive
Syracuse, NY 13210
Communications@esf.edu