ESF Student Participates in SEA Semester Program Aquatic and fisheries science major sets sail in Lesser Antilles

12/26/2018
SHARE: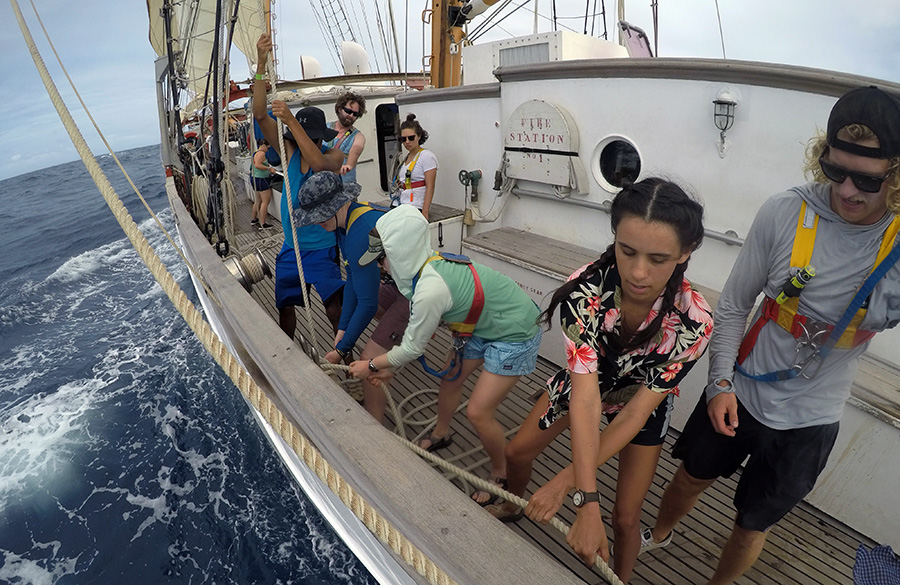 This past fall, Maria Alfaro, a senior at the SUNY College of Environmental Science and Forestry (ESF), sailed on an ocean research vessel to study human impact on Caribbean coral reef ecosystems.
Through SEA Semester: Caribbean Reef Expedition, a study-abroad program offered by Sea Education Association (SEA) Alfara, together with other students with a variety of academic interests, conducted guided field research at sea, sailing through the Lesser Antilles to St. Croix, U.S. Virgin Islands.
Alfaro, an aquatic and fisheries science major from Ithaca, New York, boarded the SSV Corwith Cramer, SEA's state-of-the-art, 134-foot brigantine, in Grenada, Nov. 27. The ship served as home, classroom and laboratory for the four-week voyage. The students become full working members of the ship's crew, sharing responsibilities for standing watch, processing oceanographic samples, navigating by the stars and participating in round-the-clock operations.
Alfaro arrived in early October at SEA Semester's campus in Woods Hole, Massachusetts, for six weeks of on-shore preparatory coursework. With full access to SEA faculty, guest lecturers and other scientific institutions within the village of Woods Hole, Alfaro and her fellow students designed original research projects to be completed at sea. The shore component continued with two additional weeks at St. George's University in Grenada.