ESF-SU Team Scores Win in DOE Solar Decathlon Students prevail in mixed-use/multifamily division

4/17/2019
SHARE: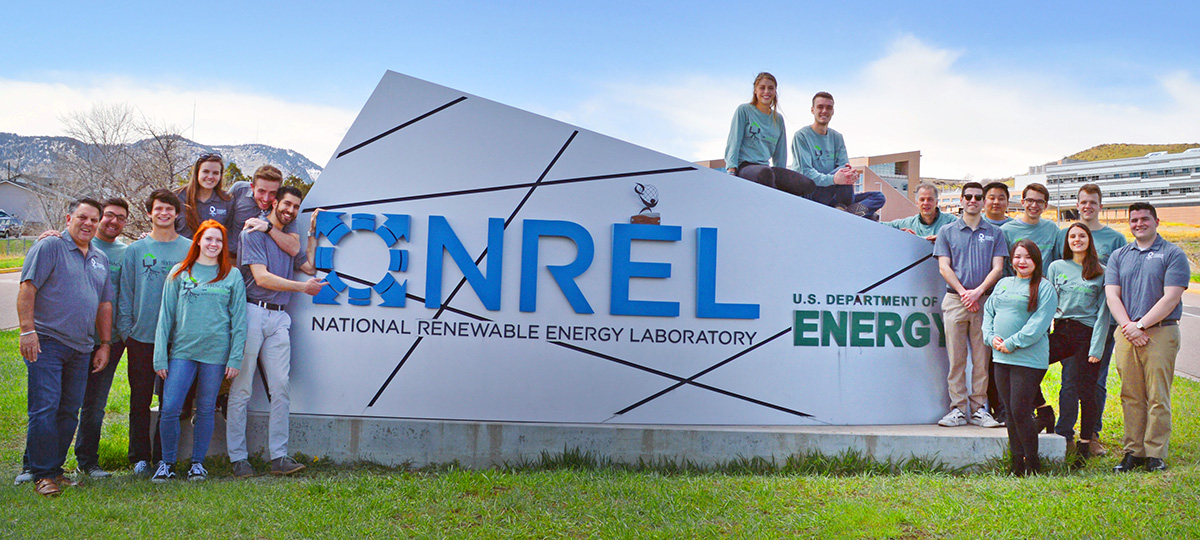 A team of 22 students – 18 from the SUNY College of Environmental Science and Forestry (ESF) and four from Syracuse University – have won their competition in the U.S. Department of Energy Solar Decathlon Design Challenge.
Members of the team traveled to Golden, Colorado, this past weekend to compete in the competition's mixed-use/multifamily division. Along the way to the finals, they prevailed over 17 other teams; at the finals, they were judged the best of the seven finalists, including competitors from Germany and India.
Overall, 48 teams were represented during Design Challenge Weekend activities at the National Renewable Energy Laboratory in Golden.
The ESF-SU project is a design for an energy-efficient building that could be part of the Syracuse Housing Authority's plan to remake the East Adams Street neighborhood in Syracuse. Team members presented the concept, called Syracuse Energy Efficient Design, to Syracuse Mayor Ben Walsh and authority representatives about a month ago.
The students estimate the 36-unit building would cost $9 million. It would include a day-care facility, community gardens and other outdoor spaces for residents. The net-zero energy building would feature geothermal energy for heating and cooling, and a solar array on the carport. Target residents would have low to moderate income levels.
The students believe the project would foster renewable best practices in Central New York while mitigating the divide between the East Adams Street neighborhood and the rest of the city. Students said the project was an opportunity to work with industry sponsors and learn from other students studying different disciplines
"We are extremely proud of these students, who worked across institutional and academic boundaries to produce a design that could be of real benefit to the community that is home to both of our universities," said ESF Interim President David Amberg. "We work with partner institutions across the region to educate the leaders of tomorrow, and these students are clearly ready to step into that role. Our next goal is to advocate to get this building constructed. This was not a purely academic exercise. The students' design is sophisticated and professionally done, and this building is exactly the kind of development our community and the Syracuse Surge needs."
Noah Townsend, a student lead and presenter, said the win is a testament to the tenacity, dedication, and intelligence of everyone involved with the ESF/SU Solar Decathlon Team. "For me, leading this team of young professionals was extremely rewarding. To watch our project and team members grow every week was extremely gratifying. Our hard work paid off after we beat 17 teams from around the globe from prestigious programs in this year's most competitive division of mixed-use/multifamily. Six of our team members got internships/jobs from this competition and I'm sure after this weekend that number will only grow. The biggest thing I learned from this project is how to work in a collaborative environment. This project was extremely deadline driven, just like in life, and to organize team member toward a common goal is a valuable lesson. The largest takeaway the NREL organizers drove home to every student in the room was that 'we are the future,' net-zero buildings are instrumental in helping solve the global climate crisis and it's our duty to design responsibly."
The ESF students who worked on the project represent five academic programs. Participants studying construction management in addition to Townsend areMichael Schmidt and Erika Gripp (student leads and presenters), Ryan Badke (presenter), Chris Carrano, Leo Cheung and graduate student Biidaaban Reinhardt. Studying environmental resources engineering are Ben Schmidt (presenter) and Connor Dormer. Studying environmental studies are Elliott Norman, Oliva Pringle and Aiden Halpin. Studying sustainable energy management are Dylan Howatt, Taylor Mallaber, Ari -al Raeburn, Patrick Whitford and John Enoch. Also on the team was landscape architecture student Erin Englehart and, studying environmental science, Celine Damide and graduate student Alex Poission.
The participants from SU, all studying architecture, are Ian Lefever, Noah Bishop, Benjamin Wang and Heather Warren.
Their faculty adviser was Mark Lichtenstein, ESF's chief sustainability officer and chief of staff. Their technical adviser was Dr. Paul Crovella, who teaches sustainable construction at ESF.
"This win goes beyond just a trophy but moreso a tangible and practical design that we believe can be the catalyst for energy-efficient buildings in Syracuse," Gripp said. "We understand that this is more than a competition. This is a way for young professionals to discover and develop a passion for not only the importance of low-energy buildings but also how these buildings will further develop the definition of community within the city. Through this competition we discovered that we are not alone in these endeavors to create smart and sustainable solutions to the current problems facing the nation's infrastructure. Although we believe we have many possible solutions for these issues, it is critical to learn through professionals in this field and develop ideas through the lens of past experiences. The general public should understand that although designs such as the building we have created are made to be highly efficient and sustainable, the building occupants must begin to adapt a more energy-conscious lifestyle in order to ensure proper functionality. Educating yourself on how to live a more sustainable and healthier lifestyle within your home and workspace is what will enable a positive change in the building industry of the nation."
Schmidt said the competition gave students a chance to apply the skills they learned in the classroom to a local housing challenge. "Success truly hinges on a multidisciplinary team comprising passionate individuals motivated through the real-world implications of their work. By leveraging this platform, we're capable of envisioning the redevelopment of the Syracuse housing stock driving toward a net-zero energy building that promotes a healthy community. Furthermore, by engaging city officials and the Syracuse Housing Authority, we are capable of playing our part in advocating for sustainable and net-zero energy strategies for the future of the city. This project does not end here. Rather, a continuation of efforts to ensure healthy and sustainable construction practices is at the heart of the revitalization of the East Adams Street neighborhood."
The U.S. Department of Energy Solar Decathlon is a collegiate competition that challenges student teams to design and build highly efficient and innovative buildings powered by renewable energy. The winners will be those teams that best blend architectural and engineering excellence with innovation, market potential, building efficiency and smart energy production.
The Solar Decathlon continues to "push the envelope" on the design of the most high-performance, efficient, affordable, innovative buildings while leveraging opportunities to showcase student innovation and STEM education, as well as to foster workforce development opportunities.
A team of ESF students, working with students from Onondaga Community College, won a Solar Challenge competition in 2014.
Recent ESF News
News Archives
Communications & Marketing
SUNY ESF
122 Bray Hall
1 Forestry Drive
Syracuse, NY 13210
Communications@esf.edu