ESF Announces Graduation Weekend Schedule Receptions, honor recognition ceremonies mark achievements

5/3/2019
SHARE: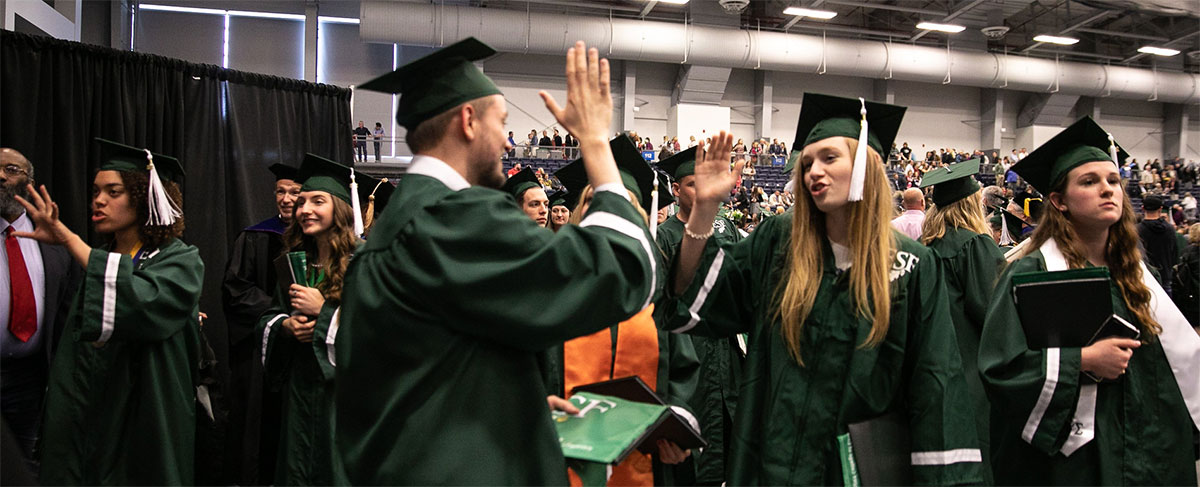 The College of Environmental Science and Forestry (ESF) will confer approximately 470 degrees during Commencement exercises 2 p.m. Saturday, May 11, at the SRC Arena and Events Center, Syracuse.
During the ceremony, ESF will confer approximately 391 bachelor's degrees, with about 79 students receiving master's and doctoral degrees.
The college also awards Associate in Applied Science degrees at the Ranger School in Wanakena. Those graduates will include 25 students in the forest technology program, 17 in the environmental and natural resources conservation program, and three in the land surveying technology program. They will receive degrees during a ceremony May 18.
Commencement weekend festivities in Syracuse begin at 11:30 a.m. Thursday, May 9 with the Inclusive Excellence Graduation Reception in Alumni (Nifkin) Lounge, Marshall Hall.This reception honors and celebrates the diversity of ESF's graduates. Each graduate will receive a special "Inclusive Excellence" graduation cord to wear at commencement.
The ESF Board of Trustees will sponsor a reception at 6 p.m. Thursday, May 9, to honor the eight Department Scholars. Interim President David Amberg will present the students with the medallions they where during Commencement. The event will be in 408 Baker Laboratory.
The master's and Ph.D. higher degree reception and ceremony will be held at 4:30 p.m. Friday, May 10 in Gateway Center.
At 8:30 a.m. Saturday, May 11, the Honors Students' Ceremony will take place in Gateway Center Room A. The Honors Ceremony will be followed by the Environmental and Forest Biology Awards Ceremony at 10 a.m. in 5 Illick Hall. Curriculum-specific receptions for degree candidates, their guests and members of the ESF college community will be held at 11 a.m. at various campus locations.
The college's Commencement will be at 2 p.m. Saturday, May 11, at the SRC Arena and Events Center, Allyn Hall Gym, at Onondaga Community College. Bachelor's, master's and doctoral degree candidates will be honored.
Dr. Bernard Amadei will be presented with the Honorary Degree. Amadei is the founding president of Engineers without Borders (EWB). Amadei is Distinguished Professor and professor of civil engineering at the University of Colorado at Boulder. He is the founding director of the Mortenson Center in Engineering for Developing Communities. He is also the founding president of Engineers Without Borders - USA (EWB) and the co-founder of the Engineers Without Borders-International network.
Undergraduate Class Marshals leading the degree candidates in the Commencement procession are Julia-Beth Taft of Greene, New York (environmental science), and Kory A. Whittum of Webster, New York (environmental biology). Graduate Class Marshal is Madhuri Dinakar of Bengaluru, India (ecological engineering).
During the ESF ceremony, departmental honors will be bestowed upon the top students in each of the college's discipline areas. Nafisa T. Tabassum of Long Island City, New York (sustainable energy management), will be the student speaker. Kiley R. Voss of East Aurora, New York (conservation biology), will present the class gift.
ESF departmental scholars are Rachel Czerwinski of Burlington, Massachusetts (chemistry); Mikayla Call of Catonsville, Maryland (environmental and forest biology); Colin A. Richardson of Wynnewood, Pennsylvania (environmental resources engineering); Celine Damide of New York, New York (environmental science); Diana Wilson of Farmingdale, New York (environmental studies); Harris Eisenhardt of Chatham, New Jersey (forest and natural resources management); Joanne Pereira-Melo of Flushing, New York (landscape architecture) and Hans A. McCarthy of Glen Spey, New York (paper and bioprocess engineering).
Student Chancellor's Award honoree is Marissa Lathrop Baldwinsville, New York (environmental education and interpretation).
Joint Commencement exercises with Syracuse University will begin at 9:30 a.m. Sunday, May 12, in the Carrier Dome.
Recent ESF News
News Archives
Communications & Marketing
SUNY-ESF
122 Bray Hall
1 Forestry Drive
Syracuse, NY 13210
315-470-6644