Great Lakes Research Consortium Awards Funding to Five Projects ESF's Dr. Razavi's tubenose goby research receives funding

7/26/2019
SHARE: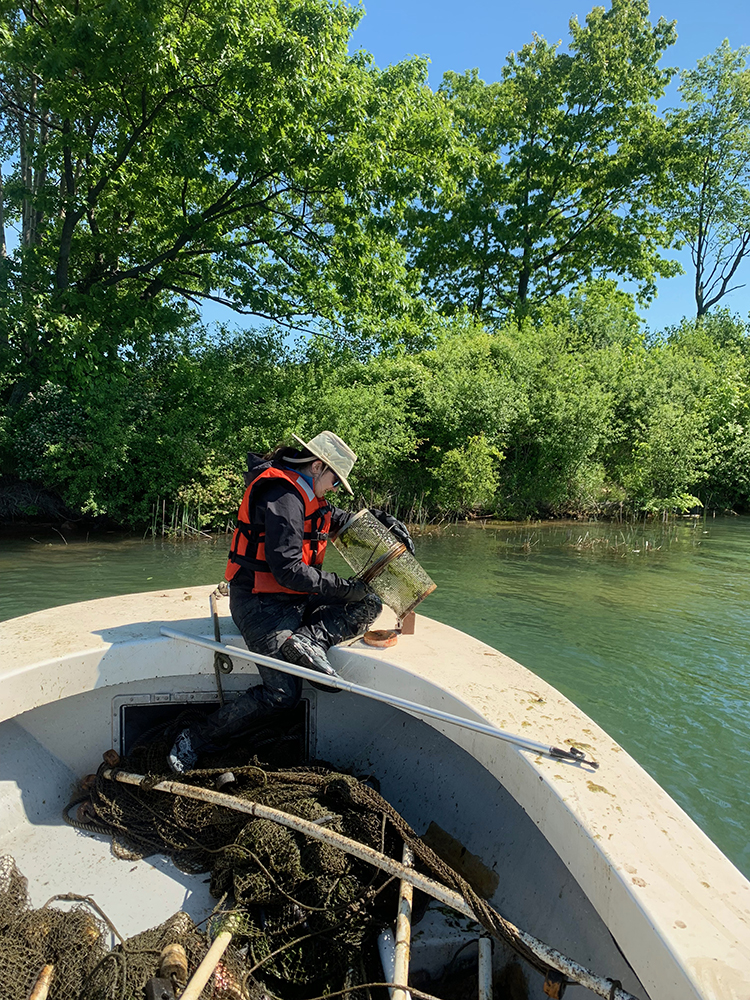 The College of Environmental Science and Forestry (ESF) was among four state universities to receive grant funding from the Great Lakes Research Consortium (GLRC) in partnership with the New York State Department of Environmental Conservation (DEC). In total $121,916 was awarded.
Dr. Roxanne Razavi's project studying why the tubenose goby, a relative of the established invasive species, round goby, is increasing in abundance in the northeastern Lake Ontario-St. Lawrence River basin received $24,966 in funding.
Razavi, assistant professor in the Department of Environmental and Forest Biology (EFB), is working in collaboration with Dr. John Farrell, professor of aquatic sciences and fisheries science and director of the college's Thousand Islands Biological Station in Clatyon, New York.
It's unclear why the tubenose goby is increasing in abundance in the river basin. This project will determine the diet and habitat preferences of both species, evaluate the importance of each species to the diets of predators and assess each species for its potential to act as a vector of mercury to higher trophic level fishes.
Other SUNYs receiving grants for projects are the College at Brockport, the University at Buffalo and Stony Brook University.
The projects receiving the GLRC funding will advance the goals of the Great Lakes Action Agenda for New York State for the restoration and protection of freshwater resources locally and establish models for use nationally.
The projects are addressing the application of science to:
increase shoreline resiliency
enhance wastewater treatment to reduce toxic substances
assess factors associated with methane gas release from wetlands
address the impact of climate change on the processes that influence beach and shoreline erosion
investigate the potential of invasive species to transfer mercury to fish
Project collaborators include the town of Amherst, New York Sea Grant Great Lakes, the New York State Office of Parks, Recreation and Historic Preservation, and the Wayne County Soil and Water Conservation District.
Funding for the GLRC grants is provided through the DEC from the New York State Environmental Protection Fund Ocean and Great Lakes Ecosystem Conservation Act program.
"We are excited about these projects that are exploring innovative approaches for applying science to critical issues facing the Great Lakes and the Great Lakes communities and economies. The results of these projects will not only benefit the Great Lakes region, but have implications for water bodies far beyond," said Dr. Greg Boyer, GLRC director and professor in ESF's Department of Chemistry.
The other projects receiving Great Lakes Research Consortium grants are:
The College at Brockport: $25,000: Assessing the Effects of Cattail Treatment on Methane Emissions from Lake Ontario Coastal Wetlands. The project is addressing the question of how the eradication of invasive plants influences freshwater wetlands release of methane, a potent greenhouse gas.
University at Buffalo, $25,000: Towards Complete Removal of Per- and Polyfluoroalkyl Substances (PFAS) Using a Nanotechnology-Assisted Advanced Water Treatment Process. This project is evaluating the efficacy of an innovative wastewater treatment approach using a nanomaterial-based reactive pretreatment followed by a biological wastewater treatment process to completely degrade per- and poly-fluoroalkyl compounds. PFAS are organic compounds extensively used in non-sticky consumer products and aqueous fire-fighting foams. The U.S. Environmental Protection Agency has identified PFAS as a priority pollutant for removal from drinking water and food sources.
Stony Brook University, $25,000: Increasing Shoreline Erosion Resiliency Using Marine-Based Biopolymers. This project, with a field demonstration site in Wayne County, is testing the use of ecosystem-friendly and cost-effective marine-based biopolymers as a potential technique for increasing shoreline erosion resistance, restoration and protection at the local and national levels.
Stony Brook University, $21,590: Eastern Lake Erie Erosion, Sediment Transport and Depositions Under a Changing Climate. This project is documenting the historical seasonal climate, wave climate, storm surge, beach erosion and sediment movement along eastern Lake Erie as a basis for computer modeling to identify future impact for Lake Erie shores and beaches.
The Great Lake Research Consortium, housed at ESF, encompasses 18 colleges and universities in New York and affiliate campuses in Canada.
Recent ESF News
News Archives
Communications & Marketing
SUNY-ESF
122 Bray Hall
1 Forestry Drive
Syracuse, NY 13210
315-470-6644