Ranger School Hockey Club Scores Goal Building Camaraderie Students take on Ranger School alumni in annual end-of-season game

3/11/2020
SHARE: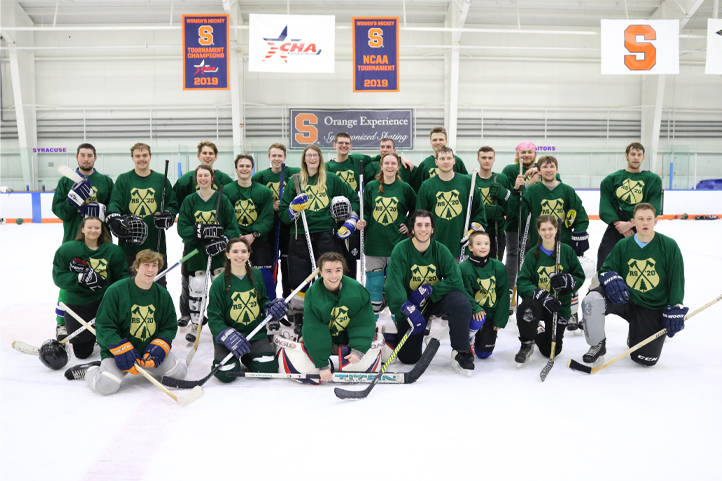 "In mid-November 1996, when the Oswegatchie was frozen over, and as the last hour of daylight crept over campus, a few Ranger School students ventured onto the ice to skate and shoot some pucks. Later, under a full moon and some street light, a night-time game got started. Ranger School hockey was born."
And so, the legend of Ranger School hockey is written on the School's website.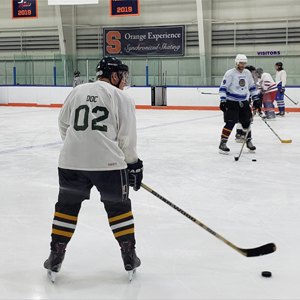 According to Dr. Michael "Doc" Bridgen, Ranger School director, it was also a way to curb spirited and not always appropriate behavior on the weekends. "The faculty saw the students skating and that's when we thought we'd try hockey," Bridgen said.
"The Ranger School in the winter can be a tight place," said Assistant Professor Greg Vaverchak, RS '02. "The walls start to move in. This (hockey) is a way to relieve the tension and provide camaraderie. It really does bring people together."
Forest technology sophomore Alex Almeter agreed, "It's good for building chemistry and getting to know everyone." Almeter served as coach for the Ranger School team.
"I've played hockey with this club for 15 years or more as a student, alumni, technician and faculty and I can confirm that this happens every year," said Vaverchak.
The hockey club is open to any student enrolled at the school who wants to learn and play the game. Skill levels vary from beginner to expert.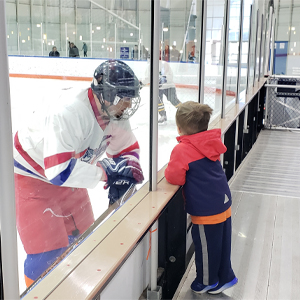 "We have people who never skated playing with people who skated in high school," said Vaverchak. "You can see the progression of the students' skills as the year goes on."
"I'd never played hockey before," said Rebecca Ashby, a sophomore environmental natural resources conservation major. "I knew how to skate and thought it would be good to try and I love it. You play with all your classmates and then talk about the game all week."
The club plays at local arenas, usually once a week, from mid-October to early March. Since 1999, the Ranger School Alumni Association has challenged current students to a tournament competition, the highlight of the season. "In 1999, we figured we had enough alumni to hold an alumni game," said Bridgen. This year's game was played March 7 at Syracuse University's Tennity Ice Rink and the alumni came from near and far to play.
Jack Johnson graduated the Ranger School in 2019 and is now a junior sustainable resources management major at the main campus in Syracuse. Last year was the first time he played hockey and he "loved it so much bought a set of gear" and made sure to turn out to represent the alumni in the game.
Tim Hausch RS '13 drove in from Long Island for this year's game, according to his wife, Kate, who was rinkside with their three-year-old son Griffin. "It's a yearly thing," she said. Hausch's hockey hobby has rubbed off on Griffin, who is now "obsessed" with the sport, said Kate.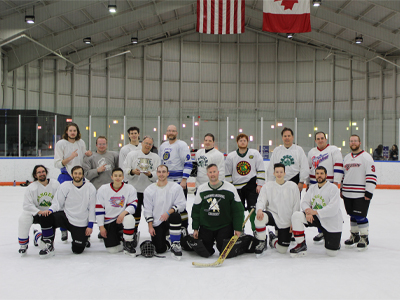 Students who aren't on the team also made the trek from Wanakena to watch the game. Emma Carrier, a sophomore forest technology major, came down for the game. "I want to support everyone. I have friends who are playing."
But even stands full of students and family couldn't help the team translate enthusiasm into goals as the alumni reigned victorious in the five 20-minute games that were played.
Bridgen is set to retire from his post at the Ranger School this June, but has no fears that the club won't continue when he leaves. "We have six faculty members at the Ranger School, and five of them are here today along with two staff members. I think it's here to stay."
Recent ESF News
News Archives
Communications & Marketing
SUNY-ESF
122 Bray Hall
1 Forestry Drive
Syracuse, NY 13210
315-470-6644