ESF Roosevelt Wild Life Collection Receives Donation from Larry and Janet Clingerman Skulls from 10 species provide in-depth understanding of species' physiology

3/13/2020
SHARE: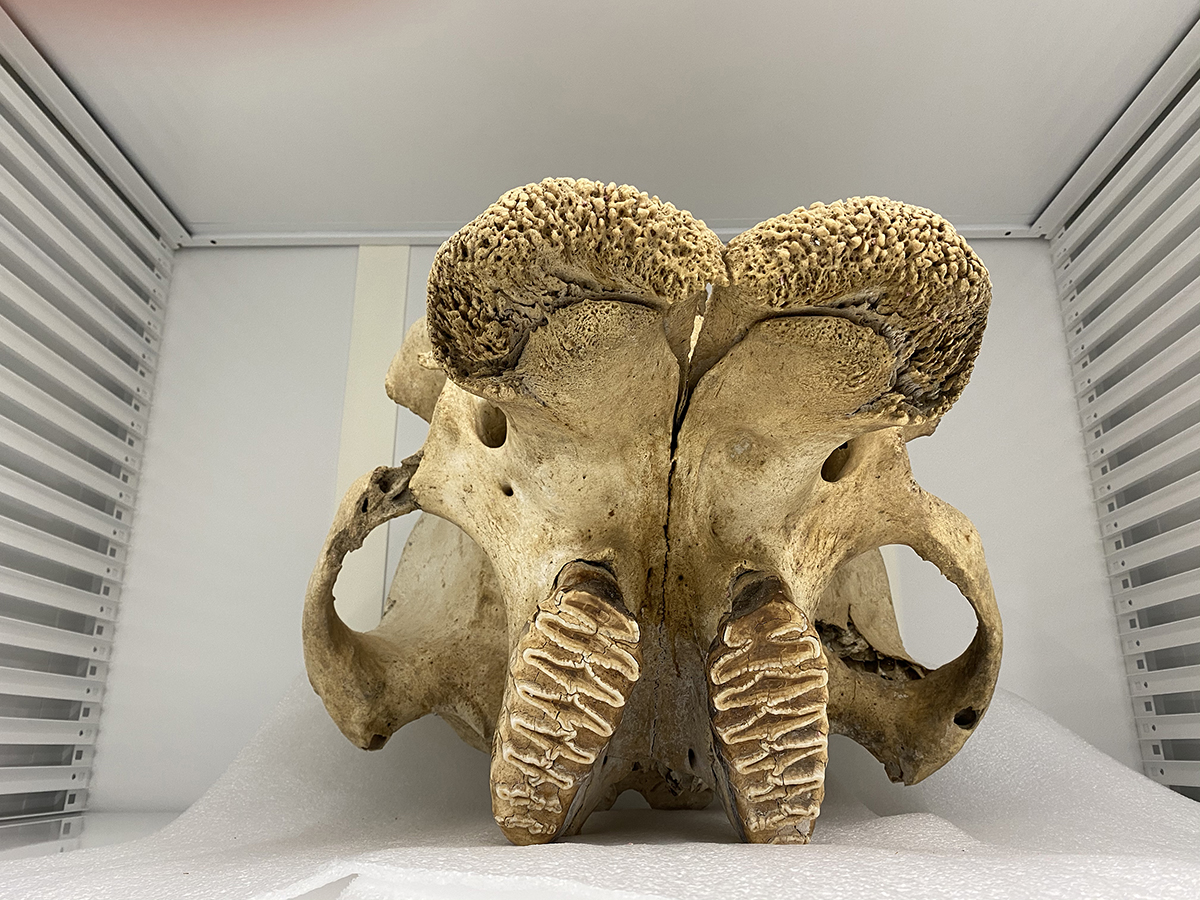 The SUNY College of Environmental Science and Forestry's (ESF) Roosevelt Wild Life Collection recently acquired objects that represent the commitment to education of Larry and Janet Clingerman. From Wayne County, New York, the Clingermans donated 10 specimens from their collection that showcases African wildlife.
"These gifts will help students and museum visitors understand the physiology of species," said ESF Interim President David Amberg. "The opportunity to see the anatomy and to experience the material that is being discussed in a textbook, firsthand, is a luxury that not all college students have. The Roosevelt Wild Life Collection provides richness, breadth and depth to dozens of classes and hundreds of students at ESF."
"Analyzing an animal's anatomy offers clues about them, about their abilities, and about how they lived," said Ron Giegerich, Instructional Support Specialist and Collections Manager. Giegerich holds the 2015 Conservation Force Award for his work with the collection. "For instance, when we analyze physical features, we might notice that one species' sense of smell is acutely developed whereas their eyesight is underdeveloped."
The new additions to the collection include skulls of the following species: zebra, rhinoceros, giraffe, hippopotamus, bison, warthog, male and female elephants, wildebeest, and bovid.
"We are grateful to the Clingermans for their support and generosity," said Amberg. "Their dedication to helping ESF realize our mission and providing ESF students a unique opportunity to engage with education is exemplary."
The Roosevelt Wild Life Collection is housed in the Gateway Center on ESF's Syracuse campus and honors President Theodore Roosevelt (with support before he died) and the collections sprung up organically from the early expeditions that Station scientists mounted. It is a legacy of the Roosevelt Wild Life Forest Experiment Station and established as a memorial to Roosevelt in May of 1919. ESF faculty, staff and students still contribute to the collection, but in recent decades major growth has come in the form of donations from private collectors such as the Clingermans. The goal of the station was to investigate forest wildlife, including habitats, life histories, propagation methods, and scientific management while at the same time promoting a wide public interest in natural history through outdoor study. This mission truly matched Roosevelt's beliefs. Members of the community are invited to visit the Roosevelt Wild Life Collection by appointment. Please contact Giegerich at rjgieger@esf.edu to arrange an appointment.
Recent ESF News
News Archives
Communications & Marketing
SUNY-ESF
122 Bray Hall
1 Forestry Drive
Syracuse, NY 13210
315-470-6644