Every Day is Earth Day at ESF No Matter Where the Students Are

4/20/2020
SHARE: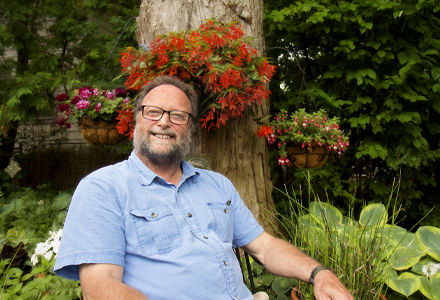 Earth Day is so important at the SUNY College of Environmental Science and Forestry (ESF) that students reserve a week to celebrate. This year, though scattered to their homes across the country and globe due to COVID19 restrictions, ESF students are finding ways to celebrate Earth Week together while apart.
"Earth Week has been a tradition at ESF for a long time," said Sofia Abuqube, a senior environmental studies major from Clay, New York. "We share the dedication of celebrating the earth no matter what the circumstances are so it's important to celebrate this week."
"Many Earth Week in-person events were transitioned to online options due to the current situation. For instance, we'll be posting crafts and tips online instead of demonstrating in-person at an event. We also developed a few virtual events on social media platforms, so we can still celebrate Earth Week while we are social distancing," said Laura Crandall, director of student involvement and leadership.
This year's calendar of events offers suggestions on how people can celebrate Earth Week at home and then share what they're doing with the hashtags #EveryDayEarthDayESF on social media. From encouraging people to eat local using take-out options to participating in a letter-writing campaign reminding elected officials of the importance of the environment, to doing some environmentally friendly crafts, there's something for everyone.
Dr. Donald Leopold of ESF's Department of Environmental and Forest Biology will be presenting "Trees with Don Leopold - Arbor Day Edition" to air live April 22 at 2 p.m. on ESFTV's YouTube channel www.youtube.com/esftv. This is the third year Leopold has done the Arbor Day presentation. The presentation will include demonstrations and answers to viewer questions received from his series, "Trees with Don Leopold."
Part of ESF's Earth Week tradition is a student-designed T-shirt. This year's shirt, designed by sophomore Miranda Pietzsch, an environmental education and interpretation major, and Sophia Koenig, a junior sustainable resources management major, will be sold in the fall, according to Crandall.
"We are hoping to have a day of events to celebrate Every Day is Earth Day in person on Earth Day's half birthday on Oct. 22," said Crandall.
Recent ESF News
News Archives
Communications & Marketing
SUNY-ESF
122 Bray Hall
1 Forestry Drive
Syracuse, NY 13210
315-470-6644