Is Water Quality in the Eye of the Beholder? Scientists looking at waterway health through visual observations

7/13/2020
SHARE: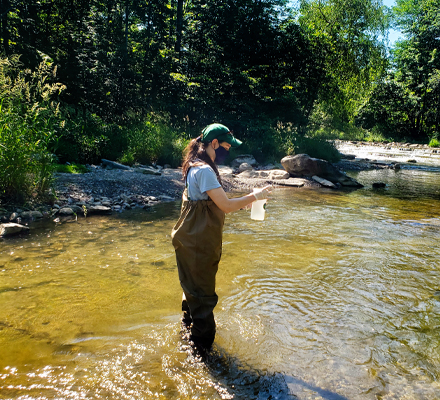 How accurate are sensory observations in assessing the health of a waterway? That's the question ESF researchers are looking to answer with the help of citizen scientists.
Dr. Andrea Feldpausch-Parker leads the Citizen Recreational Evaluation of Environmental Quality (CREEQ) project. Feldpausch-Parker and her team are looking for citizen scientists to complete guided online surveys when they visit waterways in Central New York.
People are asked to perform a visual evaluation of the stream quality and its recreational viability when they visit a stream or creek and enter their observations at the project's website listed above. Along with their observations, participants will be asked to upload photos and include the location of the waterway. Feldpausch-Parker, reminds people to also follow all COVID-19 safety guidelines including social distancing and masking while out on the waterways.
The survey is modeled after one used by the New York State Department of Environmental Conservation (DEC), when they collect water quality samples, according to Feldpausch-Parker, as they also conduct visual and olfactory assessments of the water.
"After a while of collecting the surveys, the DEC technicians were able to determine that the visual observations matched up well to the actual water quality, the biochemistry," said Feldpausch-Parker, associate professor in the Department of Environmental Studies.
Now researchers want to see if it's possible to get the public to assist in determining water quality in moving water bodies using a similar observation-based survey.
"People use their observations to determine if they want to use a waterway," she said, "whether it's for kayaking, fishing or walking along a creek bed, so we tried to capture different kinds of recreational activities to see how people are using the system."
Surveying will be conducted until the end of August and covers roughly a 50-mile radius from Syracuse, New York.
Once a survey is submitted a team from ESF will follow-up on survey responses by collecting water samples from the locations where they were submitted. These samples will be analyzed for water quality-indicating parameters and will be compared to survey responses. The DEC aims to use these reports to inform water quality monitoring efforts beyond the DEC's Department of Water's routine monitoring network of rivers and streams, according to the project's website.
"This allows us to determine how good of a match that person's perception of the stream is to the actual water quality," said Feldpausch-Parker. Researchers are also interested in people's recreational use of the area's waterways.
"Once the data is returned, we'll be able to compare the surveys to the actual biochemistry," she said. They'll also be able to determine who is using the waterways and for what activities.
The team is interested in sampling across a water quality gradient.
"We want to sample systems that have no impairment to being highly impaired," she said. "That would include the range of 'this is beautiful, gorgeous scenery and I don't see any problems with it' to 'I'm not going to put a toe in that water."
Along with Feldpausch-Parker, the CREEQ research team includes Dr. Valerie Luzadis, co-principal investigator, graduate research assistant and project manager Delaney Demro, and undergraduate research aides Gillian Hall and Colin Gerlach. The study is sponsored by the DEC.