Mighty Oaks Soccer Teams Host Inter Squad Scrimmage Seniors are recognized before the start of the match

10/5/2020
SHARE: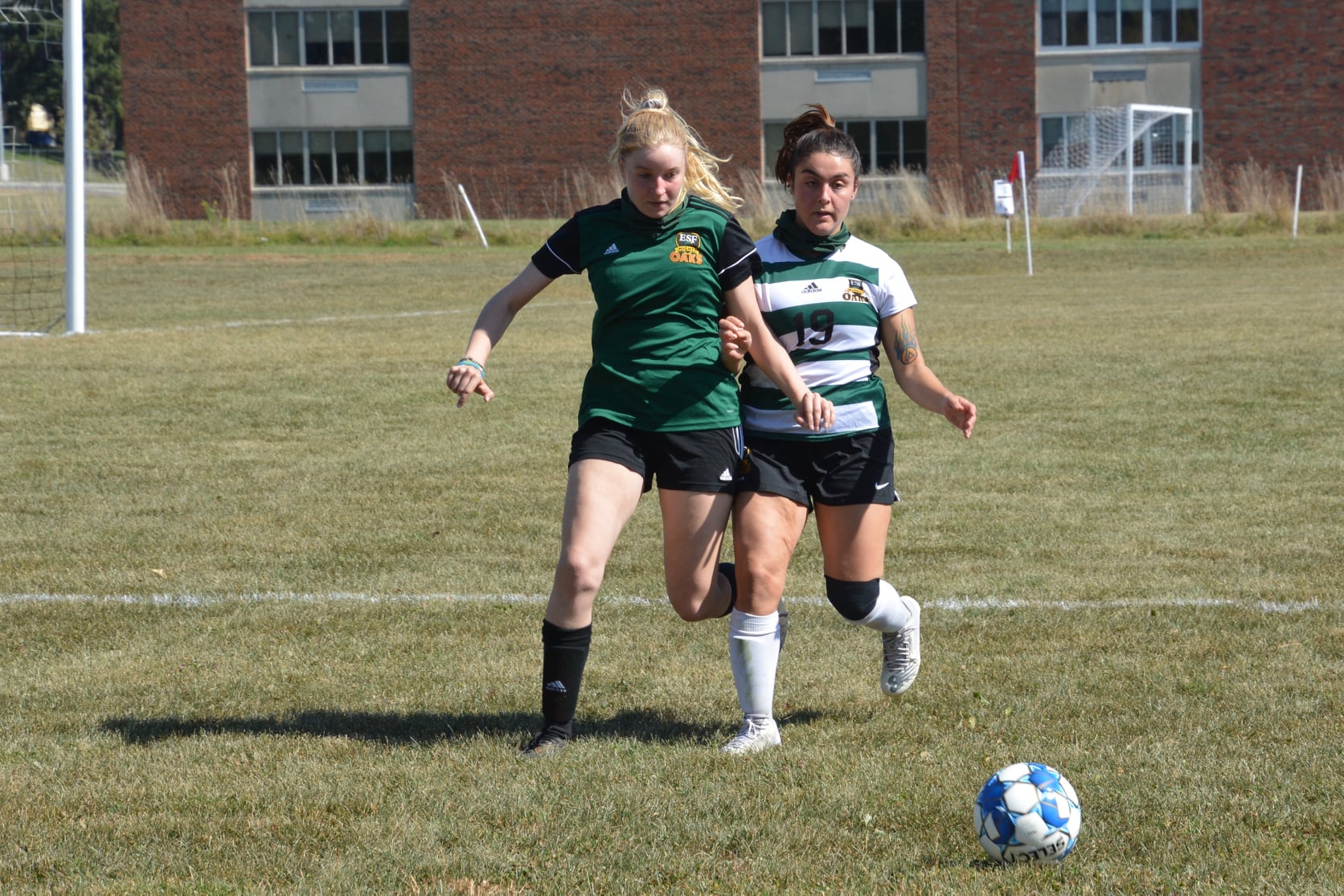 When it was announced over the summer that all ESF fall athletic sports were cancelled due to COVID-19 restrictions, many seniors on the soccer team were left wondering if they would get the chance to wear a Mighty Oaks game jersey again.
The ESF soccer coaching staff, Adam Scalisi, men's head coach, and Mandy DeRin, women's head coach along with Dan Ramin, director of athletics, put their heads together and worked out a plan to provide the student-athletes as close to a normal season experience as possible while adhering to all the proper social distancing and safety protocols dictated by health officials.
The coaches continued to hold small training sessions and practices with the current players at the start of the semester. Many of the players put in the same amount of time, energy and discipline as they would during a normal season.
In the middle of September, both the men's and women's squads began an inter-squad tournament featuring four teams each from both the men's and women's teams.
On Sept. 26, a match was held at the new ESF soccer field located in Tully, New York. Before the matches began, seniors from both teams were recognized. Both the men's and women's games were played at separate times, almost two hours apart so that a large gathering could be avoided. A small group of parents of the senior student-athletes were also invited to the participate. The games themselves were action-packed, well-played and featured lots of goals. The opportunity also gave the seniors one last moment to enjoy the revelry and don the Mighty Oaks jersey.
The ESF Athletics Department recognizes the following seniors and thanks them for their contributions to the ESF soccer program:
Men's team: Zac Alderson, Liam Byrne, Luke Dillsworth, Ian Foote, Liam Hanley, Elijiah Pulver, Guthrie Schumacher, Carmine Tronolone, Cooper Weinman and Eddie Wozny
Women's team: Madeline Eggenberger, Theresa Ferrigno, Claire Maring, Kelly Cooper, Lindsay Eberhart, Lauren Claeys and Maggie Rae Benett.
Recent ESF News
News Archives
Communications & Marketing
SUNY-ESF
122 Bray Hall
1 Forestry Drive
Syracuse, NY 13210
315-470-6644