Writing On Behalf of the Environment

10/16/2020
SHARE: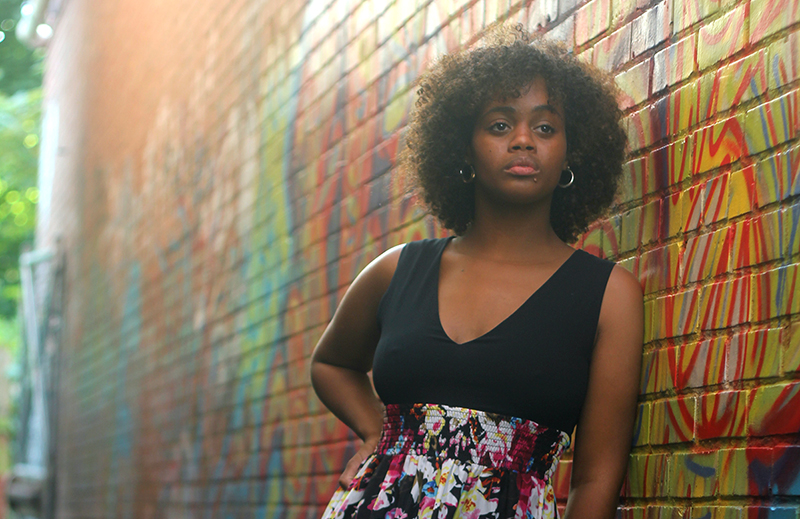 When Donnie Monk was around 7, she remembers planting a sunflower with her grandmother. The ground was rich and fertile. She remembers that it was decent, the way soil should be. It felt good as she sifted it through her tiny fingers, and it smelled clean. Not like the dirt at home. Growing up in the heart of Cleveland, Monk recalls that the ground was contaminated with lead. There are some trees, but the hostile environment is not particularly supportive.
These experiences set in motion a life of passion and purpose that is now blossoming.
She graduated as an honors student in the top 10 percent of her high school class after having earned nearly 60 credits of college classes from Cleveland State. She then enrolled at a private college in Ohio, but was frustrated with the lack of importance placed on environmental justice.
"The environment was really sidelined," said Monk. "I was discouraged from writing about certain topics - like climate change - topics that are important to me and the planet. These topics need to be investigated and explored and embraced. They are important and need to be discussed."
Frustrated, Monk left college and enrolled in AmeriCorps. She spent a year in Miami and realized the depth of her commitment to the environment was aligned with ESF's values.
"I researched colleges that focus on the environment and found ESF," said Monk. "ESF is a trend-setter."
Now that Monk is here, she's pleased with her decision.
"ESF was a great choice academically," she said. "We're way ahead of other universities. Our curriculum goes into concepts that other colleges avoid, and my professors are influential."
Dr. Lemir Teron, Monk said, encouraged her to speak up. And, although she grew up writing short stories on a computer her uncle gave her, she credits Dr. Sharon Moran with helping her develop her craft.
"She inspired me," said Monk. "She taught me tricks and connected with me on a deeper level. She was inspirational and saw my potential."
Monk is currently putting these skills to use as a Planet Forward correspondent.
"The history of storytelling is interesting," said Monk. "The ways that people have shared information have changed with the times. We started telling stories face-to-face. Today, the best way to tell stories is online. This is how I will be communicating as a correspondent for Planet Forward. It's absolutely the best way to communicate today."
Her work as a correspondent is a continuation of a blogging career that began in 2019 (http://www.earthlydonnie.com/ and @earthlydonnie on Twitter and Instagram). As a freelance blogger, she has researched several black environmental leaders, including Maya Penn, Dominique Drakeford, and Tony G. Reames. Next up: Donnie is excited to interview Dr. Mustafa Santiago Ali, a thought-leader, strategist, policymaker, and activist committed to the fight for environmental justice and economic equity who has worked with hundreds of domestic and international communities to secure environmental, health, and economic justice and been featured on MSNBC, CNN, VICE, and Democracy NOW.
Monk - who currently curates a line of sustainable clothing called ecoThot and is contemplating a career in communication, policy, or environmentalism - sees herself "as a vessel to get out the message of true and real incidents that are occurring. … My sole focus for the future after college is to focus on documenting the true stories of all people in our world today."
Recent ESF News
News Archives
Communications & Marketing
SUNY ESF
122 Bray Hall
1 Forestry Drive
Syracuse, NY 13210
Communications@esf.edu