Professionals in Sustainability Webinar Series at ESF

1/12/2021
SHARE: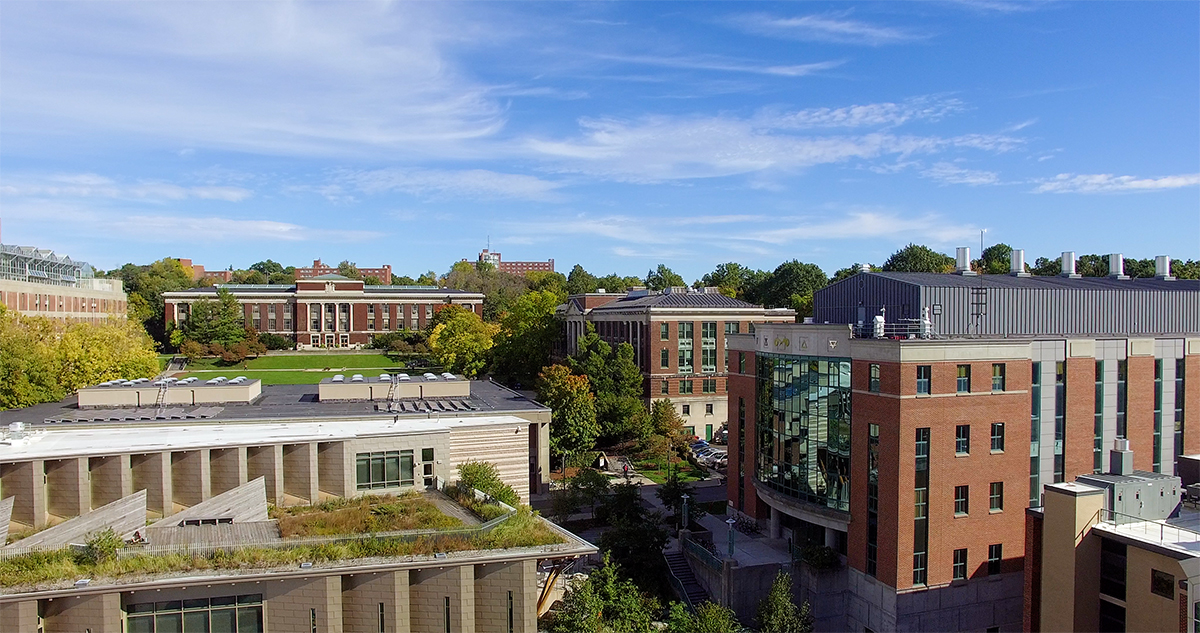 The SUNY College of Environmental Science and Forestry (ESF) is working with sustainability professionals to prepare students to make an immediate impact when they graduate. These experts will highlight their professions at a speaker series presented by ESF's Open Academy and the Office of Career Services.
The speaker series gives students an insight into a variety of careers benefiting from sustainability degree programs at ESF and the opportunity to ask questions of and network with professionals in this field.
"These connections and the insights shared during this program will ensure ESF students graduate with a strong professional network and the skills and knowledge they need to help their employers realize their missions and visions," said Joanie Mahoney, President. "ESF's partnerships with environmental leaders and professionals who advocate for social and environmental justice are a hallmark of the ESF experience."
Throughout the Professionals in Sustainability webinar series, speakers will present their current work, career path to date, and thoughts on the knowledge and skills key to success in the field of sustainability and advocating for an environmentally strong future.
The first presentation on February 10 and will feature ESF alumnae Kristine Ellsworth, '15. Ellsworth is an assistant environmental engineer who works for the New York State Department of Environmental Conservation in the Organics Reduction and Recycling section. She graduated ESF with a bachelor of science degree in environmental resources engineering and will share professional opportunities within the materials management industry specifically composting and the role of policy within NYS Department of Environmental Conservation.
Gillian Giem, '16, program manager from the U.S. Green Building Council (USGBC) of West Michigan, will speak on March 3. Giem manages keystone programs, including Michigan Battle of the Buildings, Grand Rapids 2030 District, and the bilingual Energy Assistance Program. She graduated ESF with a B.S. in Sustainable Energy Management and minor in Economics. Before holding her role at the USGBC of West Michigan, she was a researcher for the National Green Highways Mission for the National Highway Authority of India. Giem is passionate about carbon neutral/carbon positive economies, sustainable cities, and climate change solutions, which are prosperous and equitable. Geim will discuss the impact of sustainability programs in the built environment arena in Michigan, reflecting on her journey since graduating from SUNY ESF and how her academic program prepared her for the industry challenges she faces today.
The final speaker on April 7 will be Hannah Sanger, Science & Environmental Administrator for the city of Pocatello, Idaho. Sanger serves as the urbanized area's stormwater permit manager. Since 2008 Sanger has been intimately involved with developing and implementing programs to comply with the stormwater permit and address other environmental interests of the city, including planning and managing run off, beautification, and riparian restoration activities within Pocatello. Since 2015 she has been spearheading development and implementation of the Portneuf River Vision. Sanger holds an M.S. in Resource Policy and Behavior and an M.A. in Curriculum Development from the University of Michigan, and a B.A. in Neuroscience from Colgate University.
Recent ESF News
News Archives
Communications & Marketing
SUNY-ESF
122 Bray Hall
1 Forestry Drive
Syracuse, NY 13210
315-470-6644