Dr. Rundell Named Editor-in-Chief of International Scientific Journal for Molluscs

3/26/2021
SHARE:
Octopuses, squid, snails, and clams are all molluscs and are the second most diverse group of animals on Earth. Now ESF can say that they are contributing to molluscs' prominence in the scientific literature, too. Professor Rebecca Rundell was recently selected as the new editor-in-chief for the international journal Malacologia, the top peer-reviewed scientific journal for all things Mollusca.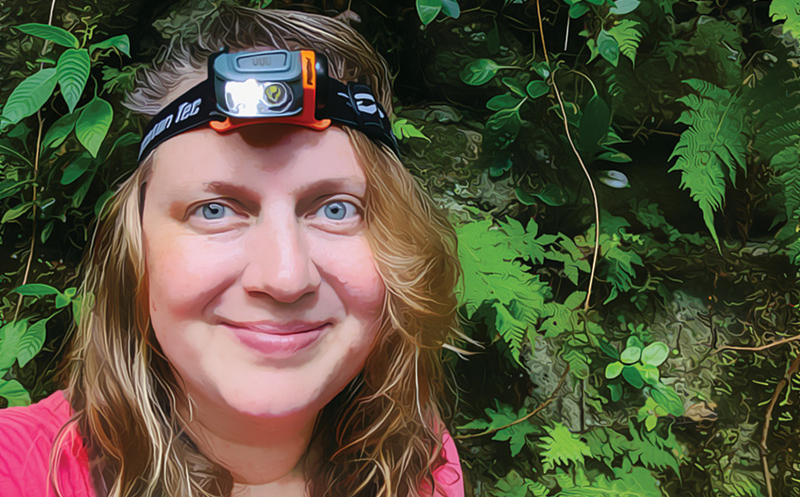 Rundell, who teaches invertebrate zoology and evolution, focuses her research on Pacific island land snail evolution, conservation, and biogeography. She
also heads a large collaborative project on the conservation of the Chittenango ovate amber snail, an endangered species found in Onondaga County.
"In a single issue of Malacologia, we have scientific papers focused on ecology, genetics, developmental biology, and evolution, that will cover animals ranging from fabulously ornate sea slugs off the South American coast to deep-sea octopuses, to highly endangered freshwater mussels," said Rundell.
Malacologia currently has an impact factor of 13.5, which ranks it first out of 145 zoology journals. "Impact factors" give scientists an indication of how often articles in that journal are cited. Malacologia has been published since 1962 and accepts manuscript submissions from all over the world. Since then there have been five lead editors.
Rundell is excited to take on this new role. "My first reaction was a combination of excitement, gratitude, and a bit of intimidation thrown in there. When you remember being a student and your first scientific meeting and all the people
you looked up to -- it's hard to get your head around the idea that those same people are now putting their confidence in you to help guide the field forward. It means a lot."
Editorial leadership among ESF faculty also shows the important role the College plays in shaping and creating new knowledge.
Said Dr. Melissa Fierke, chair of the department of environmental biology, "Professor Rundell's appointment as editor-in-chief shines a light on our department's contribution to international-level academic research, and the excellent faculty we have at ESF."
Rundell hit the ground running with her first issue ready to go to press later this summer. Coincidentally, her Ph.D. adviser authored one of the papers included in the issue. "I could not believe that one. It was too perfect a coincidence," said Rundell. "It was a full-circle moment for me."
Rundell is eager for the future as editor-in-chief of Malacologia. "The joy comes in helping authors better communicate new knowledge about molluscs. It is those animals we care about, and that have so much to tell us. We have a responsibility as scientists to show their importance to the world."