Faculty Profile


Jiajue Chai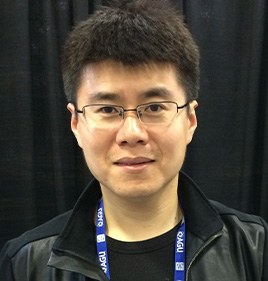 Assistant Professor

418 Jahn Laboratory
Research
(Dr. Chai is currently accepting graduate students who are motivated to study Atmospheric Chemistry in both lab and field. Feel free to contact him for any inquiries.)
Dr. Jiajue Chai is an atmospheric chemist, with special interests in tracking sources, atmospheric processes and sinks of reactive nitrogen species, and quantitatively understanding their implications for air quality, climate, and human and ecosystem health. To address these questions, his research brings together a novel set of skills including instrumentation, analytical methods, theory and modeling to investigate atmospheric chemistry in both the laboratory and field. His recent work involves characterization of nitrous acid (HONO), nitrogen oxides (NOx=NO+NO2), nitric acid (HNO3) and particulate nitrate in their sources, sinks and atmospheric chemistry in many ways, to constrain their atmospheric budgets and the atmospheric oxidative capacity. Ultimately, the research findings will help predict and mitigate the air quality and climate change. Over the years, Dr. Chai has built extensive collaborations with scientists across the US including those from NASA, NOAA and USDA, as well as numerous institutions. Jiajue's current research work is supported by two ongoing grants from the National Science Foundation.
Major research themes:
Stable isotopes composition analysis of reactive nitrogen species in various environments
Analytical techniques and instrumentation development (Optical Spectroscopy and Mass Spectroscopy)
Reactive nitrogen cycling in the urban environment
Wildfire smoke chemistry and its impact on urban air quality
Indoor air quality
Professional Experience
2023.1 – now Assistant Professor, Department of Chemistry, SUNY College of Environmental Science and Forestry
2020.1 – 2022.12 Assistant Professor of Research, Department of Earth, Environmental and Planetary Sciences, and Institute at Brown for Environment and Society, Brown University
Education
Postdoctoral training in atmospheric chemistry, biogeochemistry and stable isotopes chemistry, Department of Earth, Environmental and Planetary Sciences, Brown University (2016–2019)
Postdoctoral training in combustion chemistry, School of Engineering, Brown University (2014–2016)
Ph.D. in chemistry (physical, atmospheric, environmental), Department of Chemistry, SUNY ESF (2014)
Selected publications
Complete listing: Google Scholar
Warneke, C. et al. (2023): Fire Influence on Regional to Global Environments and Air Quality (FIREX-AQ), Journal of Geophysical Research: Atmospheres, 128, e2022JD037758.
Jordan, C. E. et al. (2022)): Beyond the Ångström Exponent: Probing Additional Information in Spectral Curvature and Variability of In Situ Aerosol Hyperspectral (0.3–0.7 μm) Optical Properties, J. Geophys. Res. Atmos., 127, e2022JD037201.
Chai, J. et al. (2021): Isotopic evidence for dominant secondary production of HONO in near-ground wildfire plumes, Atmos. Chem. Phys., 21, 13077–13098.
Wu, X., Huang, C., Chai, J., & Zhang, F. (2021). Formation of Substituted Alkyls as Precursors of Peroxy Radicals with a Rapid H-Shift in the Atmosphere. The Journal of Physical Chemistry Letters, 12, 8790-8797.
Wu, X., Hou, Q., Huang, J., Chai, J., & Zhang, F. (2021). Exploring the OH-initiated reactions of styrene in the atmosphere and the role of Van der Waals complex. Chemosphere, 131004.
Walters, W., Song L., Chai, J., Fang, Y., Colombi, N., Hastings, M. G. (2020). Characterizing the spatiotemporal nitrogen stable isotopic composition of ammonia in vehicle plumes. Atmospheric Chemistry and Physics. 20, 11551–11567.
Chai, J., Miller, D. M., Dibb, J, Hastings, M. G. et al. (2019). Isotopic characterization of nitrogen oxides (NOx), nitrous acid (HONO), and nitrate (pNO3−) from laboratory biomass burning during FIREX. Atmospheric Measurement Techniques 12(12), 6303-6317.
Shi, G., Chai, J. (2019). Isotopic effects of nitrate volatilization in snow: a field investigation in Antarctica. Geophysical Research Letters, 46, 3287–3297.
Walters, W., Chai, J., & Hastings, M. G. (2018). Theoretical Phase Resolved Ammonia–Ammonium Nitrogen Equilibrium Isotope Exchange Fractionations: Applications for Tracking Atmospheric Ammonia Gas-to-Particle Conversion. ACS Earth and Space Chemistry. 3(1),79-89.
Miller, D., Chai, J., Guo, F., Dell, C. J., Karsten, H., Hastings, M. G. (2018). Isotopic Composition of in Situ Soil NOx Emissions in Manure-Fertilized Cropland. Geophysical Research Letters, 45(21), 12-058.
Chai, J., Hastings, M. G. (2018). Collection method for isotopic analysis of gaseous nitrous acid. Analytical Chemistry, 90 (1), 830–838.
Chai, J., Goldsmith, C. F. (2017). Rate coefficients for fuel+ NO2: Predictive kinetics for HONO and HNO2 formation. Proceedings of the Combustion Institute, 36(1), 617-626.
Current Graduate Advisees

Max Horsford
mbhorsfo@syr.edu
Degree Sought: PHD
Graduate Advisor(s): Chai
Area of Study: Environmental Science

Lin Lyu
llv100@syr.edu
Degree Sought: PHD
Graduate Advisor(s): Chai
Area of Study: Environ & Forest Chemistry

Haulison Yayoh
hkyayoh@syr.edu
Degree Sought: PHD
Graduate Advisor(s): Chai
Area of Study: Environ & Forest Chemistry