Faculty Profile


Jose Giner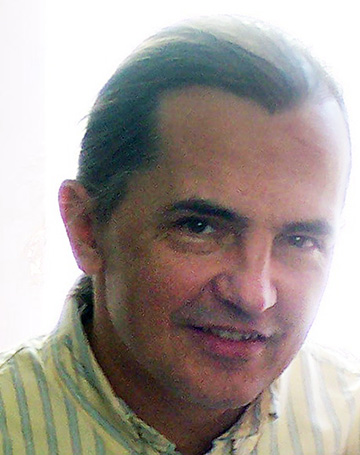 Associate Professor

416 Jahn Lab
Ph. D., 1991, Stanford University; Postdoctoral Fellow, ETH-Zurich, 1991-1993; Postdoctoral Fellow, Harvard University, 1993-1995.
Representative Publications
Zhang, X.; Xu, Z.; Moumin, D. S.; Ciulla, D. A.; Owen, T. S.; Mancusi, R. A.; Giner, J.-L.; Wang, C.; Callahan, B. P., "Protein-nucleic acid conjugation with sterol linkers using hedgehog autoprocessing", Bioconjugate Chem. 2019, 30, 2799-2804.
Lee, A. K.; Banta, A. B.; Wei, J. H.; Kiemle, D. K.; Feng, J.; Giner, J.-L.; Welander, P. V.,"C-4 sterol demethylation enzymes distinguish bacterial and eukaryotic sterol synthesis", Proc. Natl. Acad. Sci. U. S. A. 2018, 115, 5884-5889.
Ciulla, D.; Jorgensen, M.; Giner, J.-L.; Callahan, B.,"Rescue of a general base mutant in hedgehog protein cholesterolysis using a hyper-nucleophilic substrate", J. Am. Chem. Soc. 2017, 140, 916-918.
Banta, A. B.; Wei, J. H.; Gill, C. C. C.; Giner, J.-L.; Welander, P. V.,"Synthesis of novel arborane triterpenols by a bacterial oxidosqualene cyclase", Proc. Natl. Acad. Sci. U. S. A. 2017, 114, 245–250.
Giner, J.-L.; Feng, J.; Kiemle, D. J.,"NMR Tube Degradation Method for Sugar Analysis of Glycosides ", J. Nat. Prod. 2016, 79, 2413-2417.
Hong, Y. J.; Giner, J.-L.; Tantillo, D. J.,"Bicyclobutonium ions in biosynthesis - Interconversion of cyclopropyl-containing sterols from orchids", J. Am. Chem. Soc. 2015, 137, 2085-2088.
Click on picture to see larger version:
As a bioorganic chemist José Giner works at the interface of organic chemistry and biology. The organic chemistry of life is the central theme of a wide range of research interests. Biologically active natural products, such as natural insecticides from petunias and antiviral sterols from marine sponges, are the subjects of biosynthetic studies. These studies focus on enzyme catalyzed reactions and make use of the tools of physical organic chemistry and mechanistic enzymology to shed light on their details. An important technique for this research is NMR spectroscopy using the excellent instrumentation at ESF. Understanding fascinating reaction mechanisms used by nature to generate structural diversity in natural products is a goal of these studies. A related topic is the application of biosynthetic knowledge to the synthesis of interesting natural products (biomimetic synthesis).
Dr. Giner's research emphasizes interdisciplinary collaboration. The role of unusual marine sterols in harmful algae is being studied together with marine biologists. Investigations in the chemical ecology of natural products used as plant defenses against insects and mamalian predators are in progress with members of the biology faculty. Other recent collaborative projects include evolutionary aspects of sterol biosynthesis, hedgehog protein processing, and drugs targeting breast cancer.
Current Graduate Advisees

Babatunde Olagunju
boolagun@syr.edu
Degree Sought: PHD
Graduate Advisor(s): Giner
Area of Study: FCH Organic Chemistry of Natural Products

John Pezzullo
jopezzul@syr.edu
Degree Sought: PHD
Graduate Advisor(s): Giner
Area of Study: FCH Organic Chemistry of Natural Products