Faculty Profile


Werner Stavenhagen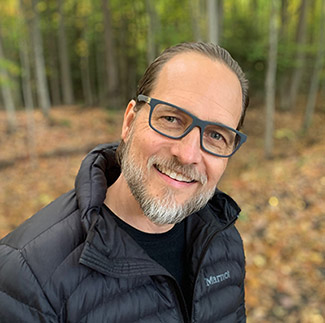 Werner Stavenhagen
Instructor
105A Moon Library
Education
BA Theology-Pacific Union College, Angwin, CA-1990
MA English- La Sierra University, Riverside, CA- 1997
Ph.D. Candidate- Composition and Cultural Rhetoric, Syracuse University, Syracuse, NY
Bio
(Werner) Kurt Stavenhagen serves as an instructor in the Writing, Rhetoric, and Communications Program. He also teaches academic and professional writing courses for Syracuse University's Department of Writing Studies, Rhetoric, and Composition. He counts it a privilege and joy to coach students to explore their values and cultivate a shared sense of inquiry.
His Ph.D. is in Composition and Cultural Rhetoric (Syracuse University, 2016) and he researches and writes about literacy, ecospirituality, and contemplative-based writing. His article, "Relational Literacy" (June 2019; JAEPL), challenges how few writing textbooks and writers creatively address the environment. To counter this and a societal lack of environmental stewardship, he proposes that we share more stories about our love for creatures, flora, and landscapes. His article, "Composition as Kairotic Composure" (May 2019) further explores how to help students reflect upon their values and use mindfulness practices to better learn and retain ideas.
His book entitled The Chase is a poetic modern paraphrase of the ancient love poem, "The Song of Songs." The book is a series of vignettes about lovers stealing away to bucolic settings. Their unabashed pursuit of each other challenges postmodern cynicism and celebrates timeless human love grounded in the land's bounty.
In terms of leisure, Kurt will game any excuse to hike or snowshoe through forests of the Finger Lakes Region. He also meditates, brews tea, and savors nesting with his family around the outdoor fire ring.
Courses
Environmental Writing (EWP 190), Research Writing and Humanities (EWP 290), and Writing for Science and Environmental Professionals (EWP 407).
Interests
Composition and Rhetoric
Nature Writing
Professional Writing
Environmental Rhetoric
Presentations and Publications
Presentation "What, rather than Whom: the Challenge of Shifting Stasis in Natural Burial Rhetoric" at Visible Memories Conference in Syracuse, NY, 2008.
Presentation "The Rhetoric of Natural Burial" at Rhetorical Society of America Conference in Seattle, WA, 2008.
Presentation "Silence as Rhetoric" at College Composition and Communications Conference in New York City, 2007.
Presentation Work in Progress "Aphorisms and Public Authorship" at NCTE Research Network forum, San Francisco, CA, 2005.
Article "Henderson the Rain King Parallel to Stages of Religious Conversion" accepted for publication in the Saul Bellow Journal.
Article"Commercials in the Courtroom" published in Exercise Exchange, 1997, a refereed journal for composition instructors.
Won $250 "Best Short Story", La Sierra University, subsequently published.
Faculty Poetry Presentation, Cayuga Community College, Fulton, NY.
Poetry Presentation, Writer's Guild, Tompkins-Cortland Community College, Cortland, NY.
Guest Speaker, Youth Summit Interactive Workshops, Syracuse, NY; Birmingham, AL; and Mobile, AL.
Awards
Graduate Fellowship, Syracuse University
Professional Equity Scholarship, College Composition and Communication Conference.
Who's Who, 2001 Professional Management, Service Sector.
$250 best-short story award, La Sierra University.
Neff-Lewis Scholarship, La Sierra University.
Courses
EWP 290 - Writing, Humanities, and the Environment
EWP 410 - Writing for Environmental Professionals