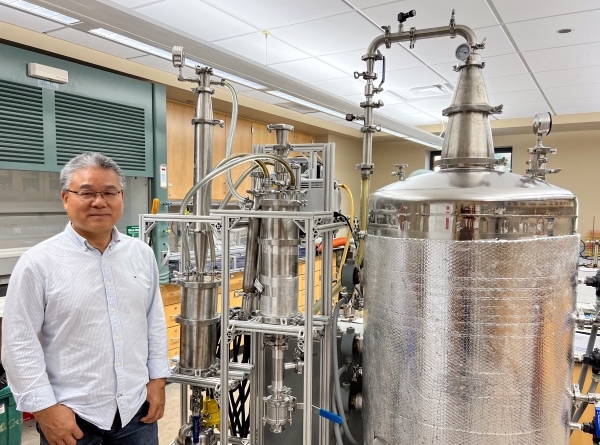 ESF Professor Dr. Wendong Tao Receives SUNY Technology Accelerator Fund Award
Award will advance sustainable wastewater treatment research
SYRACUSE, N.Y. – Sept. 21, 2023 – Dr. Wendong Tao, a professor in the Department of Environmental Resources Engineering at the SUNY College of Environmental Science and Forestry (ESF), is one of eight researchers in the 64-campus SUNY system to receive seed funding through the Technology Accelerator Fund (TAF). The awards were announced Sept. 15 by SUNY Chancellor John B. King, Jr.
This investment from SUNY will advance Tao's work in sustainable wastewater treatment. He invented a patented system that strips ammonia from wastewater and uses the recovered chemicals to produce fertilizer.
"The TAF award demonstrates SUNY's dedication to the crucial work our faculty is undertaking," said ESF President Joanie Mahoney. "Dr. Tao's innovative research transforms a typically regarded waste product into a boon for the agriculture sector. Congratulations to Dr. Tao for receiving this support to advance his work to the next stage."
"Our vacuum stripping and absorption prototype can play a crucial role in addressing future technology gaps faced by water resource recovery facilities, animal feeding operations, and landfills. This approach provides a cost-effective solution to recover ammonia in wastewater and treat digestate and manure while producing nitrogen fertilizers," said Dr. Tao. "SUNY's investment in our prototype will make scale-up design and field demonstration possible."
Tao has been working on this topic since 2014. His VaSATM technology is a method for converting ammonium in wastewater into a valuable product — ammonium sulfate fertilizer — while also improving the efficiency of biogas production and ensuring the treated wastewater is safe for use in agriculture. It combines vacuum, heat, and chemical reactions to achieve these goals.
The prototype was tested with anaerobically digested sewage sludge at the City of San Luis Obispo Water Resource Recovery Facility in California from January to April 2022 and with leachate at Oneida-Herkimer Solid Waste Authority's Regional Landfill at Ava, N.Y., from May to July 2023. The pilot testing project won the California Association of Sanitation Agencies 2022 Award of Excellence in Innovation and Resilience.
As part of the TAF award, this prototype will be used for pilot tests in summer 2024 at a biogas plant in Norway in collaboration with a Norwegian company Antec Biogas AS. The TAF award will be used mainly to construct a new prototype with an improved design.
The research and technical development has been funded by the U.S. Environmental Protection Agency, National Science Foundation Partnerships for Innovation Program and Innovation Corps Program, New York State Center for Clean Water Technology, New York State Center of Excellence in Healthy Water Solutions, and Economic Development Administration XCEED Program.
Funded by SUNY and managed by the SUNY Research Foundation, TAF helps faculty inventors and scientists turn their research into market-ready technologies, targeting critical research and development milestones—such as feasibility studies, prototyping, and testing—which demonstrate that an idea or innovation has commercial potential. The goal is to increase their attractiveness to potential investors. TAF funding is awarded through a competitive process that weighs several factors, including the availability of intellectual property protection, marketability, commercial potential, feasibility, and breadth of impact.
Since the launch of TAF in 2011, SUNY has invested over $3 million in the program to successfully advance the commercial readiness of 65 innovations born at SUNY campuses. The program has catalyzed follow-on investment of an additional $16 million from development partners, including government agencies, industry licensees, and early-stage investors.
About SUNY ESF
The SUNY College of Environmental Science and Forestry (ESF) is dedicated to the study of the environment, developing renewable technologies, and building a sustainable and resilient future through design, policy, and management of the environment and natural resources. Members of the College community share a passion for protecting the health of the planet and a deep commitment to the rigorous application of science to improve the way humans interact with the world. The College offers academic programs ranging from the associate of applied science to the Doctor of Philosophy. ESF students live, study and do research on the main campus in Syracuse, N.Y., and on 25,000 acres of field stations in a variety of ecosystems across the state.
About the SUNY Research Foundation
The SUNY Research Foundation (RF) is the largest comprehensive university-connected research foundation in the country and supports a vibrant research ecosystem that cultivates innovation and entrepreneurship across multiple key areas including Artificial Intelligence, Clean Energy, Biotechnology, Longevity, Substance Addiction, Nextgen Quantum Computing, Environmental Health, and Resiliency.
Driving social impact, enhancing human wellbeing, and stimulating economic growth, the RF provides SUNY's 30 state-operated campuses with an infrastructure of people, technology, and processes that enables faculty to write and submit grant proposals to agencies, foundations, and companies; establish contracts and manage funding awarded to run campus-based research projects; protect and commercialize intellectual property created within those projects; and establish enduring partnerships that shape the future.
About the State University of New York
The State University of New York, which celebrates its 75th anniversary this year, is the largest comprehensive system of higher education in the United States, and more than 95 percent of all New Yorkers live within 30 miles of any one of SUNY's 64 colleges and universities. Across the system, SUNY has four academic health centers, five hospitals, four medical schools, two dental schools, a law school, the country's oldest school of maritime, the state's only college of optometry, and manages one US Department of Energy National Laboratory. In total, SUNY serves about 1.4 million students amongst its entire portfolio of credit- and non-credit-bearing courses and programs, continuing education, and community outreach programs. SUNY oversees nearly a quarter of academic research in New York. Research expenditures system-wide are nearly $1.1 billion in fiscal year 2022, including significant contributions from students and faculty. There are more than three million SUNY alumni worldwide, and one in three New Yorkers with a college degree is a SUNY alum. To learn more about how SUNY creates opportunities, visit suny.edu.