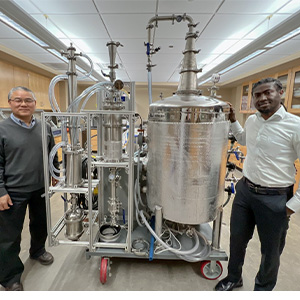 Dr. Fred Agyeman Earns Honorable Mention for SUNY Chancellor's Distinguished PhD Dissertation
The SUNY College of Environmental Science and Forestry's Dr. Fred Agyeman earned an honorable mention for the SUNY Chancellor's Distinguished PhD Dissertation Awards, which celebrate the work PhD graduates have done to address some of society's most pressing issues.
Agyeman was recognized for having one of the best PhD dissertations in the SUNY system, which focused on a new ammonia recovery process that will disrupt the wastewater and landfill management sectors to create positive ecofriendly change. He was selected from 29 SUNY research institutions, and hundreds of individual submissions.
"Fred's dissertation has been making exciting impacts on the wastewater treatment industry during his doctoral research and after dissertation defense," said Dr. Wendong Tao, professor in Environmental Resources Engineering at ESF. "We are very proud of Fred's work and this well-deserving recognition."
Agyeman's research takes Tao's work on the "Vacuum Stripping and Absorption (VaSA)" process for recovery of ammonia from wastewater to the next level. Agyeman outlines the ammonia life cycle, focusing on the extraction and digestion processes to create a system that uses less energy. The impact is particularly pronounced in the waste management sector and helps to reduce energy consumed by wastewater treatment plants, create a reliable, local source of nitrogen fertilizers by turning ammonia from a water pollutant to usable product, and removing ammonia contaminants from our landfills and animal manure. Operating costs of wastewater treatment also go down with this model, making it both sustainable and economically affective. Patents are already in place for the technology, generating intense interest from the private sector.
"Even before the work was finished, Dr. Wendong's team received many inquiries about the research status so it can be adapted for their company," Dr. Ageyman said.
The pair are currently in the process of forming a bridge company to bring the technology to the private market. Agyeman is currently serving as an adjunct professor after completing his dissertation defense in December 2021.
For more information on Dr. Ageyman's research, see his paper "Elucidating the kinetics of ammonia inhibition to anaerobic digestion through extended batch experiments and stimulation-inhibition modeling" in Science Direct.