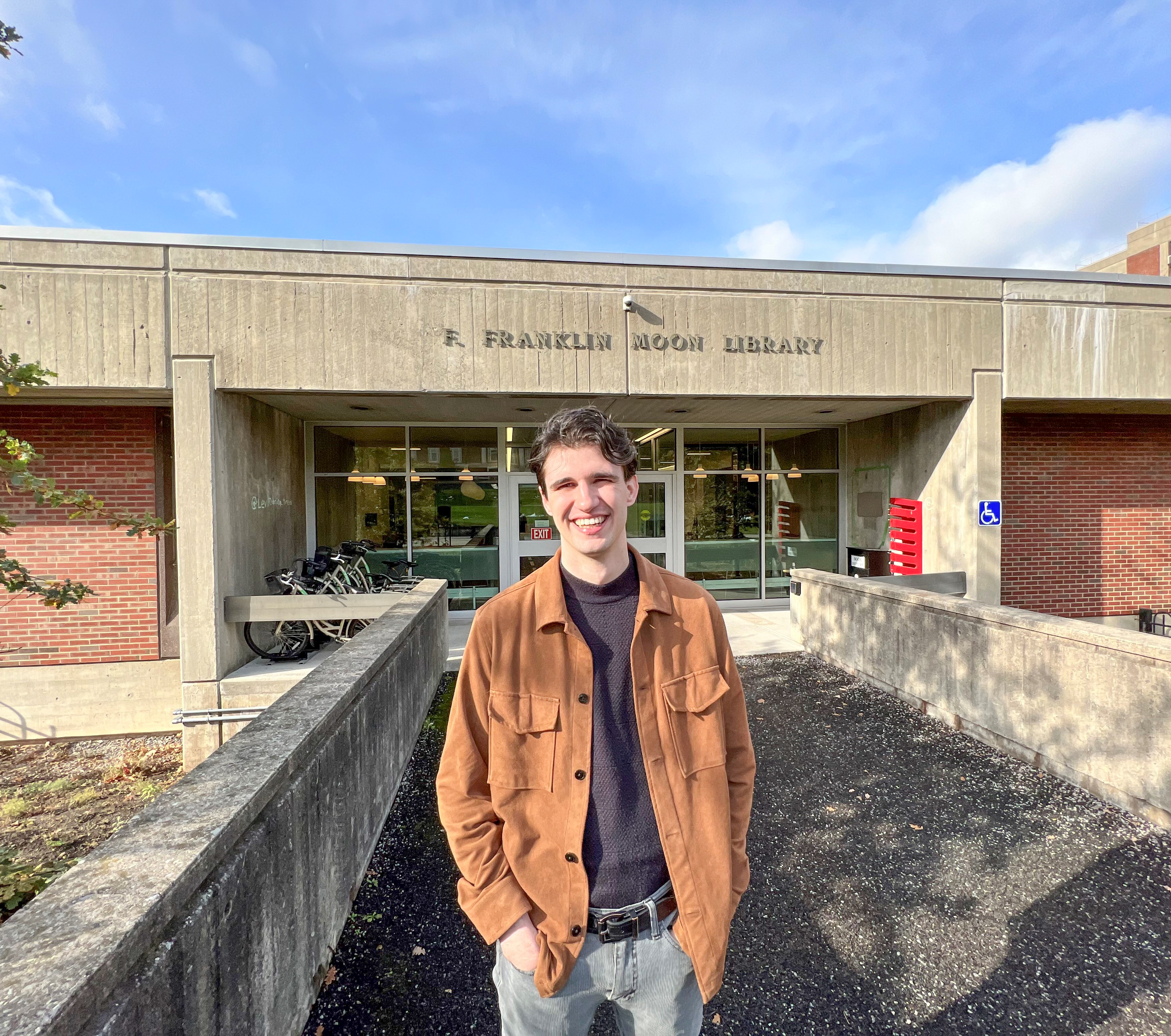 Staff Spotlight: Jacob Gedetsis
Jacob Gedetsis is the Coordinator of the Writing Resource Center (WRC) and recently became a full-time Lecturer at ESF. As a first-generation college student, he's no stranger to hard work and adversity, allowing him to lend an empathetic ear to his students. He's used his connections from a decade in Syracuse to bridge gaps between ESF and the community. We sat down with Jacob to learn some of his favorite things about Syracuse, ESF and life.
Q: What do you teach at ESF?
A: I teach our introductory writing courses: Writing and the Environment (EWP 190) and Research, Writing and the humanities (EWP 290). I also teach EWP 401 which trains our amazing Writing Resource Center tutors on writing pedagogy and tutoring practices.
Q: What are your hobbies?
A: Unsurprisingly, given my job, I love to read and write creatively.
Q: Why should students use the WRC?
A: So often, our relationship to writing is through a red pen. At the Writing Resource Center, we don't just edit your papers and reports and send you on your way. We work with students to improve their overall writing skills, from brainstorming all the way to the finished product. We aren't a dentist office where you get your grammar tooth pulled, we are a community of practice that encourages, collaborates, and works with students to better their own writing process.
Q: How do you sign up for help at the WRC?
A: You can make an appointment on our scheduling website, but you can also walk-in to make an appointment: 13 Moon!
Q: Favorite Season?
A: I love fall, but my favorite moment on campus happens in the spring. After our harsh Syracuse winter, the first nice day of March or April feels like a burst of energy. The Quad becomes this amazing center of life, with students excited to loaf and linger in the warm air and sunshine.
Q: What do you like about Syracuse?
A: I LOVE Syracuse. I have been here for nearly a decade, and I have seen significant growth and change in such a short amount of time. I am originally from Cleveland and the places share a lot of DNA – a Rust Belt City that a lot of people count out. I encourage my students to get involved and active in our local community – even if it's just taking the Connective Corridor Downtown for lunch on the weekends. There's a ton of amazing organizations and nonprofits working hard to make this a better place, which inspires me when the world's problems seem to never end.
I run a grassroots organization in the city called Write Out. Write Out is a community writing collective that partners with local organizations to offer youth-oriented afterschool programming designed to get students excited about writing and storytelling. Since it was first launched in 2020, Write Out has partnered with teachers, artists, and community leaders from prominent local community groups to co-design writing workshops for children and teens in the Syracuse Area. In just three years, we've worked with more than 300 local youth from the age of 6-18.
Q: What's your favorite part about working at ESF?
A: My favorite part about working at ESF is seeing the Writing Resource Center active collaboration among students at the Writing Resource Center. I think there's this idea that writing is a solitary act meant to be done in some dimly lit room, but that couldn't be farther from the truth. Writing is collaborative; we are reacting to texts, ideas, previous experiences and incorporating all of that every time we put pen to paper. There's energy when students are working together to share ideas. I feel lucky to be witness to their incredible work and kindness toward one another.