The Ranger School


Environmental and Natural Resources Conservation

Introducing students to a range of natural resource disciplines, providing a pathway to further study or a technical career in the environmental and natural resources sector.
Apply today
The Environmental and Natural Resources Conservation (ENRC) program introduces students to a broad array of natural resource disciplines. This program will provide students with a solid grounding in applied ecological and sociopolitical concepts, accompanied by technical training in plant and tree identification, land surveying, natural resources measurements, geospatial applications, soil and water monitoring, wildlife techniques and forest recreation. Graduates may pursue a bachelor's degree of their choice or go immediately to work in the environmental and natural resources sector.
Program Overview
ENRC is the newest and one of the most popular programs at the Ranger School. Students receive standard training in tree and plant identification, land navigation basics, resource measurements, forest ecology, resource management, and more. They are also are introduced to a variety of natural resource disciplines, including soil and water resources, wildlife techniques, recreation and interpretive techniques, and Adirondack cultural ecology. Our faculty work closely with regional experts to provide a varied experience and exposure to local and regional ecosystems and issues. Students in all programs also receive a strong foundation in geospatial techniques and geographic information systems.
All classes are taught at The Ranger School, and our 2,800-acre forest provides an excellent outdoor laboratory for fieldwork and hands-on learning.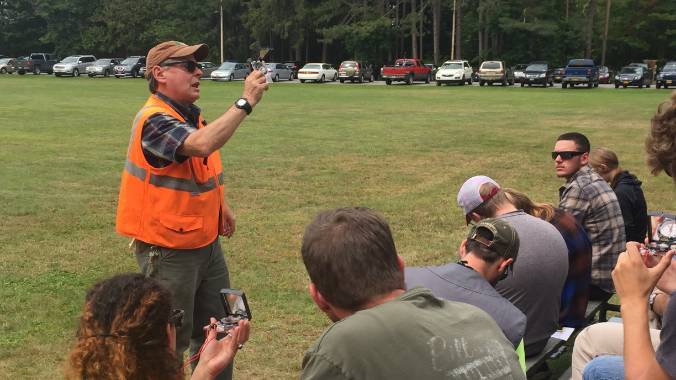 Continue Your Education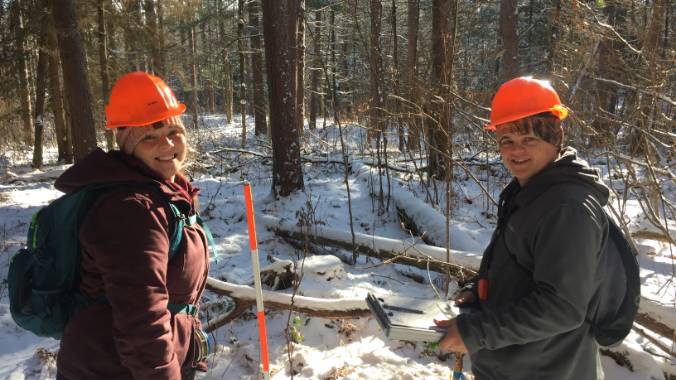 Students may wish to consider pursuing a bachelor's degree at ESF upon completion of the A.A.S. degree at Wanakena. Ranger School students most commonly pursue bachelor's programs in the Sustainable Resources Management and Environmental Biology departments. Students should consult with an advisor in the Undergraduate Admissions office to understand their options. Students who may consider transferring to a bachelor's program after graduation from the the Ranger School should pay close attention to the footnotes under 'freshman year;' the curriculum consists of general studies courses that may be taken at any accredited four-year, community, or agricultural college, or college of technology.
Combining an A.A.S. with a Bachelor's Degree
There are several advantages of combining an ENRC associate degree with a four-year bachelor's degree. Ranger School graduates who go on to pursue a bachelor's degree bring a strong work ethic; demonstrate leadership in project management and field skills; and gain the deeper ecological and social understanding provided by the professional curriculum.
Students wishing to transfer from the Ranger School to the B.S. programs at the ESF Syracuse campus will be admitted as juniors. They will be given credit for summer in field courses at Wanakena and/or Cranberry Lake. They will still have to complete some physical sciences, social sciences and humanities requirements while in residence at Syracuse, depending on prior preparation. All other requirements as set forth in the selected program option must be met.
NOTES:
Students contemplating subsequent transfer should concentrate their first-year year electives in the social sciences and humanities.
Students should also complete the first semester in chemistry, one semester in physics, and a course in calculus prior to transferring.
It is possible to be admitted without these courses, but subsequent progress in the program becomes more difficult.
Student Learning Outcomes
Describe and analyze forest ecosystems and associated natural resources

Understand the ecology of the natural environment, including biotic and abiotic components, interactions, and responses to disturbance.
Explain the terminology, components, and hierarchy of integrated natural resources management and the role of the technician in the process.

Understand the principles of resource management and its effect on recreational resources and experiences; wildlife and its habitate; and soil and water resources.
Demonstrate accepted technical skills and methods for field and laboratory employment in the environmental and natural resources sector.

Collect and record a variety of natural resource observations and measurements using appropriate tools and technologies, and to analyze and summarize field/lab data and observations in a meaningful way for a variety of uses.
Demonstrate proficiency with maps and remotely sense images, including an ability to safely navigate to and between filed sites under a variety of conditions using various technologies.
Demonstrate proficiency interpreting and producing spatially accurate representations of field locations and features.

Understand the importance of a positive professional demeanor and strong work ethic.

Demonstrate a positive work ethic and the capability to work independently with minimum supervision, as a member of a team, or as a supervisor of a team.
Demonstrate understanding of the ecological, social, and economic framework of natural resources decision-making and the role and ethical responsibilities of environmental and natural resources technicians.
Demonstrate an ability to communicate and interact effectively and professionally, both verbally and in writing.
| Academic Year | Enrolled | Graduated |
| --- | --- | --- |
| 2021-2022 | 31 | 28 |
| 2020-2021 | 27 | 27 |
| 2019-2020 | 19 | 19 |
| 2018-2019 | 20 | 17 |
| 2017-2018 | 32 | 30 |
| 2016-2017 | 14 | 14 |
| 2015-2016 | 30 | 30 |
| 2014-2015 | 22 | 22 |
| 2013-2014 | 22 | 22 |
| 2012-2013 | 20 | 19 |
| 2011-2012 | 16 | 16 |
Environmental and Natural Resources Conservation Degree Outcomes
The knowledge and skill set provided by this program will aptly meet the career objectives of applicants seeking employment as field or laboratory technicians in the environmental and natural resources sector, such as environmental conservation, recreation, wildlife, forestry, and soil and water conservation. This program will also be of value to those wishing to pursue a baccalaureate degree or other additional education and training.