DEPARTMENT OF Sustainable Resources Management


Forest Ecosystem Science

Master the knowledge and skills needed to manage and conserve forests and the environment.
Apply Now
Students in the Forest Ecosystem Science program are drawn to natural and managed forest environments with a blend of curiosity and sense of responsibility. They seek both to understand forest ecosystems and apply their knowledge to sustain forests and their benefits for future generations.
Multidisciplinary coursework in forest ecology with research.
A strong foundation in biology, chemistry, physics and mathematics in year one is followed by field-intensive courses in tree biology, forest ecology, soils, silviculture, forest measurements, statistics and geospatial sciences (GIS) in years two and three. The rest of the curriculum consists of directed electives (most upper level coursework at ESF is eligible) and a two-semester senior capstone project. FES is the only undergraduate degree at ESF that integrates a full year of independent research into its program.
All FES students participate in the SRM Summer Program at ESF's Ranger School in the Adirondack Mountains, typically between their second and third years. This four-week, field-intensive session runs from late May into late June.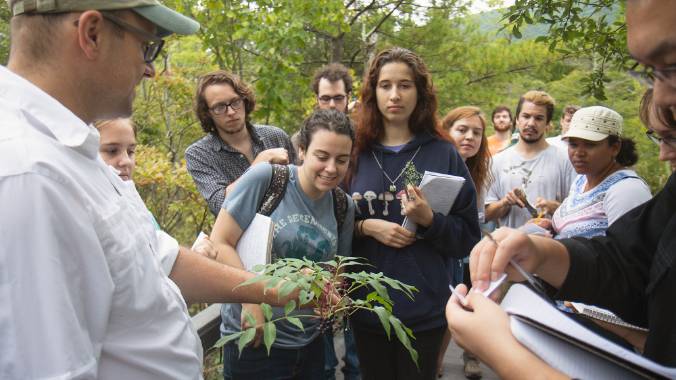 About Our Program
Hands-on discovery in vast outdoor living classrooms.
Learn from the land on 25,000 acres of ESF forests and field stations where research and teaching have worked hand-in-hand for over a century.
Grow your expertise based on your interests.
Core coursework prepares students to flexibly pursue their interests in their advanced courses, whether that means branching out to see the big picture or digging deep into specializations with a minor.
Gain research and professional experience.
FES seniors design and carry out a year-long, faculty-mentored research effort to gain experience and build skills while contributing to forest science and stewardship. FES students often hold seasonal field positions and internships with state/federal agencies, non-profits, research universities and industry.
Access a breadth of career options.
FES graduates are equally well-prepared to launch into professional careers in biological sciences, forestry (accredited by the Society of American Foresters), environmental consulting and related fields, or to continue their research careers in graduate school (MSc, Ph.D.).
Forest Ecosystem Science Degree Outcomes
A degree in Forest Ecosystem Science leads to a variety of employment opportunities in the natural and biological sciences, including field and laboratory positions, as well as environmental consulting, forestry, and related fields. Alumni work for state and federal agencies, nonprofits and in private industry. Graduates are also well prepared to enter graduate programs in ecology and related fields.