DEPARTMENT OF Sustainable Resources Management


Forest Resources Management

Producing confident and capable foresters since 1911
Apply Now
Join the Forest Resources Management bachelor program if you want to master the knowledge and skills needed to manage and conserve forests and the environment. Your classroom? In addition to state-of-art campus facilities, you'll log hundreds of hours among our 25,000 acres of forestland in Central New York and the Adirondacks.
Courses that emphasize field skills.
This program provides students with the opportunity to develop and integrate knowledge and skills in forest ecology and biology, forest measurements, forest policy and administration, forest operations and forest management to provide society with a steady, renewable supply of wood and ecosystem services.
The SRM Summer Program is required for students in Forest Resources Management (except those who attend the Ranger School). This four-week session runs from the end of May and through June and is taught at ESF's Wanakena campus near Cranberry Lake. The program consists of one course, Adirondack Field Studies, and is designed to be completed between sophomore and junior years.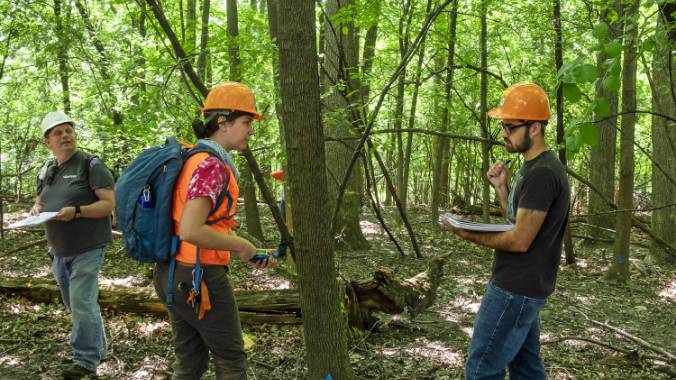 About Our Program
We are rated among the country's best forestry programs.
Study.com rated the Forest Resources Management program #14 in the country.
We award generous scholarships.
SRM annually awards nearly $100,000 in scholarships for forestry students.
Meeting society's needs for forest managers.
Our program combines professional competency with a strong foundation in the biophysical sciences, humanities, and social sciences.
We are accredited by the Society of American Foresters.
Accreditation of the forestry program demonstrates that we meet high-quality standards in preparing our graduates for success by providing a strong educational foundation.
Forest Resources Management Degree Outcomes
A degree in Forest Resources Management offers a wide variety of employment opportunities. Graduates work throughout in public agencies, private industry, and for nonprofit organizations. They also are well prepared to enter graduate programs in forest and natural resources management, ecological research, or other areas of applied forest biology.