The Ranger School


Forest Technology

Offering a unique combination of knowledge and skills in all aspects of forestry and timber production through a carefully planned combination of classroom lectures, demonstration and hands-on fieldwork.
Apply today
The Ranger School's Forest Technology program provides students with knowledge of the field practice of forest management, the ability to work and communicate effectively with professional personnel, and an understanding of the physical, biological and quantitative aspects that form the basis of forestry. Students learn a strong work ethic and team skills, while working outdoors in a variety of weather conditions. The educational program in forest technology is accredited by the Society of American Foresters (SAF).
Program Overview
The Ranger School's Forest Technology program is the longest running program in the country. The curriculum provides a unique combination of knowledge and skills important to success as a forest technician. We emphasize fundamental forestry knowledge and applied field training in a variety of ecosystems and a variety of terrains and conditions. Graduates learn a strong field ethic, excellent teamwork skills, and the ability to work independently in a variety of settings. Students in all programs also receive a strong foundation in geospatial techniques and geographic information systems.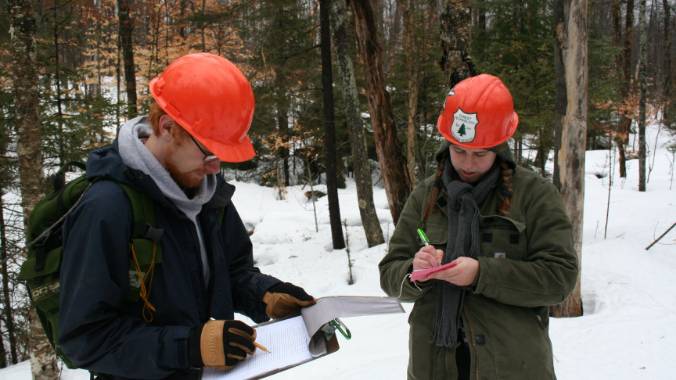 Continue Your Education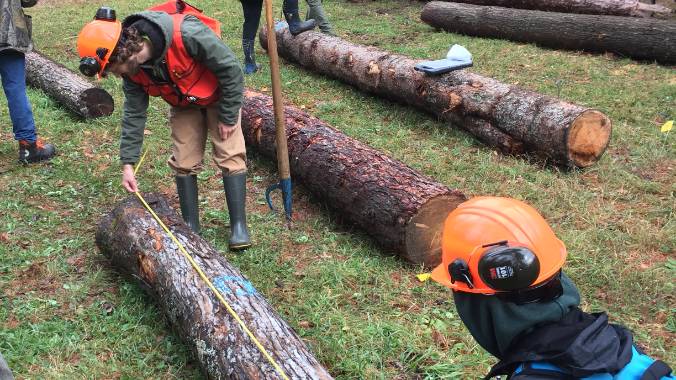 Students may wish to consider pursuing a bachelor's degree program at ESF upon completion of the A.A.S. degree at Wanakena. Ranger School students most commonly pursue bachelor's programs in the Sustainable Resources Management and Environmental Biology departments. Students should consult with an advisor in the Undergraduate Admissions office to understand their options. Students who may consider transferring to a bachelor's program after graduation from the Ranger School should pay close attention to the footnotes under 'freshman year;' the curriculum consists of general studies courses that may be taken at any accredited four-year, community, or agricultural college, or college of technology.
Combining an A.A.S. with a Bachelor's Degree
There are several advantages of combining a Ranger School Forest Technology associate degree with a four-year B.S. degree. Ranger School graduates who go on to pursue the bachelor's degree bring in a strong work ethic, demonstrate leadership in project management and field skills, and gain deeper ecological and social understanding provided by the professional curriculum.
Students wishing to transfer from the Ranger School to the B.S. programs at the Syracuse campus will be admitted as juniors. They will be given credit for the summer field courses at Wanakena and/or Cranberry Lake. They will still have to complete some physical sciences, social sciences and humanities requirements while in residence at Syracuse, depending on prior preparation. All other requirements as set forth in the selected program option must be met.
NOTES:
Students contemplating subsequent transfer should concentrate their first-year year electives in the social sciences and humanities.
Students should also complete the first semester in chemistry, one semester in physics, and a course in calculus prior to transferring.
It is possible to be admitted without these courses, but subsequent progress in the program becomes more difficult.
Student Learning Outcomes
Describe and analyze forest resources.
Understand the ecology of the natural environment, including biotic and abiotic components, interactions, and responses to disturbance.
Explain the terminology, components, and hierarchy of integrated forest resources management, and the role of the technician in the process.
Explain forestry within the economic realms of wood product industries and societal needs.
Explain the terminology and techniques utilized by the forest products industry.
Describe how the demands of society influence the forest products industry and the utilization of timber resources.
Demonstrate accepted technical skills and methods required for field and laboratory employment in the forest resources sector.
Collect and record a variety of forest resource observations and measurements using appropriate tools and technologies, and to analyze and summarize field data and observations in a meaningful way for a variety of uses.
Demonstrate proficiency with maps and remotely sensed images, including an ability to safely navigate to and between field sites under a variety of conditions using various technologies.
Demonstrate proficiency interpreting and producing spatially accurate representations of field locations and features.
Understand the importance of a positive professional demeanor and strong work ethic.
Demonstrate a positive work ethic and the capability to work independently with minimum supervision, as a member of a team, or as a supervisor of a team.
Demonstrate an ability to communicate and interact effectively and professionally, both orally and in writing.
Forest Technology Degree Outcomes
Ranger School Forest Technology graduates are immediately eligible to find jobs at the technical level and are generally classified as forest technicians or forestry aides in initial employment positions. Forestry agencies and wood-using industries employ forest technicians as an important part of their forest management teams, usually as the "people on the ground" who plan and execute the field practice of forestry, normally under the supervision of a professional forester.