The Ranger School


Land Surveying Technology

Obtain a sound technical background and immediate employment opportunities through intensive classroom and field focus.
Apply today
Students in the Land Surveying Technology (LST) program become well-rounded technical specialists capable of teamwork, communication and problem solving, and they develop life-long learning skills and abilities. This degree addresses the educational needs of the student interested in pursuing a career in surveying, as well as the needs of surveying employers. Students are exposed to the fundamentals of field work in natural resources that are important to the land surveyor and receive a more in-depth education in the area of surveying technology.
Program Overview
The A.A.S. degree in Land Surveying Technology provides students with knowledge and skills in surveying measurements and computations; the ability to work and communicate effectively with professional land surveyors, survey technicians, lawyers, and the general public; an understanding of the principles and practices of surveying with particular emphasis on boundary surveying; and an understanding of land resource concepts important to the surveyor. Students in all programs also receive a strong foundation in geospatial techniques and geographic information systems.
Given the nature of the curriculum, the availability of high-tech equipment, and the necessity of individualized instruction, entry into this area of study is limited to 15 students.
Two years of educational credit is given toward land surveying licensure in New York. Additional field and office experience under the direct supervision of a licensed land surveyor is needed prior to application to obtain a license.
The LST program, leading to the associate of applied science degree in land surveying technology, is accredited by the ETAC Accreditation Commission of ABET, www.abet.org.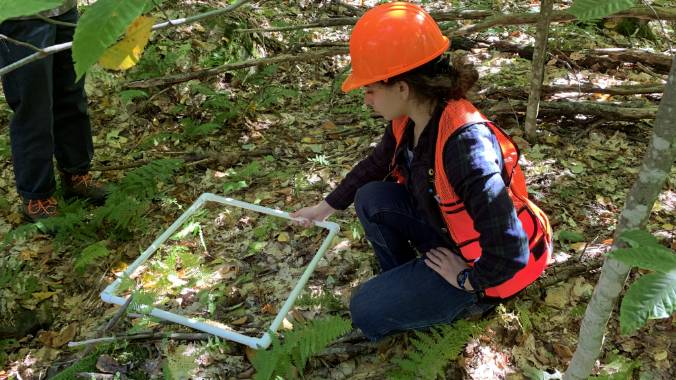 Continue Your Education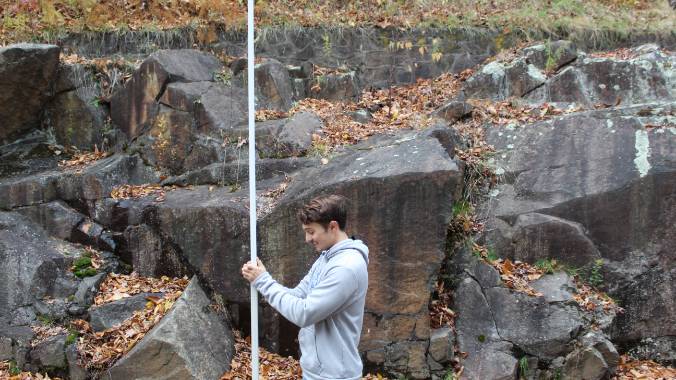 Students interested in a bachelor's degree may consider baccalaureate programs at a variety of institutions upon completion of their A.A.S. degree. Students may wish to consider programs in the Sustainable Resources Management department at ESF, as well as land surveying baccalaureate programs at other institutions. Students are encouraged to consult with the appropriate admissions office to discuss transfer options.
Combining an A.A.S. with a Bachelor's Degree
Land Surveying Technology students will graduate from the Ranger School well-prepared to go directly into the workforce and most students have multiple job offers prior to graduation. Working under a licensed land surveyor, these graduates have the option of becoming a licensed land surveyor with several additional years of supervised experience. However, some LST students may wish to pair their degree with an additional degree in a natural resource field. There are several advantages to pairing a Ranger School Land Surveying Technology degree with a bachelor's degree from ESF. In most cases, students will be admitted as juniors and be given credit for the summer field courses at Wanakena and/or Cranberry Lake. As Ranger School graduates, these students will also bring a strong work ethic, leadership skills, project management experience, and teamwork.
Students wishing to transfer from the Ranger School to the B.S. programs at the ESF Syracuse campus will be admitted as juniors. They will be given credit for summer in field courses at Wanakena and/or Cranberry Lake. They will still have to complete some physical sciences, social sciences and humanities requirements while in residence at Syracuse, depending on prior preparation. All other requirements as set forth in the selected program option must be met.
NOTES:
During the first year, students who plan on enrolling ar encouraged to take small business management and additional mathematics as electives.
Students should also complete the first semester in chemistry, one semester in physics, and a course in calculus prior to transferring.
Laptop Computer Requirement
LST students are required to have personal laptops.
To meet the demands of advanced academic applications, document formats, media, etc., your computer should meet minimum specification levels for features, memory, drive space and processing power. The pre-configured systems available to ESF students through the Syracuse University Bookstore meet these minimum specifications for surveyors.
NOTE: Macs are not natively compatible with the surveying software. The College is primarily a Windows-based computing environment. (Macs can run Windows natively using Boot Camp, and can also boot Windows using virtualization software like Parallels or Fusion, but these solutions are not supported by CNS at ESF.)
Program Educational Objectives
We expect our graduates:
To have a sound technical background in the fundamental land surveying principles, techniques, and skills.
To be well-rounded technical specialists in terms of teamwork, communication and problem solving.
To be well prepared for an entry level position in land surveying
To have developed life-long learning skills and abilities.
Student Learning Outcomes
Apply knowledge, techniques, skills, and modern tools of mathematics, science, engineering, and technology to solve well-defined engineering problems appropriate to the discipline.
Design solutions for well-defined technical problems and assist with the engineering design of systems, components, or processes appropriate to the discipline.
Apply written, oral, and graphical communication in well-defined technical and non-technical environments; and an ability to identify and use appropriate technical literature.
Conduct standard tests, PIs, and experiments and to analyze and interpret the results.
Functional effectively as a member of a technical team.
Land Surveying Technology Degree Outcomes
Generally, graduates are employed by privately owned, small- to mid-size surveying firms specializing in boundary, construction, and topographic surveying. Graduates may be employed as entry-level technicians performing a variety of tasks, including operating various surveying instruments, note keeping, drafting, and computer operation. Employment is also possible with local, state and federal agencies such as the state Department of Transportation, State Department of Environmental Conservation, U.S. Forest Service, and Bureau of Land Management. Land surveyors are involved with a variety of duties and responsibilities, including researching deeds, compiling and analyzing data, map making, writing deed descriptions, and communicating with clients.