Bike Central
WHAT: 5 Kona AfricaBikes for bike library members to rent for 24 hours at a time
HOW: Membership for any ESF student is free. To become a member, agreement forms must be completed and a Bike Library sticker should be placed on your ESF ID. A short (10-15 min) safety presentation must be viewed by all members before they can check out a bike.
WHERE: Fees and forms can be completed in ESF's Moon Library or downloaded below. Bikes are rented from Moon library with just the swipe of your ESF ID!
Bicycle Safety
ESF encourages the use of bicycles as a green and sustainable form of transportation.
Our primary goals are to: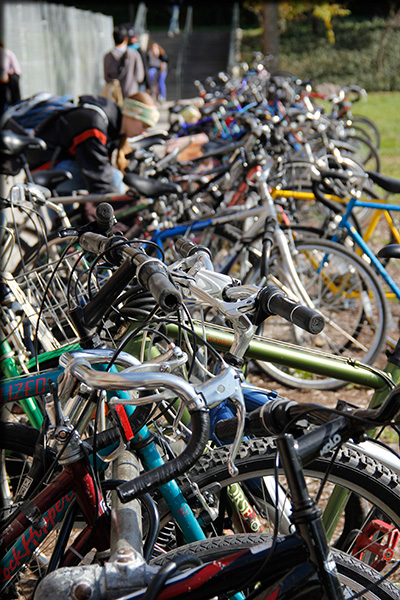 Promote bicycle safety for students, staff and faculty
Enhance bicycling infrastructure on the ESF campus, in transition zones from ESF to SU, and for commuting from nearby communities
Foster a culture of bicycle awareness & action on campus and within our local community by engaging Syracuse University as well as the City of Syracuse and outlying communities
Practice what we teach and learn in our classes at ESF to promote leadership and stewardship
Provide education on best practices, hands-on safety training and learning opportunities
Become a

Bicycle Friendly University
Current and developing Bicycle Safety projects include:
Bike-Friendly Campus:
Implement infrastructure to provide an official, safe and inviting entrance to the campus
Despite widespread encouragement of bicycling to campus, there is not a safe/legal entrance to ESF's campus.

Curb removal from the east end of Illick Hall would provide such an entrance

Install signage to indicate ESF pathways are multiuse as well as cyclists responsibilities
Clearly mark bike lanes where cyclists should ride on campus pathways
Bike-Friendly Transition to ESF Campus
Collaborate with Syracuse University and the City of Syracuse to implement bicycling infrastructure
Work with SU to install a bike lane leading into a bike box from Sims Drive to the Comstock intersection to promote safe and legal movement of bicycles
Work with the City of Syracuse and university neighborhoods to install clearly marked dedicated bicycle lanes on Euclid Avenue from Westcott to Comstock Street

This is an incredibly important corridor from the University neighborhood where a majority of students, staff and faculty commute from
Feel free to contact us with any questions, comments and ideas!