ESF Bike Policies
ESF encourages the use of bicycles as a green and sustainable form of transportation. Regulations outlined here apply to all cyclists operating non-motorized bicycles.
Traffic Laws
SUNY ESF promotes safe and responsible riding on campus. It is strongly encouraged that riders wear a helmet as helmets significantly reduce the risk of sustaining a serious head injury. When riding on campus, cyclists should obey all New York state and local laws. Please familiarize yourself with these laws, as cyclists who violate the law are subject to traffic tickets:
NYS Vehicle & Traffic Law Excerpts
Bike Safety Recommendations
The following are recommendations for safe riding on and around the SUNY ESF campus. For further safe riding guidelines, New York State maintains a bicycle safety website:
Overall
Maintain your bicycle properly and have all required equipment, i.e. brakes, bell or horn for passing, white front headlight visible for at least 500 feet and red or amber tail light visible for at least 300 feet. See:
Ride defensively and predictably and remain alert at all times. Do not ride with headphones or while talking on a cell phone.
Maintain a safe and reasonable speed at all times.
Be considerate of pedestrians and dismount and walk your bike on sidewalks
Cyclists must yield to pedestrians at crosswalks and intersections
Pass with caution on the left and verbally, or through use of a bicycle bell, alert the people around you before doing so.
Commuting: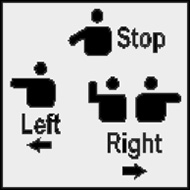 The law requires that bicyclists ride with traffic. Bicycling against traffic are leading causes of crashes. Moving with traffic makes bicyclists more visible, and their movements more predictable to motorists.
Cyclists must obey and follow all traffic signals, including stop signs, yield signs, and traffic lights. When stopped at a traffic light, cyclists are expected to wait for a green signal and move with traffic.
Generally, bicyclists should use the same through or turning lanes as motorists. When turning, bicyclists should use hand signals and should move to the center of the lane when preparing for either a right or left turn, to prevent a following motorist from sharing the lane. If there is more than one left turn lane, use the one furthest to the right. After any left turn, move to the right as soon as it is safe to do so.
Do not pass cars to the right at an intersection where they are stopped at a traffic light. Do not stop in a driver's blind spot, move to the center and wait.
Wear bright and/or reflective clothing at all times. Use reflectors and reflective tape.
Ride single-file and in a straight line. Do not weave between cars or pass on the right at a stop.
Report any bicycle accident involving death or serious injury to the Department of Motor Vehicles within 10 days. If no motor vehicle was involved, use a bicycle accident report (MV-104C). If a motor vehicle was involved, immediately call the Police who will file a motor vehicle accident report (MV-104A). If a bicycle accident occurs on university property, immediately contact ESF University Police at 470-6666.
Bike Parking
Bicycles are to be secured only to University-provided bicycle racks. The campus provides more than 300 spaces for bike parking. Notes will be place on bikes that are not secured in accordance with this policy to inform owners of the following guidelines.
Bicycles should not be secured to benches, light posts, trees, chain/post borders, or handrails.
Bicycles should not block (or be attached to) wheelchair ramps in any manner.
Bicycles should not be taken indoors, secured or locked to any interior railing, placed in a hallway, or allowed to impede a means of egress.
Bicycles are permitted inside Centennial Hall's indoor bike storage area
Abandonment/Confiscation
SUNY ESF University Police will confiscate bicycles that are either abandoned or unclaimed.
A bike is considered abandoned if:
It is left in the same parking space for more than a week and/or it displays signs of significant neglect, such as flat or bent tires or missing parts.
If abandoned bicycles are not claimed, they will be donated, recycled, or otherwise discarded as deemed appropriate. University Police and all SUNY ESF employees performing their duties are not responsible for damaged locks when removing abandoned bikes.
Theft
Bike theft on campus occurs year-round, however, during the fall and spring, the rate of bicycle theft increases dramatically. Statistics indicate that criminals who steal bicycles target those not secured with a U-lock. In response to the anticipated thefts, you can take proactive measures to reduce the chance that you will become a victim of bicycle theft by purchasing and correctly using a U-lock. All bike thefts should be reported to University Police at 315-470-6666.
Registration
Bicycle registration is encouraged for faculty, staff, and students who ride on the SUNY-ESF campus. Registration aids in the recovery of a bicycle that is lost or stolen, and it also facilitates enforcement of bicycle regulations.To register your bike, go to the University Police Department located at 19 Bray Hall on the ESF Campus.