Young Scientists Converge at ESF to Discuss Research
2007 Environmental Summit

6/6/2007
SYRACUSE —Young scientists gathered in June at the SUNY College of Environmental Science and Forestry (ESF) to present their semester-long research projects to their peers.
They were participating in the Environmental Summit a research symposium designed to bring together high-school-age students to present the results of their research. The research was conducted as part of the Global Environment course curriculum, enabling students to learn about the process of science in addition to studying specific subject matter.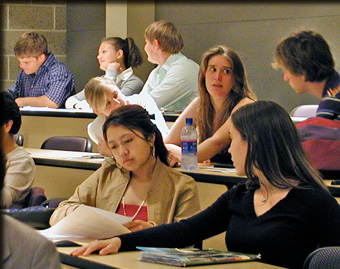 Six schools from three counties participated in this year's symposium, according to Dr. Richard Beal, associate director for ESF Educational Outreach. Schools represented at this year's summit were Oswego, Chittenango, Rome, Paul V. Moore High School in Central Square; and Nottingham and Fowler high schools in the city of Syracuse. Seventy-five students participated in this the fifth year ESF of the event.
"We had to think of something that could affect the environment," said Jane Johnson, a junior from Nottingham High School in Syracuse. Johnson and her partner, Sam Kraemer, also a junior, studied how composted soils chemically compared to lawn soils. Because many people compost, Johnson said, she and her partner looked to see if there were definite benefits to the process.
Students delved into a wide array of topics including roadside diversity of urban plant life, the negative effects of bottled water, effects of road salting in a small urban stream, and the feeding preferences of the North American gray squirrel.
"There was a nice diversity of studies," said Katherina Searing, a second year Ph.D. student in environmental and forest biology at ESF.
The students not only gave the presentations to their peers but were also evaluated by ESF graduate and undergraduate students, and science faculty. The research carried out by the high school students was supported by the ESF Science Corps, which links ESF research to classroom, lab and field experiences of ESF in the High School. ESF in the High School is a school/college partnership that enables qualified students to experience college-level course work while still in high school.
"The course has real world meaning," said Kraemer. "It's more interesting than the typical high school science class."
Said Searing: "I think it's very possible there are some future environmental scientists in this room."
Recent ESF News
News Archives
Communications & Marketing
SUNY-ESF
122 Bray Hall
1 Forestry Drive
Syracuse, NY 13210
315-470-6644